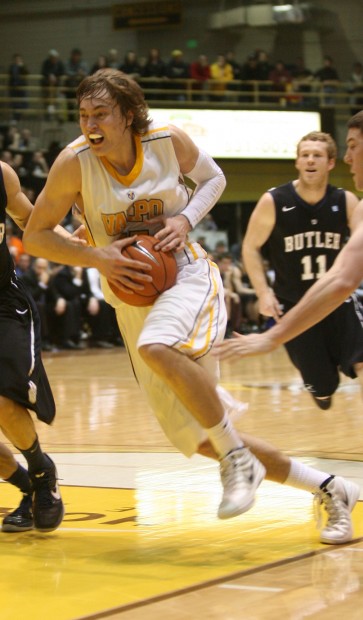 ROSEMONT | Bryce Drew and Ryan Broekhoff showed very little emotion on Tuesday afternoon.
Not when the Valparaiso men's basketball team was overwhelmingly picked to repeat as Horizon League champions. Not when Broekhoff was told he didn't get selected as Preseason Player of the Year.
Drew and Broekhoff operated in very business-like fashion at the Horizon League Media Day festivities at the Intercontinental Hotel in Rosemont. It's not that the pair weren't having fun; it's that they'd rather be preparing for the season than talking about paper awards.
"We're more concerned with the in-season poll than we are with the preseason poll," Drew said. "Whether we were picked second, third, fourth, fifth; we're more concerned with the in-season results."
The Crusaders received 40 of 44 possible first-place votes and finished well ahead of Detroit in the 2012-13 Horizon League preseason poll. Still, the preseason poll, or the regular-season for that matter, will mean very little if Valparaiso can't finish off Detroit in the Horizon League tournament. The Crusaders lost by 20 points to the Titans at the Athletics-Recreation Center last March, a loss that still sticks with the returning players.
"It's one right now," Broekhoff said when referring to a possible rivalry with Detroit. "What happened at the end of last year is still fresh in our minds."
Broekhoff and fellow Valparaiso senior Kevin Van Wijk were both named to the All-League First Team alongside juniors Kendrick Perry (Youngstown State), Alec Brown (Green Bay) and Preseason Player of the Year Ray McCallum (Detroit). Broekhoff lost out to McCallum by six points despite winning Player of the Year honors last season.
"To be not picked and to be behind Ray McCallum is nothing to be ashamed of," Broekhoff said. "Personally, the individual awards are not the same as the team awards. My goal since I first came here has been to reach the NCAA tournament."
As players and coaches from all nine Horizon League teams paraded onto the dais, the talent of Valparaiso and Detroit was a topic of conversation among all of the teams. Some coaches mentioned that the conference was Valparaiso and everyone else while others praised both teams above any others.
"We're excited to be picked second in the league and it's exciting to be thought of in that way," Detroit coach Ray McCallum Sr. said. "That provides some extra motivation for us. We're really looking to get started."