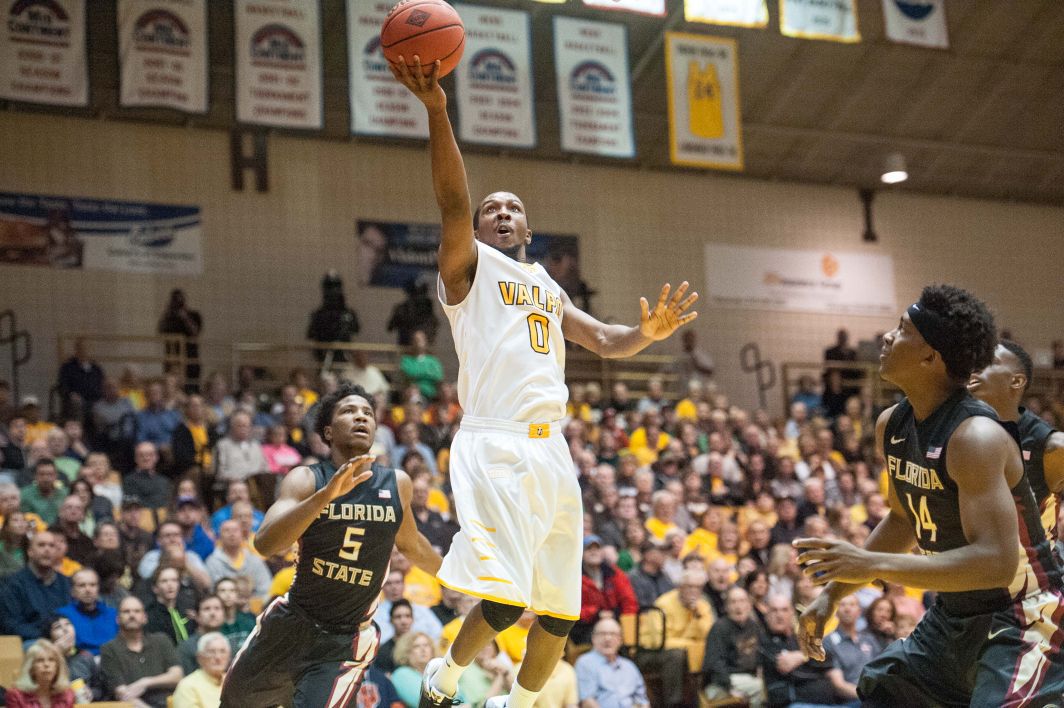 As Keith Carter limped out of Madison Square Garden following Valparaiso's loss in the National Invitation Tournament title game, the senior point guard held out hope that he hadn't played his final game in a Valparaiso uniform.
Those hopes were dashed on Wednesday morning as Carter was informed that his request for a fifth year of eligibility was denied by the NCAA.
Carter played in just 39 minutes over three games as a freshman at St. Louis before deciding to transfer to Valparaiso. The Chicago native suffered a foot injury while playing for the Billikens and requested a redshirt. Interim coach Jim Crews denied the redshirt at the time, leading Carter to transfer.
The Crusaders have attempted to work with St. Louis on gaining a medical hardship waiver ever since Carter arrived at Valparaiso. When Crews was fired at the end of the season, the process was revisited, culminating in Wednesday's denial by the NCAA.
"I thought it was almost a guarantee (that I'd be getting another year)," Carter said. "Now I'll prepare to go play professionally."
Carter signed with the Billikens under then-coach Rick Majerus in the fall of 2011 and arrived on campus the following year. By the time the 2012-13 season had started, Majerus had already taken a leave of absence for health reasons. Crews was then in charge of the program. Majerus passed away that December, never getting the chance to coach Carter, a player he once compared to NBA veteran Andre Miller.
"It was crushing not to be able to play for the coach I committed to play for," Carter said. "I wish I would've stayed that whole year. I wish I would've never played half a season at Valpo, and I would've just sat out the whole year."
Carter, who has had a history of foot injuries over his career, suffered a sprained foot in the second game of his freshman season. Carter missed the next seven games of the season and returned to play 21 minutes against Eastern Illinois. Feeling that his foot was severely hurt and needing more time to heal, Carter asked the St. Louis coaching staff for a redshirt and was denied. He then decided to transfer, ultimately picking Valparaiso and becoming eligible midway through his sophomore season. Carter averaged 18.5 minutes in 22 games as a sophomore, making four starts and ranking third on the team in assists (51) and steals (23). The 25 games played over two seasons essentially counted for half of Carter's college career in the eyes of the NCAA.
"I feel like I only played half of my career," Carter said. "Guys that are sophomore or juniors have played more games than I have, but it is what it is."
Carter shined for the Crusaders over the last two years of his career and overcame a dislocated toe as a junior to help lead Valparaiso back to the NCAA tournament. Carter suffered a similar injury in the NIT title game against George Washington and battled through the pain to finish his career on the court.
"I definitely (loved my time at Valpo)," Carter said. "Getting to the NCAA tourney, having fun in the NIT, just spending time with the guys."
With Carter officially out of the picture for next season, that leaves the Crusaders with three open scholarships heading into the 2016-17 season. Incoming freshman point guard Micah Bradford will join returners Max Joseph and Lexus Williams in the backcourt while rising senior Shane Hammink also has experience bringing the ball up the floor."