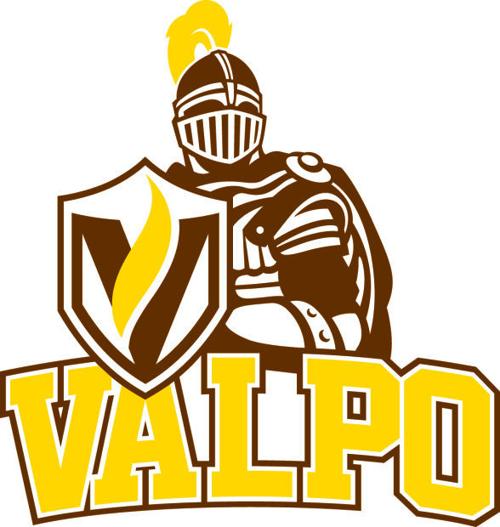 The Valparaiso women's basketball team has played more than 6,000 minutes of basketball this season. Because of its work during one crazy 65 second stretch Thursday afternoon, the Crusaders have earned the right to play at least another 40 minutes.
Jasmyn Walker came up with a steal and then scored on the other end to cap off a wild stretch where the lead changed four times in just over a minute in overtime. Walker's layup gave the No. 9 Crusaders the lead for good in an improbable 94-91 upset victory over No. 4 Detroit in the first round of the Horizon League tournament in Green Bay.
Walker's basket with 40 seconds remaining equaled her career-high of 23 points and helped send the Crusaders to their best victory in the Horizon League tournament since joining the conference in 2007.
"It was a heart attack," Walker said. "You just want to make a play for your team and try to make a difference. There was a lot of panic."
The Crusaders (10-20) were scorching hot out of the gates, knocking down seven straight 3-pointers to take a commanding 27-15 lead late in the first quarter. Valparaiso continued its hot shooting in the second quarter as freshmen Meredith Hamlet and Hannah Schaub each knocked down their third 3-pointers of the half. The Crusaders had 10 3-pointers in the first half and led 48-40 at the break.
"We came in with a lot of confidence," Valparaiso coach Tracey Dorow said. "We came out very aggressive. We didn't force anything, the shooting just helped us get the momentum going early."
By the fourth quarter, the momentum was squarely in the hands of Detroit. The Titans (15-15) outscored the Crusaders 19-9 in the final quarter and sent the game to overtime when Haleigh Ristovski knocked down three free throws after she was fouled with under 10 seconds remaining.
The Titans then seized their first lead of the game at the beginning of overtime when Ristovski connected on her seventh 3-pointer. Hamlet answered with a 3 of her own and then senior Abby Dean put the Crusaders back on top 84-81 with a 3-pointer with 3:52 remaining.
"The game was so emotional knowing it could be my last one," Dean said. "It was a crazy game back and forth, and we knew that we needed to get stops."
Hamlet and Nicole Urbanick traded 3-pointers within 16 seconds of each other and then Urbanick added another 3-pointer to give Detroit a 89-87 lead with 1:55 remaining. Urbanick's second shot started a stretch of 65 seconds where the lead changed four times, culminating in Walker's steal and score with 40 seconds left.
"We really needed to lock in and anticipate what was coming," Dorow said. "It really was a shootout and both teams had players that were trying to will their team to victory."
The Titans had several chances to retake the lead of force double overtime in the final 30 seconds of the game, but Detroit missed all three of its shots, including two 3-pointers from All-League performer Rosanna Reynolds.
Hamlet had 21 points and five 3-pointers for the Crusaders while Schaub added 15 points, six rebounds, four assists and five 3-pointers. Ristovski scored a game-high 26 points to lead Detroit and Brianne Cohen added 25 points off the bench.
The Crusaders will face No. 5 Northern Kentucky in today's quarterfinal game after the Norse defeated No. 8 Cleveland State 71-59. Valparaiso split its season series with NKU, with each team winning on the road in conference play.