I've always loved journalism because of the opportunity to meet people and share their stories.
But when I first started out, I never realized how those people would impact my life.
Sally Des Jardins was vibrant. Everything in a big world seemed to be simplified to her. She lived in the moment, giving each person her undivided attention, caring for them as if they were one of her own. Above all, she cared about her family and friends, and made everyone she met feel loved.
Sally died Dec. 2, shortly after 11 p.m. from her second bout with cancer. Both battles were in the middle of her two daughters' state championship runs at Peoria Richwoods High School in Illinois, coming within 10 years of each other.
I was fortunate enough to meet the Des Jardins family while reporting on Natalie's prep career. She was a three-sport athlete — volleyball, basketball and soccer — at a school of 1,239 students was not very common. Any time her mom and dad, Paul, walked into the gym, it seemed we always had a long conversation about anything and everything.
Shortly after Sally died, messages began flooding her Facebook wall.
"You are one of the most AMAZING and BEAUTIFUL people I have ever met in my life. The love that you give is pure and strong," wrote Nikki Rocke, the mother of one of Natalie's classmates who frequented the DJ's home.
"This is how I will always remember you ... Beautiful & radiant," wrote Jordan O'Neill, a niece of Sally's.
Journalism is beautiful and an industry I never wanted to leave. After being a part of corporate layoffs, people often wondered how I dealt with it. Truthfully, I powered through because of people like Sally, who showed strength, courage and joy no matter what she faced.
Paul and Sally's oldest daughter, Danielle Des Jardins Garber, shared on Facebook the three principles their mom taught them:
"1. Kill people with kindness. Always be kind to everyone even if you might not agree with them or if their views are different. Learn to accept everyone for their differences and for who they are! Find the good in everyone.
2. Fight and never give up. Life isn't easy, and will always find a way to knock you down. Get up and keep going. Life throws you punches get up and throw the next punch. Believe in yourself
3. Be God ready. My mom always told us kids we have to be God Ready growing up. You never know when your time is up...are you ready right now to face God?"
Whenever Sally walked into a room, it seemed to light up. Her vibrancy carried through the room, her strength was uplifting in trying times. She showed up, time and again, to love and support her family. Seeing her in the gym, continuing to cheer, despite undergoing treatments was special.
The stresses of searching for a job, freelancing and finding ways to make ends meet seemed to subside. While journalism is an outlet to share others' stories, I'm grateful that I can pull life lessons from those stories, too.
The Des Jardins poured into me and getting a first-hand look at their strength, tight-knit family and love for others is something I'll both cherish and remember.
Over 600 people attended the visitation. Her life message to her kids was shared, at least through actions, with each of them and many more. Many kids have been through the Des Jardins house, including Noah and Nelson Reynolds, who wore pink shoes with "Sally" written on them when rival Peoria Notre Dame played at Richwoods this past week.
Sally reminded us of what being "DJ Strong" is all about. Her strength persisted until her oldest son Matt made it in from Mesa, Arizona. The family — Matthew, Natalie, Nate, Danielle, Paul and Sally — could be together one last time.
Thank you, Sally and Des Jardins family, for showing a community love, courage and strength, welcoming so many into your presence. We are better for it and the world will be a brighter place because of Sally's impact.
Never as Good as the First Time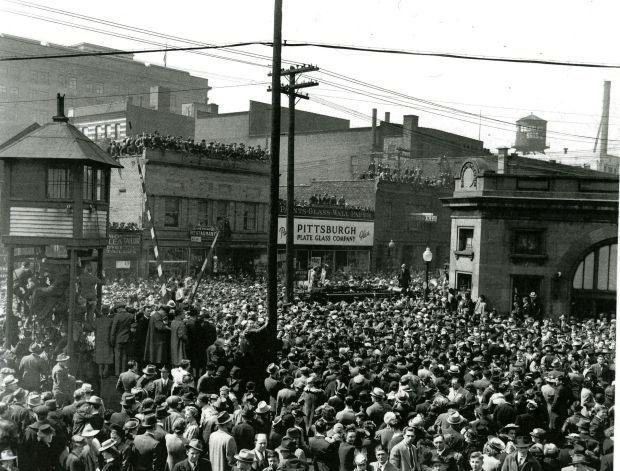 Hammond Tech coach Louis Birkett led the Tigers to a 33-21 win over Mitchell at Butler Fieldhouse in 1940, giving the Region its first state championship. Stanley Shimala led his team with 13 points while Robert Kramer added eight in the championship. More than 50,000 fans assembled around downtown bonfires at State and Hohman to celebrate the no-named team that started the postseason with a 12-6 record.
Perfect is as perfect does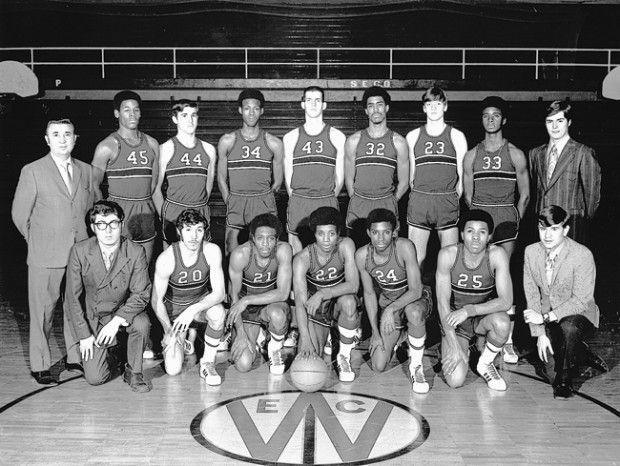 The 1971 E.C. Washington Senators are considered by many the greatest team in Hoosier Hysteria history. Starters Pete Trgovich, Tim Stoddard, Darnell Adell, Ruben Bailey and Junior Bridgeman finished 29-0 after beating Elkhart 70-60 at Butler's Hinkle Fieldhouse. E.C.W. scored 102 in its semifinal win over Floyd Central. All five starters went on to play D-I basketball, with Trgovich, Stoddard and Bridgeman starting in NCAA Final Four games.
Perfect is as perfect does II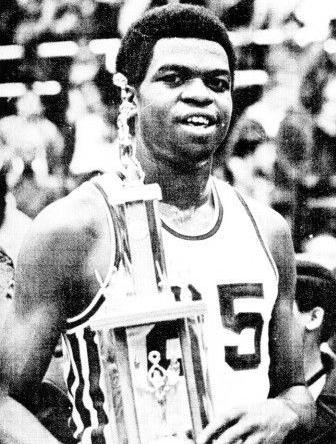 Across town the year before, Jim Bradley led E.C. Roosevelt to an undefeated state championship, too, by beating Carmel 76-62 in Indianapolis. Jim Bradley scored 24 points, John Davis added 21 and Cavanaugh Gary and James Rossi scored 10 apiece. In the semifinal the Rough Riders beat Muncie Central 90-75 as coach Bill Holzbach's team was led by Bradley's 27 and Mike Artis' 20. Bradley went on to star at Northern Illinois and then played pro ball before his untimely death.
Big dog barks big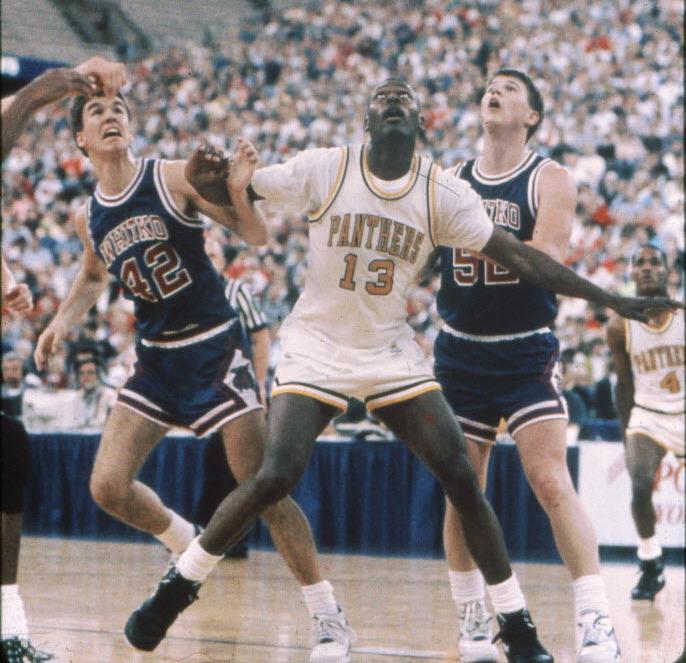 It was a done deal. Indianapolis Brebeuf's Alan Henderson was going to win Mr. Basketball before going to Indiana University in 1991. But Roosevelt's Glenn Robinson changed the script, scoring 22 points in leading the Panthers to a 51-32 beating at the Hoosier Dome. Robinson won Mr. Basketball before becoming an All-American at Purdue. The win gave Ron Heflin the state championship he had been so close to getting before.
You don't know Bo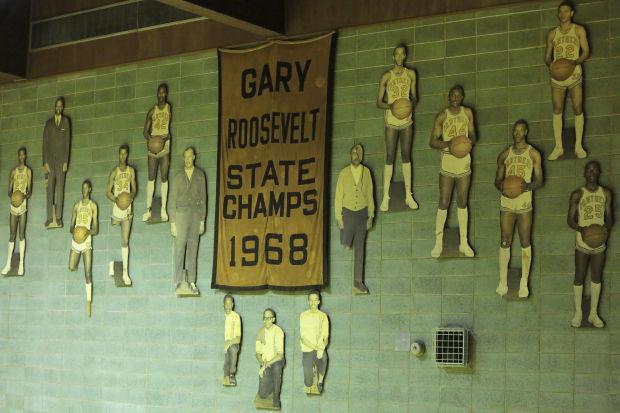 Gary Roosevelt wasn't expected to win its sectional, let alone the 1968 state championship. But coach Bo Mallard's Panthers did just that. Aaron Smith scored 28 as 'Velt beat Indianapolis Shortridge 68-60 to win the crown. Jim Nelson added 12 in the win. Roosevelt beat Vincennes 65-48 in the semifinal as Smith scored 19 and Nelson had 14 in the win.
Another shocker from the 2-1-9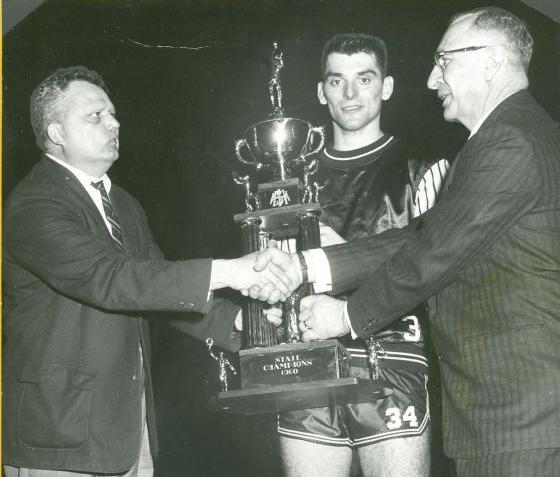 The headlines were written before the game was played. Muncie Central's Ron Bonham leads Bearcats to the 1960 state title. But a group of guys from The Harbor said, "Stop the Presses." E.C. Washington coach John Baratto and his team pounded the favorites 75-59 in the final. Phil Dawkins led the Senators with 21 points, Jim Bakos added 17 and Bob Cantrell had 11 in the win.
No way, no way, no way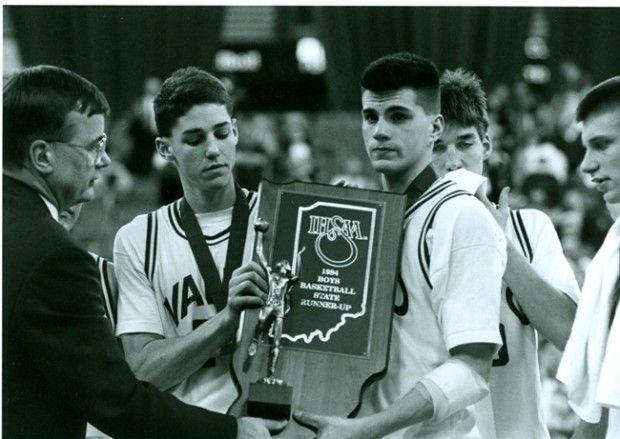 The 1994 semistate game between Valparaiso and E.C. Central is considered one of the great games ever played. The Vikings won 83-82 in four overtimes. Bryce Drew and Tim Bishop led Valpo in the crazy-close game, then took the Vikings to the state championship game the following week, losing to South Bend Clay in, yep, overtime.
Bowman streak is hard to comprehend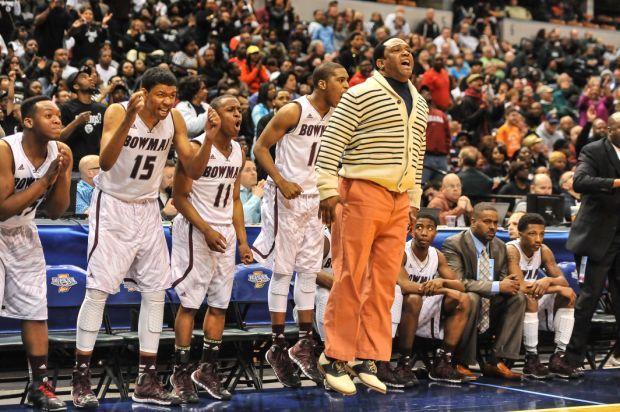 The Bowman Academy Eagles had a remarkable streak in the age of class basketball. The Eagles won the Class A state championship in 2010, went back in 2012 in Class 2A and finished second. The next year Marvin Rea's team won the 2A state title and then in 2014 advanced to the Class 3A state championship game where they lost to Greensburg.
One town, one team, one championship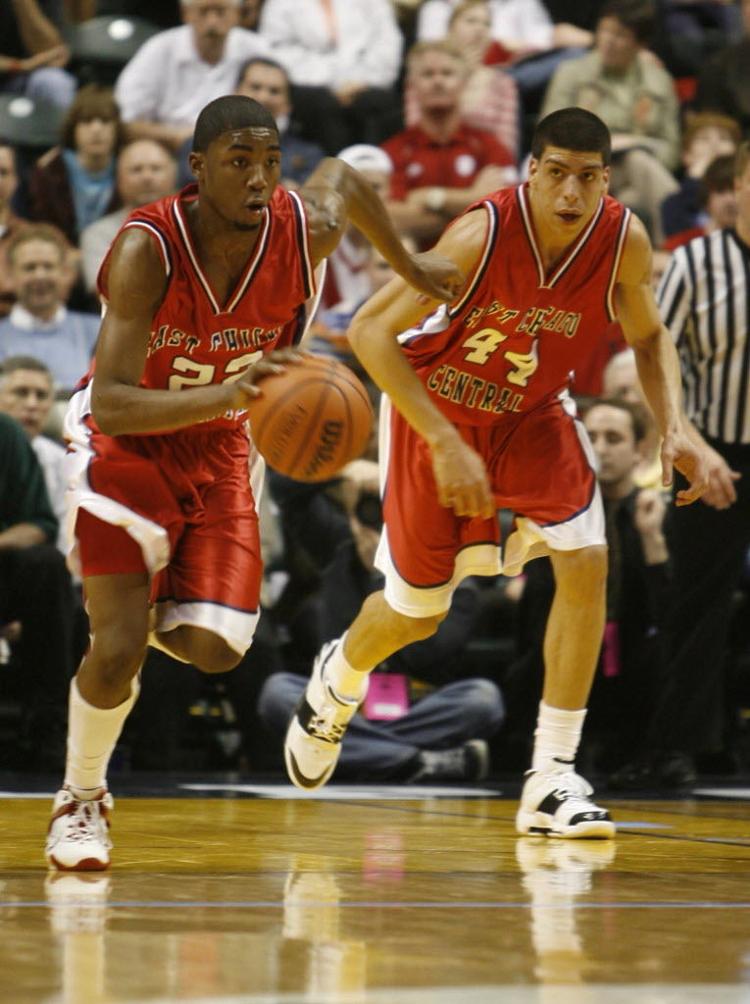 In 2007 both sides of East Chicago came together to watch a group of young men shock the state in winning the Class 4A state championship against highly favored Indianapolis North Central. E'Twaun Moore was the best player on the floor in the Cardinals 87-83 win. Kawaan Short and Angel Garcia also played great in the crazy season with all kinds of drama.
Doug Adams finally gets it done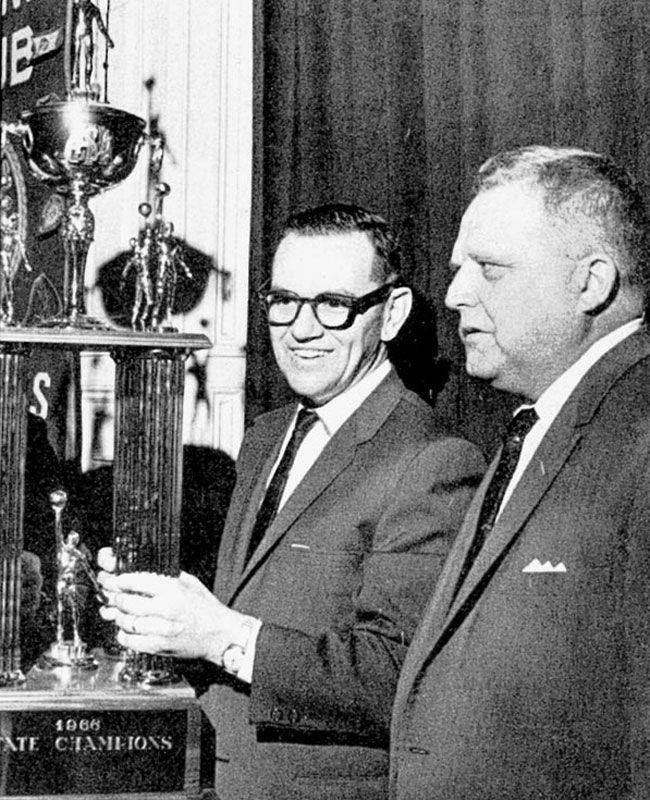 Michigan City coach Doug Adams won the 1966 state championship after his team was routed away from East Chicago and Elston won the championship. James Caldwell scored 21 in the 63-52 win over Indianapolis Tech at Hinkle Fieldhouse. O'Neil Simmons scored 12 and Terry Morse had 11 for Adams' squad.
Surprise, surprise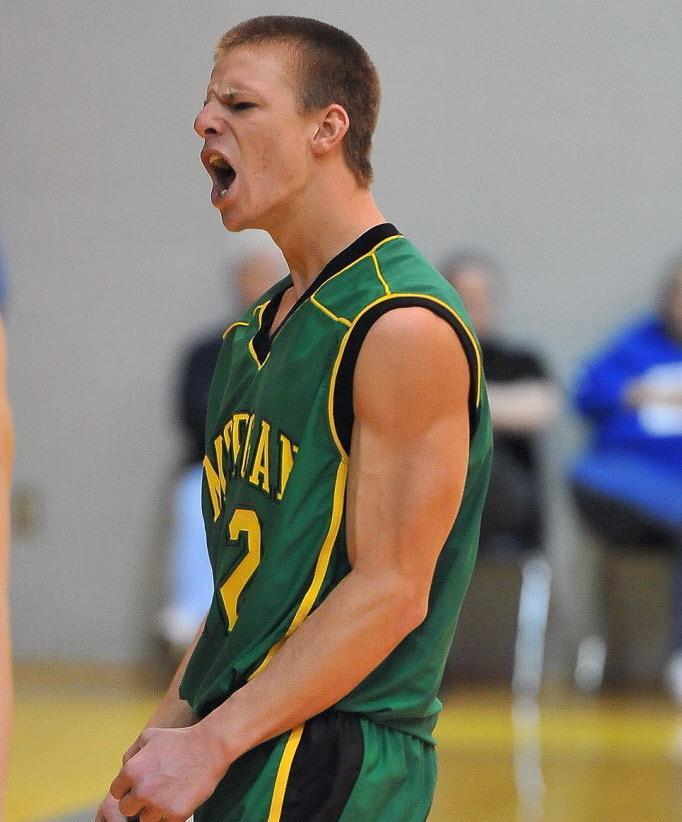 Morgan Township was 18-4 and Bowman Academy 12-9, but few folks not wearing green and yellow gave the Porter County Conference's Cherokees much of a chance to knock off defending the Class A state champion Eagles, let alone on the Eagles' floor, the night after they dismantled a 19-3 Kouts team 97-54. But Brandon Grubl scored 22 points and Ryan Klikus notched 21 as Morgan was able to slow down the pace and pull off the 53-49 shocker in the 2011 sectional final. The Cherokees lost to Triton in the regional final and Bowman started a string of three state appearances the following year.
Iron unkind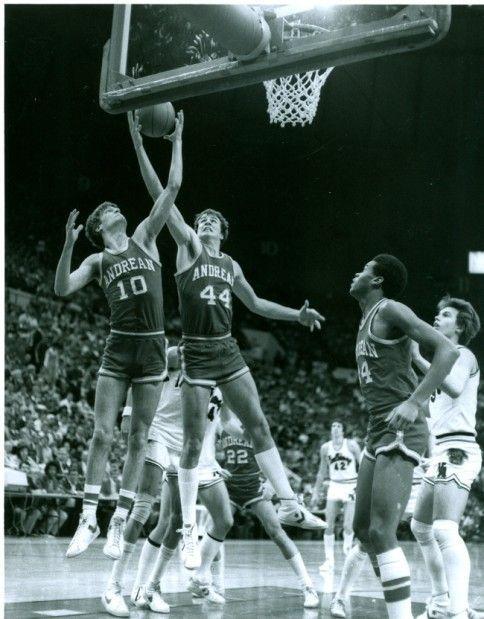 Andrean overcame a 16-point deficit against New Albany in the 1980 state semifinals but lost 69-68 as Mike Paulsin missed two free throws with no time left. Dan Dakich scored 32 points for the 59ers. In the other semifinal, Indianapolis Broad Ripple's Stacey Toran hit a three-quarter court shot to stun Marion and the Rockets downed the Bulldogs in the championship.
West Side's best side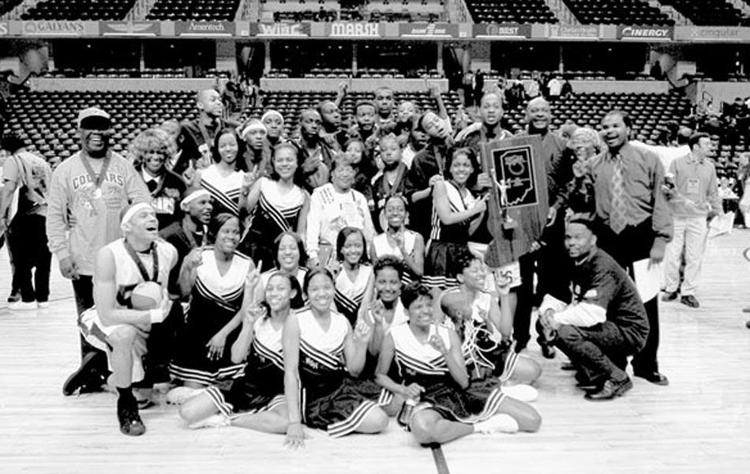 Coached by John Boyd, unranked West Side led big much of the game, including a 19-point margin in the third quarter, then had to hang on to sweat out a 58-55 win over Indianapolis Pike in the 2002 Class 4A championship. Brandon Cameron led all scorers with 17 points. Chris Hunter, the mental attitude award winner, scored 14 points and pulled down 15 rebounds. As a team, West Side (23-4) pulled down a Class 4A game record 43 rebounds.
Not your average Bearcats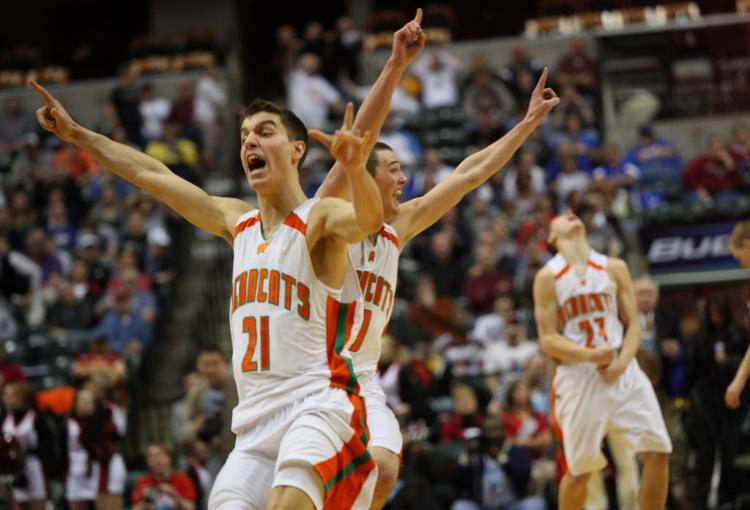 Yogi Ferrell's star was just beginning to rise, but Wheeler denied the Park-Tudor and future IU star his first title, turning back the Panthers 41-38 in the 2010 Class 2A championship. The Bearcats made no fourth-quarter field goals and shot 9 of 35 for the game, but prevailed by making 12 of 14 foul shots in the final eight minutes and 20 of 26 overall. The 38 points allowed represented the fewest in a Class 2A title game. Petar Todorovic led Wheeler with 13 points, while Aleksa Kojcinovic had 10 points and 13 rebounds for coach Mike Jones' Bearcats (27-1), who finished the season with 23 straight victories. It marked the first state championship for Wheeler in any sport.
Rally Blazers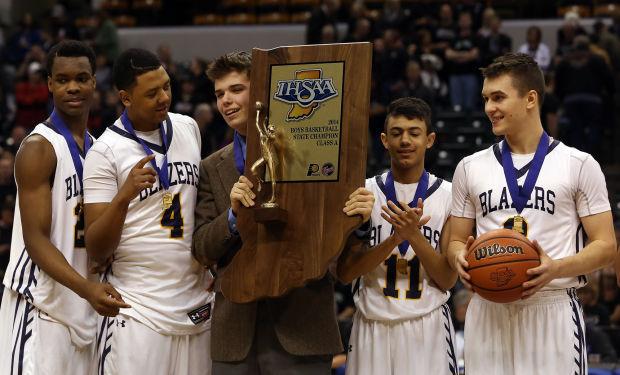 Marquette Catholic overcame a seven-point deficit in fourth quarter to force overtime and went on to defeat second-ranked Barr-Reeve 73-66 for the 2014 Class A state title. Ryan Fazekas scored 34 points on 13-of-22 shooting and hit a Class A championship game record 7-of-11 3-pointers. He also grabbed 10 rebounds. Richie Mitchell contributed 10 points and eight assists for the Blazers (20-6) as Donovan Garletts, at age 27, became one of the youngest coaches to win a state title.