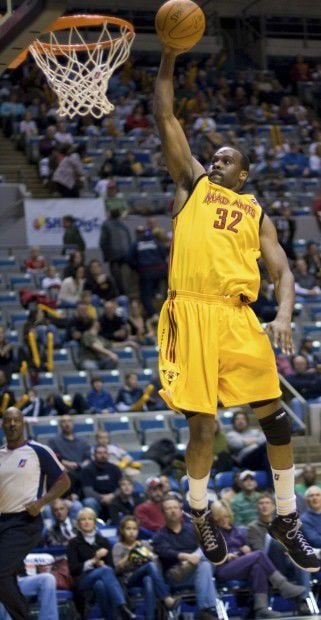 Wait. Hold on just a minute.
That well-wisher standing near Michigan's Moritz "Mo" Wagner at last Thursday night's NBA Draft in Brooklyn looked awfully familiar.
Wagner is 6-foot-11 and the guy he was talking to was almost at eye level. Who was he?
The University of Michigan website held the answer. It was West Side grad and former Wolverine Chris Hunter, director of basketball operations at the Big Ten basketball power.
Hunter was promoted last August after spending three years as the director of player personnel.
"It is always great to have a Michigan alum on staff, and we are looking forward to Chris Hunter's return to Michigan basketball in this new role," coach John Beilein had said in a released statement on Sept. 5 of 2014.
"With Chris' experience as a former student-athlete, his degree from the Stephen M. Ross School of Business, as well as his professional playing experience, we know he will bring great talent and expertise to our program. We are excited to have Chris back in Ann Arbor."
You could've knocked me over with a junior-high pick. Few of us locally seemed to know of Hunter's whereabouts or his former and current role.
Athletes you follow in high school often re-locate and vanish from the sports landscape like Chris Hunter had, even on social media.
He did not respond to texts and voicemails on Tuesday and his parents only had an office phone.
We covered Hunter like a tablecloth during his prep years and were there in 2002 when he helped lead Coach John Boyd's Cougars to a 58-55 win over defending 4A champion Pike at Conseco Fieldhouse in Indianapolis.
Brandon Cameron, who later signed with Penn State, led all scorers with 17 points. The Michigan-bound Hunter added 14 points and 15 rebounds as West Side pulled down a 4A record 43 boards.
But he wasn't just another tall basketball player with a menacing wingspan. Hunter kicked butt in the classroom, too, earning that business degree.
In addition to general administration of the men's basketball program, Hunter will manage the Wolverines budget, scheduling, team travel, training table as well as assisting in the direction of U-M's summer camps.
He continues to manage aspects of academic, admissions and financial aid support.
Those are big shoes to fill for an elite program often on the doorstep of a second national title with 14 Big Ten Conference championships, 15 Sweet 16 appearances and eight Final Four appearances.
Hunter was a key member of U-M's 2004 NIT Championship team and 2006 NIT runner-up team. He played in 105 career games, averaging 7.0 points, 3.5 rebounds and 18.0 minutes per game.
His NBA dream was short-lived, however.
Hunter began his professional career overseas in Switzerland, Poland and Belgium from 2006-08. He returned home to play with the NBA Developmental League's Fort Wayne Mad Ants in 2008.
There were two training camps with the Knicks in 2009. And during the 2009-10 season, he appeared in 60 games, starting nine, with the Golden State Warriors under Don Nelson.
The highlight of Hunter's NBA career was a 22-point effort against the defending champion L.A. Lakers that season.
It would be great if Coach Beilein's guy can keep that Maize & Blue Region pipeline intact featuring former stars Bobby Cantrell (E.C. Washington), Thad Garner (Bishop Noll), Zack Novak (Chesterton), Spike Albrecht (Crown Point), Mitch McGary (Chesterton) and Glenn Robinson III (Lake Central).
The hard-luck city of Gary hasn't had much to cheer about, but Hunter gives it a reason to smile proudly.