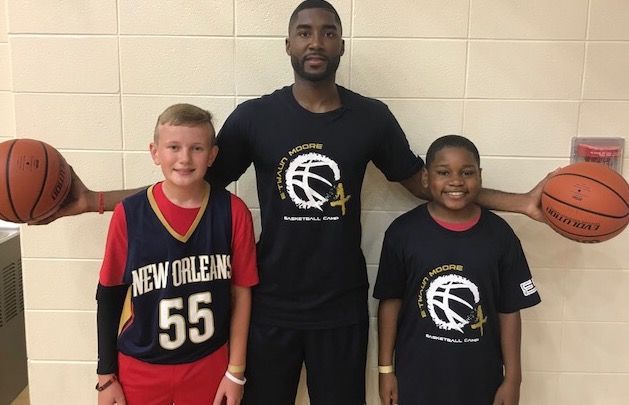 EAST CHICAGO — E'Twaun Moore is on top of the world but never too busy or distracted to lend a helping hand.
At age 29, his hat size remains the same.
He has the humility of a florist.
Opposing coaches and players respect him and the Spartan effort he brings each game.
Life has been good for the New Orleans Pelicans star and former E.C. Central/Purdue standout and that may be an understatement.
He recently married high school sweetheart Elizabeth Adams. They have a daughter, Elissa.
The seventh-year pro had his best NBA season ever with the Pelicans.
You think LeBron James is an "Ironman"? You can add E'Twaun Moore to that list now. Both played all 82 games in the regular season — a feat accomplished by only 26 of the league's 540 players.
"That's pretty cool," Moore said.
For James, it marked the first time in 15 years.
A crowd of 200 youngsters attended Thursday's opening of Moore's summer camp and the excitement was obvious as they exchanged a flurry of high-fives and fist bumps with their hometown hero at the various stations.
"Every year, it's always exciting. It's like the first time for me, having fun with the kids and sharing my experiences and basketball knowledge with them," Moore said.
"E'Twaun's the real deal, a great young man," added camp observer Bobby Miles, who coached at Central years ago and now lives in Las Vegas.
Moore enjoyed a career-reviving season as a shooting guard/small forward for the Pelicans, averaging 12.5 points and leading them in 3-point percentage (42.5) among players with 20 or more attempts.
In an age when NBA coaches now rest their stars at the risk of angering fans who pay big money for tickets, Moore and teammate Darius Miller played all 82 regular-season games. They were the first New Orleans players to do that "Ironman" thing since Jamaal Magloire and Jamal Mashburn in 2002-03.
"That goes to all the hard work in the offseason, preparing and keeping your body in shape," Moore said. "It's very tough to play 82 games. You can get an ankle sprain, or sick, or anything.
"I was fortunate and blessed."
The playoff-bound Pelicans needed all the added firepower Moore and Miller could provide for a good seed and eventually took Golden State to five games in the Western Conference semis.
Not many "Ironmen" are 6-foot-4 and 190 pounds like E'Twaun Moore, who often was matched against the likes of Paul George and Kevin Durant — but helped New Orleans rank fifth in defensive efficiency the final two months of the regular season.
"Versatility is my biggest asset; being versatile and being able to play multiple positions, guard multiple positions," Moore said. "I want to be accessible. If you're not healthy, you can't play.
"I've been doing a lot of cool things like yoga, going bike riding, taking boxing lessons, challenging myself to stay in shape."
New Orleans coach Alvin Gentry, his team fighting for a playoff spot, never pushed the "rest" issue with his starters, according to Moore.
"We couldn't afford to. We had to be tough and grind it out," he said. "It was definitely challenging. This year, we had three games in a row -- back to back to back. You're like: 'Man, my body's sore. I got a headache, I got in late and didn't get much sleep, how am I gonna make it through this game?'
"But once you zone in and get on the court, you block all that out."
The message here is simple for anyone, campers included: Have a goal and don't be afraid to break a sweat working for it.
"Most of these kids won't play college or pro basketball, so I'm just trying to motivate them to do good things and be successful," Moore said.
"I tell 'em I'm just like them. I'm not some overly-athletic, overly-gifted guy. A lot of my success came from working harder to get better.
"I worked on my jump. Now I can shoot. I worked on my dribbling. Now I got good handles. I'm the same kid they are today," Moore said.
We saw his tireless work ethic at Purdue, where he started 135 of 140 games and averaged nearly 19 points over four seasons.
Today, you can't beat that view from the top.