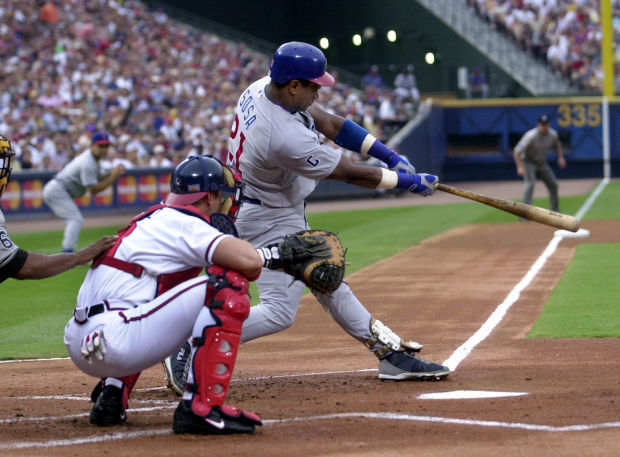 The trouble with people today is they have short memories, particularly in sports.
They forget what they once railed against.
Chicago fans despised the Pistons' Dennis Rodman and his "Bad Boys," until the Bulls signed him and won three straight NBA championships with the free-spirited, rebellious, walking tattoo parlor grabbing every rebound in sight.
Oh, how they loved him then.
Now comes Sammy Sosa 2.0, his blemished career with the Cubs resurrected once again in an NBC Sports Chicago interview conducted by David Kaplan last week in Florida during which Sosa equated critics with "the devil," saying "they don't know me (and) they don't put food on my table."
"If one day I come back to Chicago, I come back for the fans. I owe those people something."
What he owes them is the truth, finally.
Here's the problem I have with Sosa, Kaplan and others who feel an athlete's greatness matters more than their shortcomings or personality flaws.
Yes, we've all made mistakes and will continue to.
Yes, we must be forgiving but honest with ourselves, as well.
In Sosa's case, it's the steroid issue that will forever cling to him like Linus to his blanket.
Did Sosa cheat the game he claimed to love?
On June 16, 2009, the New York Times reported Sosa supposedly was on a list of players who tested positive for performance-enhancing drugs in 2003.
The paper did not identify the drug nor the source of the information. Sosa's agent, Adam Katz, told The Associated Press he had no comment on the report.
Sosa never admitted to using performance-enhancing drugs nor did he ever fail an MLB drug test throughout his 18-year professional career.
Kaplan and much of his ESPN radio audience appear to want the Cubs to welcome Sammy back to Wrigley Field, have him throw out the ceremonial first pitch, sign autographs and sing the Seventh Inning Stretch.
After all, Sosa and rival slugger Mark McGwire saved baseball in that record-breaking 1998 season, when they belted 66 and 70 home runs, respectively.
But wait just a doggone minute.
In January of 2010, McGwire said in a statement sent to The Associated Press that he used steroids on and off for nearly a decade, including in '98, then told Bob Costas he did it for health reasons and not for added power.
I say bring Sammy home but not until he goes on record. Did he or didn't he cheat?
The distinct changes in his physical makeup were suspicious, often alarming, as a member of the Cubs from 1992 to 2004.
Sosa said he hasn't stepped foot in Chicago since 2007, doesn't want a job with the team, and would return if invited.
During that NBC Sports Chicago interview, Sosa was never directly asked by Kaplan if he had used steroids or PEDs, saying only that if he "had made a mistake, he was sorry."
Sorry for what? Be specific.
Chairman Tom Ricketts isn't ready to welcome Sosa back with open arms. At the Cubs Convention in January, he said Sosa and others whose achievements in baseball's so-called steroid era are seen as tainted need to pay back people first.
"The players owe us some honesty," Ricketts said. "The only way to turn this page is to put everything on the table."
Sosa smacked 545 home runs in the 13 years he was with the Cubs. He ended his colorful career in 2007 with 609 homers.
That's what many Chicago fans prefer to remember rather than any "shortcuts" he may have taken.
Yes, sports is entertainment and Sosa was the ultimate showman. But I fear he played Kaplan like a banjo in their "exclusive" chat.
Forget about the well-documented fact Sammy was a lousy teammate who alienated many in the Cubs clubhouse with his enormous ego and selfish antics.
That extra baggage means nothing now. Every professional locker room has its undesirables.
Sosa's alleged PED issue needs to be resolved before he can rejoin the Cubs "family."
For him to ignore that dark cloud is the biggest whiff for a guy who struck out every 3.8 at-bats.