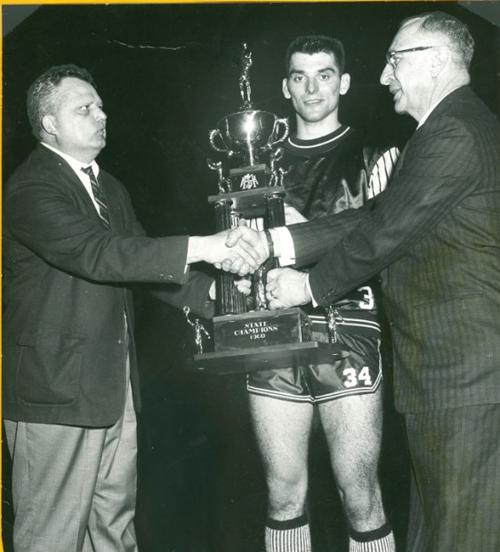 At the Class 4A E.C. Central Sectional, along its new sports hall of fame corridor featuring the city's greatest athletes and coaches, one young fan spotted several photos of a snarling John Baratto and shuddered.
"Oooh. He must've been a scary guy to play for," the kid said.
Wrong. The man was a saint and a father to all his players, black and white.
The cover of the seven-team sectional program welcomed fans to the "John A. Barrato Athletic Center". Wrong, again. It's B-A-R-A-T-T-O.
Thankfully, the name is spelled correctly out on the court and in the Indiana Basketball Hall of Fame, where Baratto is recognized for winning 15 sectionals and a state title (1960) at E.C. Washington, was state runner-up two years later, and had an incredible overall record of 484-170.
Yet, today's younger fans have no clue. They see an imposing individual with his trademark white towel draped over one shoulder and who seemed to be in a constant state of anguish, unaware his facial expression was due to childhood polio that left him with a limp as well.
A native of Terre Haute, Baratto coached at E.C.W. from 1944 to 1968. One of his closest friends was New York Yankees owner George Steinbrenner, and Baratto was often a guest of "The Boss" at the Kentucky Derby.
Hoping to keep Baratto's memory alive among Region fans is why Trester Award winner Bob Cantrell recently submitted an in-depth article on his fiery coach to Indiana High School Hall of Fame magazine.
Not the most popular guy around these parts for obvious reasons, Cantrell wrote from the Kentucky correctional facility where he is serving a 78-month sentence for defrauding taxpayers of North Township.
"Baratto would find out who the refs were for the four semistates and the state finals and then hire them as many times as he could for his games next season, knowing he'd probably catch them again because the (IHSAA) picked the same ones over a two-year or four-year period," Cantrell wrote. "He was prepared, organized and probably the greatest tactician I'd ever seen."
If you're a real fan, you should know this. You should know the feel-good stories about Baratto; how he would drive around the city, even the alleys, making sure every basketball hoop had a net; how he'd give out 500 basketballs to kids every summer; how he'd pay for players' haircuts if they didn't have money so they could look presentable on and off the court.
Basketball was Baratto's life. He never married. He lived for years alone in a single room at The Elks Club Hotel. He didn't smoke or drink much, but he loved to bet the horses at Washington Park.
A master at motivating players, Baratto also developed a feeder system from the city's elementary and junior high schools. He made certain his coaches stressed fundamentals, taught the triangle offense and 1-3-1 defense.
"He was like a father. We were his kids, his sons," Cantrell wrote.
Baratto died in December of 1998. He was a tough guy -- not scary -- who had survived polio and a stroke, and gave it his best shot fighting the cancer that finally claimed his life at age 80.