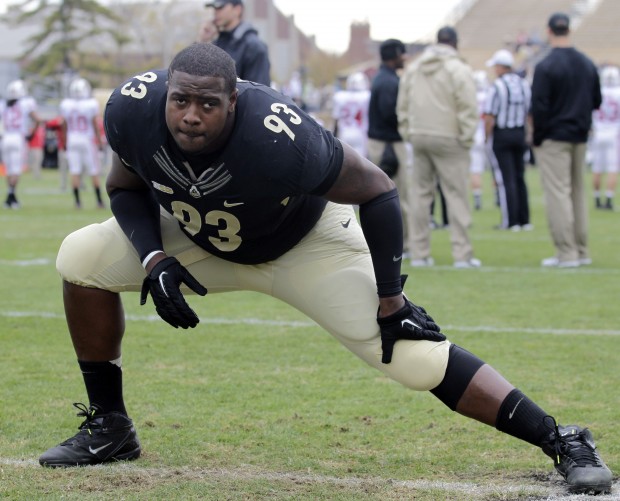 We called Kawann Short a teddy bear as a basketball-football standout at East Chicago Central.
Big, strong, the nicest kid you'd ever want to meet.
Short played college football at Purdue, won enough honors to fill a U-Haul, and is now projected as a first-round pick in several NFL mock drafts.
The 6-foot-3, 299-pounder squats more than 600 pounds and bench presses in the 400s.
He's got the wingspan of a Pterodactyl, enabling him to block four kicks last season.
Many draft sites project Short as an instant starter for 3-4 or 4-3 teams.
There's one negative, however, that appears in nearly every scouting report: The lack of "meanness" on a constant basis. That Ray Lewis I'm-Gonna-Wipe-My-Cleats-On-You nastiness.
"Football is physical but you don't have to be mean," Short is quick to say. "I don't need to put on a 'mean' face when I play, just bring more energy and be a high-motor guy.
"I haven't been 'mean' all four years but I have been productive."
There were the career-bests of 54 tackles, 17 for loss, and 6.5 sacks his junior season. Or the 43 tackles, 15.5 for loss, and team-high seven sacks while playing through an ankle injury last season.
I'll take that production over some guy who snarls, growls and claws the dirt like a spooked bull.
Short did not participate at the NFL draft combine in Indianapolis, still recovering from a tweaked hamstring suffered while conditioning at Purdue. He'll have his Pro Day there on March 25.
The draft is April 25-26-27.
Surprisingly, Short has not sprouted roots at his computer, checking out mock drafts to see where he's positioned and who's saying what about his chances.
"Nah, not at all. Most of those guys on the Internet did not play football. They're just making predictions," he said. "I just keep pushing myself to be one of those top guys. My agent's telling me good things."
Short considered entering the draft after his MVP junior season, but decided to stay at Purdue after being given a third-round grade by the NFL Draft Advisory Board.
"This is what I've been working half my life for," Short said of the upcoming draft. "I've been working out with former Purdue players who have helped a lot. I text (Green Bay's) Mike Neal almost every week."
Much of Short's inspiration at Purdue did not come from coaches, teammates, or the crowds at Ross-Ade Stadium.
His real inspiration often was followed by a loving kick in the pants from mother Yvonne, a single-parent.
"She taught me to be tough and to overcome adversity," Short said. "Having a strong woman in my life and seeing her pull through and raise six kids on her own motivated me even more.
"She tells me every day how proud she is of me. I tell her the same thing -- that I'm proud of her and all she's done for us."
Kawann Short is an easy kid to root for. But those teddy bear days are over. The real world awaits.