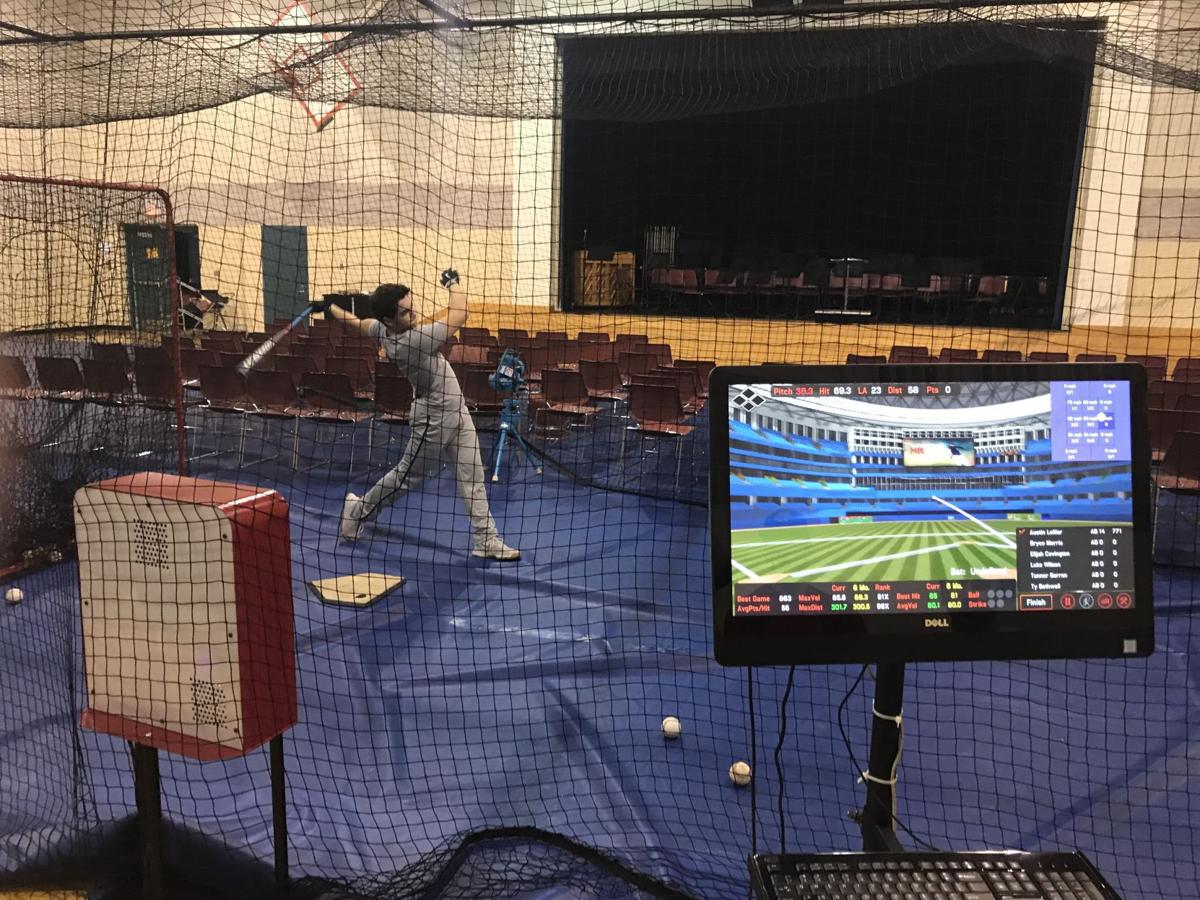 The old school approach to batting is giving way to analytics, even at the high school level, where terms like launch angle and exit velocity are becoming part of the baseball vernacular.
"It's evolving and I think it's going to become more dominant as time goes on," new Boone Grove coach Pat Antone said. "It's not just trying to hit the baseball. It's trying to elevate it into the outfield. It's more focused on developing that swing with more intent."
Andrean brought HitTrax, a simulation system and data capture that takes batting practice to the next level, to the Region last year, when it purchased the technology. The 59ers' power numbers skyrocketed and Antone, then an Andrean assistant, saw firsthand.
"It's one of those things where once you've used it as a player or coach, it's something you don't want to be without," he said. "You know all the information you're missing out on. After seeing all the benefits with it at Andrean, it was definitely high on my priority list to bring that to Boone Grove."
Obviously, it took more than a few candy bar sales to make the investment of $15,000 to $20,000 for the Class 2A school. A combination of team fund raising and a major sponsorship foot the bill for the computer, frame, software, camera and other equipment. Boone is the just second school in the state known to have it.
"When I first heard about it, I didn't really know a lot, but when I heard the price, I knew it must be the real deal," Wolves sophomore Austin LeMar said. "My travel team (Indiana Chargers) has one and I used it a couple times at workouts. Coach Antone really wanted it and when I found out we were getting it, I was absolutely pumped."
The system is set up in Boone's auxiliary gym, where the Wolves have a drop down batting cage, and has been in use since mid-October. The middle school has taken its turn at it and it will be available during Boone's winter camp in January.
"Honestly, it's easy for the players to use," Antone said. "They're in there taking their hacks like they normally would. I'd compare it to a golf simulator. Nothing changes."
The difference is, every swing and hit is logged, visualized, analyzed and quantified to let the batter know what he's doing right and doing wrong. If players are so inclined, they can get the HitTrax app for their phone to have their information at their index finger tip.
"You can tell the progress, the improvement that's happening," Antone said. "The kids can see it, too. It's right there in the numbers."
In Lemar's case, the initial evaluation showed he wasn't distributing his weight well enough to drive the ball. As he got more on plane, he started to develop more power, as the statistics verified. His exit velocity jumped from 82 miles per hour to 89, the biggest jump on the team and his hard hit average rose from .424 to .548.
"It's a game changer," LeMar said. "We've only been doing it a month-and-a-half and it's been phenomenal."
Antone keeps a leader board and Tanner Barron tops the Wolves at 93 mph, followed by Charlie Hoskins and Ty Bothwell at 90.
"They're loving it," Antone said. "It's tough getting them out of the cage. It keeps them excited, enthused in practice. It stirs up competition amongst themselves. A guy gets an 88 and he's not too happy."
While the art of hitting has grown into a science, it's worthless if it doesn't remain a natural act, a batter becoming robotic in the process. Plenty of hitters get so caught up in thinking about mechanics, they stand frozen at the plate as strike three goes by.
"A lot goes into it, but from the time we step in the box, we still keep it simple, using our approach — no corners, middle away, middle in — and then just letting it go," Antone said. "It's all about external cues. You're thinking about results, where you want to hit it, how you want to hit it. The internal cues are the body and if you're thinking about that, it's going to slow you down. Any focus that isn't on the baseball is wasted."
Winter's still officially a couple weeks away and the Wolves can't wait for spring.
"Baseball, hitting, is so difficult," Antone said. "It's going to show up in tryouts, the work we've been putting in. We're going to be close to midseason form when the season starts."