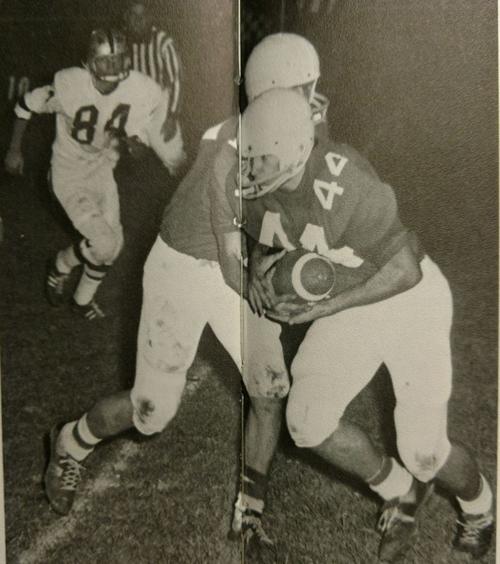 When Les Klein coached football, he always recalled two specific qualities in his running backs.
"Could they catch it and when they got a hold of it, whether it was handed or thrown to them, did they hold onto it until the whistle blew?" the former Portage coach said. "If I remember correctly, Ted wasn't prone to losing the football. When we handed it to him, it was safe. I loved to give him the ball."
Ted Harper only remembers one game, a rainy Friday at Crown Point, when he had trouble keeping the slippery pigskin in tow as a ball carrier for the Indians.
"I never fumbled at all," Harper said. "It was only that one game."
The bruising running back rumbled for over 1,000 yards in 1971, helping Portage share the title with Chesterton in the second year of the fledgling Duneland Athletic Conference when the Indians (7-2-1, 2-0-1) halted Valparaiso's 27-game unbeaten streak and beat Hobart for the first time.
"That was my 15 minutes of fame," Harper said. "I've forgotten more than I remember, for sure. It's been a long time. Coach Klein was a good, good coach. I enjoyed playing for him. He got the team fired up. He complimented me quite a bit."
Harper was the guy, teammate Bill Metz recalled, that he didn't want to be across from in tackling drills as practice. A two-time all-area selection, he was Portage's Mr. Football as a senior, when the Indians went 7-3.
"I remember growing up there was a running back from Georgia Tech, Leon Hardeman, who was on the cover of Sports Illustrated," Klein said. "It said, he isn't big, he isn't fast, he's just unstoppable. That's who Ted Harper reminded me of. He had a good sense for the game. You have to have good blocking, but you have to know how to utilize it, and Ted could sniff out the holes. He was a real hard-nosed runner."
Tough to bring down in his days on the field, the former Indians standout is facing a much more formidable opponent now, fighting cancer. Over 45 years have passed from their days at Trumble Field, but the team bond is still there and a number of Harper's old teammates will get together Saturday afternoon at  Koselke-Mayfield American Legion Post 403 in Wanatah as a show of support for their popular workhorse.
"I haven't seen them as much as I used to when I lived over in Portage," Harper said. "They wanted to have a party and I said OK. I would always go over to Portage whenever we had anything, but they said they'd come down here to us. It's going to be quite a bit of a big deal. I didn't expect it to be so big. It'll be nice to see people I haven't seen a lot."
Klein, who spends the winter in Florida, will be missing the get-together by a few days, returning north on Monday, but plans to get in touch with Harper.
"I don't think I've seen Ted since the day he stepped off the stage at graduation," Klein said. "It was people like Ted who helped us establish the program at Portage High School. He had the kind of demeanor we expected on and off the field. We were fortunate to have a group of assistant coaches and some pretty good athletes who worked within that spectrum to develop something we could be proud of."