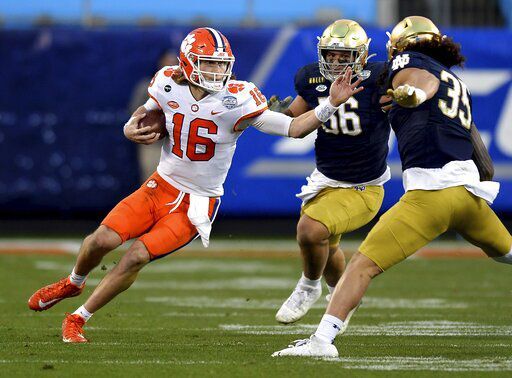 The start of fall sports and the end of the professional baseball season have unhappily coincided with the emergence of the delta variant. Furthermore, far too many individuals and entire families continue to forego vaccination.
Consequently, athletes and — in the case of the Cubs — even those leading them are being sidelined by COVID-19. Sadly, some outbreaks are so extreme that, once again, contests are being canceled.
It is a simple matter of numbers. Those diagnosed with the infection — and their close contacts — are compelled to quarantine for at least 10 days, thus leaving many teams short of sufficient personnel.
Once that period of isolation is over, though, all concerned are able to get right back on field or floor. Correct?
Remember last football season, when Clemson (now Jacksonville Jaguar) quarterback Trevor Lawrence tested positive for COVID-19 and had to miss the Tigers' game with Boston College? Perhaps not. But surely, you recall him missing the next contest, too, at Notre Dame.
The eventual NFL Draft top pick was forced to watch from the sidelines as the Irish won 47-40 in overtime. The outcome broke Clemson's 36-game regular-season winning streak and gave Notre Dame its first win over a No. 1 in 27 years.
Lawrence was feeling well days before the contest in South Bend but had not yet had time to pass the ACC's strict post-COVID cardiac clearance process.
In the following months, as the evidence mounted that cardiac consequences were far less common among young adults than the middle-aged, the stringent requirements for return, that Lawrence faced, were eased for collegiate and professional athletes who had mild or no symptoms.
However, as Dr. Sean Swearingen, a cardiologist with Community Care Network in Munster, explained in this space in March, collegians — and pros — with moderate or severe symptoms still needed a complete battery of cardiac tests before resuming play.
Still, the Purdue Northwest athletic department consultant was not willing to throw caution entirely to the wind for victims with minimal symptoms. "It is still a big deal in my mind to aggressively monitor symptoms during a gradual return to play," he said.
Released online last week, the September/October issue of the journal Sports Health offers formal guidelines not only for collegians but for athletes — and students participating in physical education class — all the way down to age 4.
Authored by a group of pediatric cardiologists, pediatricians and sports medicine specialists from major medical centers across the country, including the Mayo Clinic, the guidelines largely echo Swearingen's advice.
"A minimum wait of 10 days after a positive SARS-CoV-2 test or symptom onset, in addition to resolution of symptoms for 24 hours, is currently recommended prior to return to any activity or sport," they wrote about youngsters who have experienced minimal to moderate symptoms. (Clearance will take longer and should involve a cardiologist for those who have had severe COVID-19 symptoms.) "Once cleared, return to full activity should be gradual and escalate over a 7-day period."
Mimicking what is now common practice for concussion victims, this protocol involves five stages. Stage one (Days 1 and 2) allows 15 minutes of light activity, such as easy pedaling on a stationary bike, at no more than 70% of one's maximum heart rate. Stage two (Day 3) involves 30 minutes of more intense aerobic activities, including jogging, but with the heart rate limited to 80%. Stage three allows for 45 minutes of more involved activity including light strength training, while the heart still does not exceed the 80% level.
In stage four (Days 5 and 6), the time limit increases to an hour, normal practice activities resume, but the heart rate is still not to exceed 80%. Only at stage five (Day 7) may the athlete resume full participation at full intensity including competition.
During this week of gradual resumption and even for weeks thereafter, player, parent, coach and athletic trainer should be wary of any indication of cardiac involvement such as chest pain, dizziness, palpitations, shortness of breath, and syncope (loss of consciousness) or near-syncope.
"If the patient reports symptoms with return to activity at school or during organized sports, he or she should notify school officials or team medical personnel and be evaluated by one's primary care provider," the guidelines advise.
After seeing the patient, if the pediatrician or family practice physician remains concerned, a referral to a pediatric or adult cardiologist — depending on the patient's age — is then warranted. At that point, an entire of battery of tests, like those Lawrence faced last year, is likely.
Before concluding, the guidelines also address the COVID-19-induced but extremely rare Multisystem Inflammatory Syndrome in Children (MIS-C). Since the onset of the pandemic in March of last year, there have been 105 such cases identified in Indiana according to the Indiana Department of Health's COVID-19 dashboard. In those patients, the heart is often affected and when it is, an athlete should refrain from exercise for at least 3-6 months and complete a battery of extensive cardiac tests before any thought is given to returning to sports.
Next week, the non-cardiac consequences of COVID-19 that athletes may face, and how to avoid them.
John Doherty is a licensed physical therapist and athletic trainer. This column reflects solely his opinion. Reach him at jdoherty@comhs.org. Follow him on Twitter @JDohertyATCPT.
Football recap: Chesterton's last-minute touchdown, Merrillville's breakout WR highlight DAC wins
The opening night of Duneland Athletic Conference play did not disappoint. Here's a look at the scores, stories, sights and sounds from Friday night.
John Doherty is a licensed physical therapist and athletic trainer. This column reflects solely his opinion. Reach him at jdoherty@comhs.org. Follow him on Twitter @JDohertyATCPT.