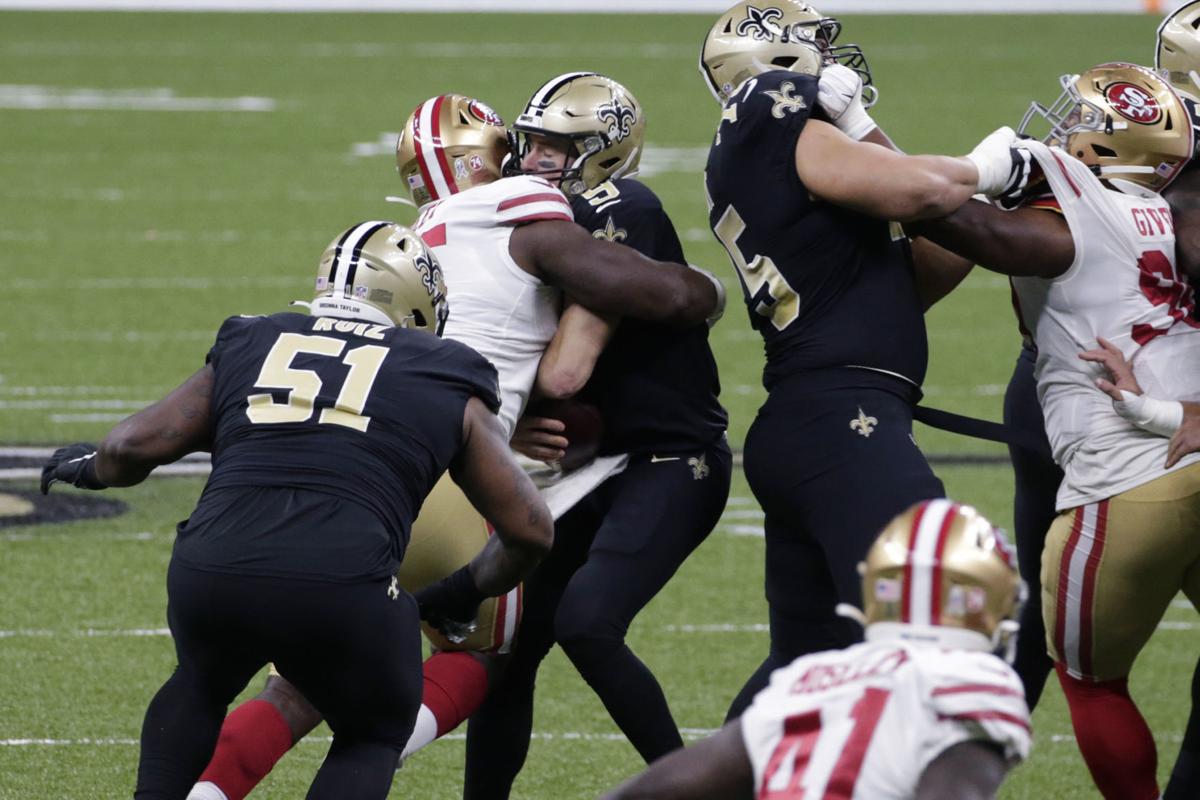 As the Thanksgiving weekend unfolded, football fans were rapidly overstuffed with COVID-19-related news. Early on Friday, the NFL announced that it was requiring all teams to close their facilities on Monday and Tuesday in hopes of stopping the spread of the virus — unless a team was still playing on one of those days.
Of course, as of Friday, Baltimore was one of those teams scheduled to have an extended week because of the number of Ravens who had tested positive and prompted the postponement of their Thursday game with the Steelers. Down at least 20 players — including starting quarterback and 2019 league MVP Lamar Jackson — with the infection, as of Sunday, how the Ravens can be expected to play on Tuesday is a mystery to me. Then again, the Broncos were expected to play with none of their four quarterbacks available, thanks to COVID-19 restrictions, on Sunday.
Meanwhile, with multiple college teams missing a similarly significant percentage of players, they were postponing or cancelling their contests — as has been the case every weekend this fall. The Big Ten has not been immune and the conference's woes continued as last week ended. Friday started ominously enough for Ohio State with the announcement that head coach Ryan Day would be unavailable after a positive test. Not long before midnight, though, the Buckeyes announced that additional positive tests among their players precluded playing the Illini the next day. Additionally, team activities in Columbus, Ohio were halted indefinitely.
Still hoping to play Michigan State at the end of this week, if they are successful, Ohio State will be another example of a team playing in fits and starts, all in the interest of safety. I get it. The virus can be dangerous, especially for older coaches and staff members with co-morbidities.
Yet, the danger to the players has — for the most part — been not that significant. There have been isolated cases of virus-induced myocarditis but the overwhelming majority of collegians and pros have been able to return none the worse for their temporary misery.
The infection may not have caused any harm to the typical player but the lack of activity, followed by sudden resumption of play, almost certainly has.
Leading up to their contest with the Steelers, the Ravens had had only two walkthrough practices as of Friday and would not be able to gather at their team facility until Monday. No NFL team practices at full speed the day before a game. Consequently, if they play on Tuesday, the Ravens will not have had a real practice for over a week, leading up to having to play a game at NFL speed and with NFL collisions.
This is a recipe for mediocre play and serious injury.
On October 19, the Philadelphia Inquirer reported, "Injuries are up across the NFL, likely because of the truncated offseason, no preseason and COVID-19 precautions."
At the NFL level, in particular, football is a quarterback's game but the league has done a poor job this year of protecting those marquee players.
The 49ers' Jimmy Garoppolo suffered a high ankle sprain on Sept. 20, a six-week injury, only to be brought back after missing only two games. Ineffective because of obviously limited mobility, he was benched during that game against Miami on Oct. 11. Nonetheless, he was trotted right back out there each of the next three weeks, until he re-injured the ankle against Seattle on Nov. 1. He has been sidelined since and may be finished for this season.
The same weekend Garoppolo attempted to return, Cowboys quarterback Dak Prescott, suffered a compound fracture/dislocation to his right ankle.
Two weeks later, on Oct. 25, Prescott's replacement Andy Dalton was the recipient of a brutal cheap shot to the head. The resultant concussion kept Dalton on the sideline until Nov. 22. As for the perpetrator, Redskins linebacker Jon Bostic, he was flagged but not ejected and fined ($12,000) but not suspended.
Poorer conditioning and timing may or may not have been part of these particular injuries. Nonetheless, the follow-up to Garoppolo's and Dalton's misfortunes by the 49ers and league office, respectively, seems to suggest that COVID-19 has distracted the NFL from the typical health and safety issues of the game.
The care provided to Saints quarterback Drew Brees over the last month, though, goes far beyond suggesting. Sometime during New Orleans' win at Tampa Bay on Nov. 8, Brees broke three ribs on his right side. Yet, that injury went undiagnosed until after he broke eight more ribs on his left side when he was body-slammed to the turf the next week by San Francisco's Kentavius Street. The hit drew a roughing-the-passer penalty but no suspension or fine. (Yet the league office saw fit on Sunday to fine the Saints $500,000 and take away a seventh round draft pick for failing to observe COVID-19 protocols while celebrating the above-mentioned victory over the Buccaneers.)
Multiple breaks to the ribs usually are limited to car wrecks or falls from a height. They are often accompanied by a collapsed lung, which can be life-threatening. Brees' injury against the 49ers occurred during the first half. Yet, there he was in pads on the sideline during the second half, not fully examined and properly diagnosed — with all those fractures and a collapsed lung — until after the game.
That question could also apply to the timing of the Saints putting Brees on injured reserve, which did not occur until five days after his more recent mishap. This guarantees he will miss a minimum of three games. The Purdue graduate insists he will be ready to return as soon as he is eligible, which would be on Dec. 13 against the Eagles. If he returns before the playoffs — with bones barely healed and nowhere near in true playing condition, he and the Saints are crazy.
But that would be in keeping with this 2020 season.
John Doherty is a licensed athletic trainer and physical therapist. This column reflects solely his opinion. Reach him at jdoherty@comhs.org. Follow him on Twitter @JDohertyATCPT.
Each decade's best Bears players
John Doherty is a licensed athletic trainer and physical therapist. This column reflects solely his opinion. Reach him at jdoherty@comhs.org. Follow him on Twitter @JDohertyATCPT.