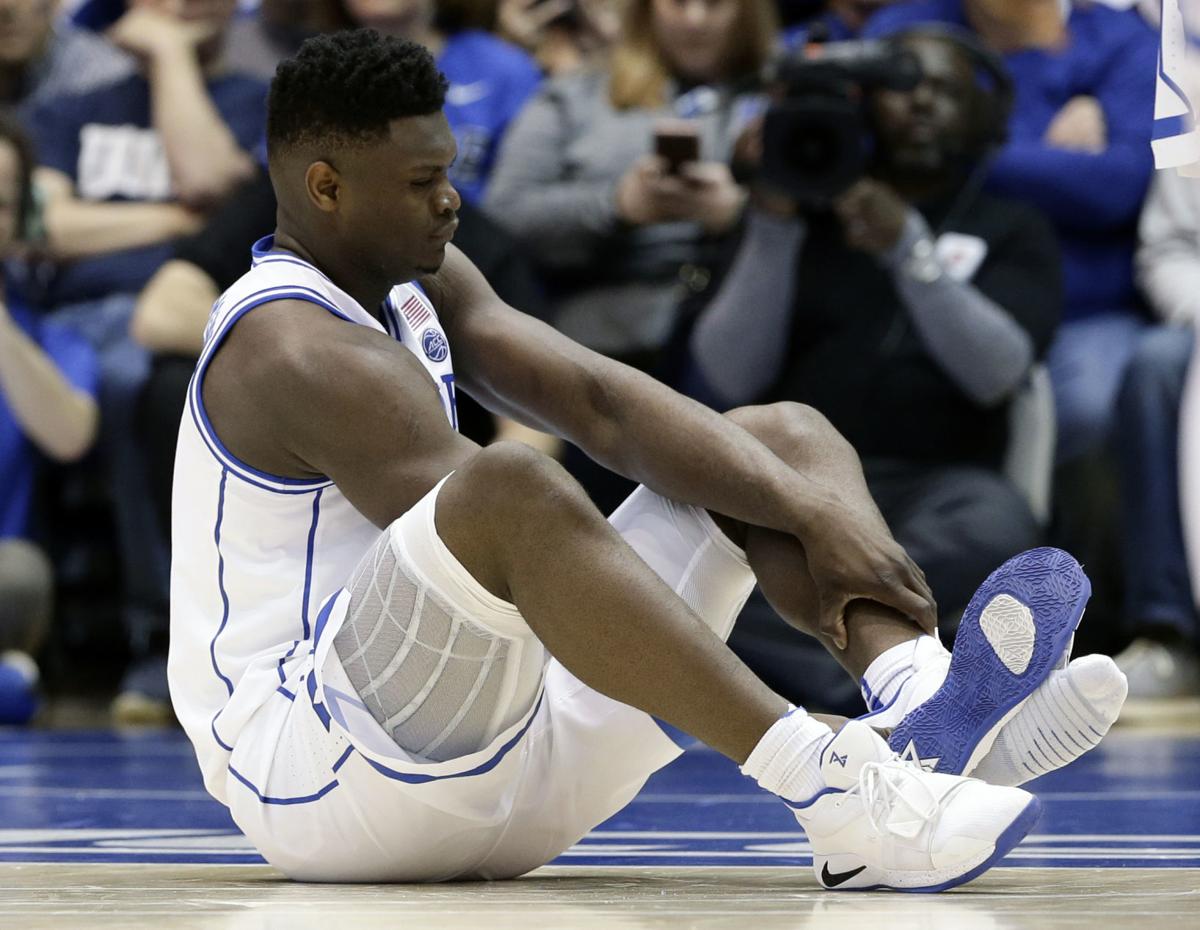 It wasn't a year ago that basketball fans were awaiting Zion Williamson's return from a right knee injury. Now, history is repeating itself.
Back in February and March of 2019, Williamson was still a college player at Duke, on his way to winning the Wooden Award, and eventually being the first pick — by the Pelicans — in the NBA draft. He had suffered a late season medial collateral ligament injury when he quite literally blew out his sneaker and his knee collapsed inwards. Thereafter, Duke wisely did not hurry the freshman power forward's return.
Even though he was always listed as "day-to-day" and the average time to return from a first degree MCL sprain is 10-11 days, Williamson missed the last five games of the regular season before returning for the first game of the Atlantic Coast Conference Tournament, 22 days after he was injured.
The Blue Devils' patience paid off as Williamson came back healthy to all appearances — and dominant. Duke would go on to win its league tournament before falling in the NCAA East Region Final to Michigan State.
That dominance seemingly continued in the NBA as the 6-foot-6, 285-pound rookie averaged 23.3 points in four preseason games for New Orleans. However, right knee trouble then re-appeared, this time in the form of a torn lateral meniscus (cartilage) that necessitated surgery. One can only wonder if this injury's genesis dated back to the sneaker incident.
In the wake of the operation, many media outlets reported that the procedure was a repair. Yet, the initial projection for a return to play was only 6-8 weeks. A return from a meniscal repair that soon is just not possible.
"A meniscal repair is a minimum of four months," said Dr. Brad Bookatz, an orthopedic surgeon with Community Care Network in Schererville. Bookatz completed his sports medicine fellowship at Emory University in Atlanta and worked with the Falcons, the Georgia Tech football and basketball teams, and the WNBA's Dream during his time there.
Instead of a repair, a careful reading of the Pelicans' press release reveals Williamson had a "routine debridement" of the torn cartilage, meaning that the damaged portion of the cartilage was trimmed away. "Typically, that (surgery requires only) 6-8 weeks to get back to a high impact sport," Bookatz continued. "We see the difference in football (requiring less time to return) because those guys just play one game a week. Basketball, being multi-games per week, they can't control the swelling that you get with the high impact on that regular of a basis."
For the long-term health of the knee, a repair is better than debridement or partial meniscectomy. Bookatz explained why.
"I think it's always important to perform a repair if possible. The meniscus is important in reducing the contact and the stress between the articular (joint) surfaces of the femur (thigh bone) and the tibia (shin bone)," he said. "We know that partial meniscectomies increase those forces and therefore they increase the rate at which degenerative (arthritic) changes are seen."
Regrettably, not all meniscus tears are repairable.
"Whether you have a repair or not is based solely on the morphology (location and shape/size) of the tear," Bookatz said. "Is the meniscus tear in an area that has blood supply? If it doesn't have blood supply, you can sew it back together but it will never heal. The inside one third of the meniscus doesn't have blood supply to it. So those small, little tears on the inside edge, the only thing you can do with them, is trim them back."
Closer to the outside of the joint, there are blood vessels in the cartilage.
"If (the tear is in the) part that has blood supply and the tissue is in good shape, meaning it likely hasn't been a long injury, that someone's tried playing on for too long and kind of torn it up and shredded the meniscus, you can perform a repair and suture it back together," Bookatz said. "The success rate, as long as it is in a vascular, area, is very high."
Depending on the study, that rate is 70-95%.
"When we do the repair, all we're doing is holding the tissues that have been injured together so that the body can heal it and bridge it with blood vessels," Bookatz said when asked about the prolonged recovery from a repair in comparison to a debridement.
"Each meniscal tear is unique and oftentimes we don't know if we're going to be fully able to repair it or if we have to remove the torn part until during the surgery. Even MRIs can't give us all that information," Bookatz said.
Meanwhile, Williamson has returned to practice but remains absent from game action, now 11 weeks since having the procedure. Given how long he has now been sidelined, it is lamentable that his orthopedic surgeon was unable to conclude a repair was possible. As a consequence, onset of arthritis is likely and a prolonged professional career is less so.
John Doherty is a licensed physical therapist and athletic trainer. This column reflects solely his opinion. Reach him at jdoherty@comhs.org. Follow him on Twitter @JDohertyATCPT.
Be the first to know
Get local news delivered to your inbox!