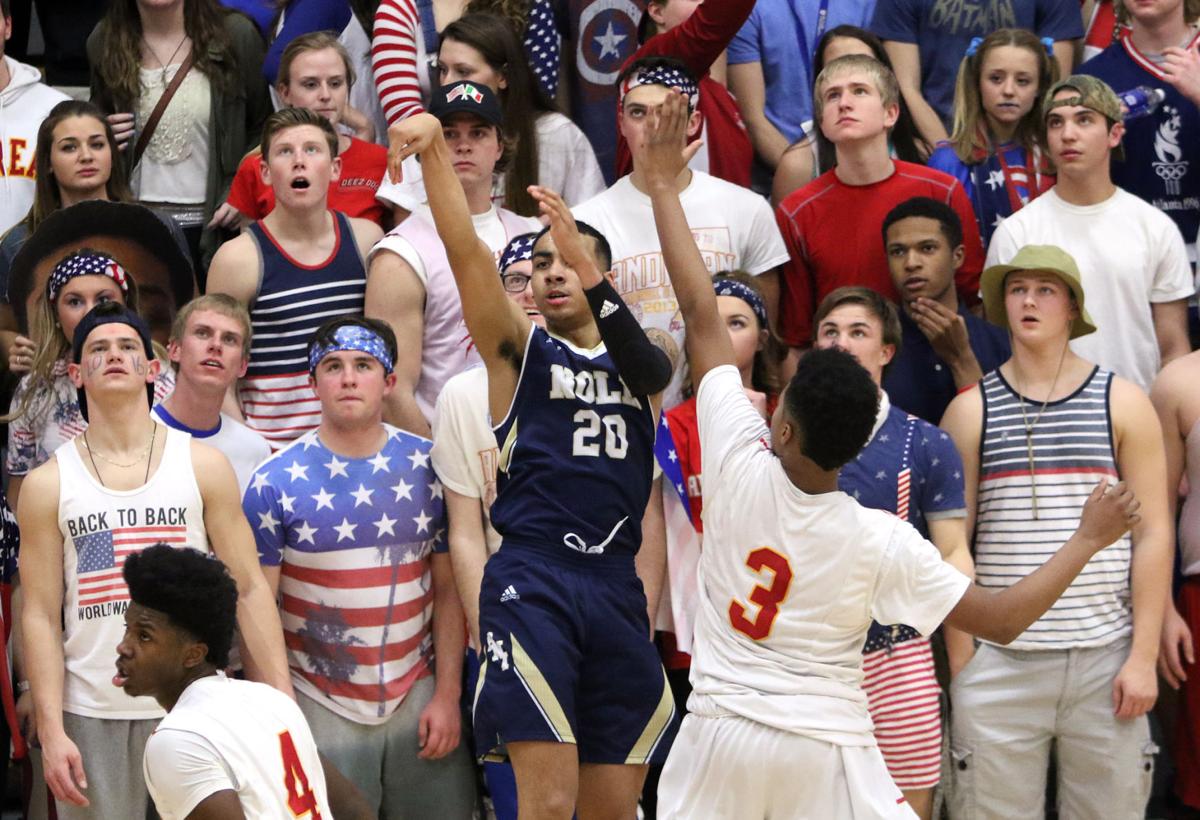 MERRILLVILLE — Driving up Broadway on Friday night, my phone was buzzing early. The refrain was the same from multiple sources. It didn't, however, surprise me.
"There's nowhere to park at Andrean."
With Gary Diocese rival Bishop Noll in town, parking cars was the least of anyone's problems. Backsides was another issue. When I walked to the door and the police officers weren't letting anyone into the game because it was sold out, I thought "perfect."
This classic Region rivalry is the perfect way to get ready for next week's state championship series. A packed gym. A loud crowd. And two good teams with a chance to surprise the experts in next week's sectional action.
Gary Diocese Bishop Donald Hying took the microphone and said, "It doesn't get better than this. Basketball on a Friday night in Indiana."
That tradition was followed by a big cheer and a prayer, another tradition I'd like to see more of, especially in these darkening days.
The student sections for both schools were insane and awesome, like always. Both Andrean's and Bishop Noll's students went from the first deck all the way to the second deck in the sardine-like environs. And it was like a costume party, too.
Noll's students had Santa, The Skipper (Gilligan's Island), Frosty, Patrick Kane, Gumby, a penguin and John Wayne, among many other characters. Andrean's students had a red, white and blue theme going, which was perfect on this "Blue Heroes Night," where Lake County law enforcement officers were honored for all they do for us. A special thanks goes to the men and women in blue.
Of course, in this rivalry, it always gets "Saturday Night Live"-like fun, too. The 59ers section had a Donald Trump sign and a big poster of the presidential candidate's face. They started chanting, "Build the wall. Build the wall." The Noll students answered at one point with*, "We're bilingual." Smiles were on all the faces as this back and forth went on.
"This rivalry goes back for years and years," Noll senior Roman Penn said after scoring 19 points in his Warriors' 56-52 win. "Everyone wants to see who the best Catholic team is. We can build off this going into sectionals. This is the most intense game we play in during the regular season."
Niner Nation was giving Penn a little business in the opening quarter. He promptly hit a 3 and just looked at them as he ran down the floor. But he said, "It was all love" with a bright smile.
Noll coach Josh Belluomini smiled as sweat poured down his red face when asked about what playing in a game like this is like. The gym was hotter than a sun spot on a burrito covered in Mad Dog No. 9 sauce. The heat made me think about what next week is going to be like.
"This is a great atmosphere, great for the students," Belluomini said. "So many people this week told us they wanted us to win this one more than any other. It's just a really emotional game."
Some have suggested that the end of the year isn't the time to play a game like this. Start the season with it, or play it in the middle. But I disagree 100 percent. How better to get ready for Hoosier Hysteria than hitting a 3 when Catwoman and Popeye are calling you "ugly" during the shot?
Last year, Andrean pounded the Warriors 57-46 in Hammond. And Noll responded by getting to the semistate.
"This rivalry is absolutely awesome," interim Andrean coach Greg Bosak said. "I told the kids all week there's nothing like this game anywhere. It was two traditional Catholic schools playing an exciting game, it was good, clean fun. Both schools showed an example to everyone how this should be.
"I only wish we would've played better."
Well, for everyone out there, you all get another chance next week. The gyms will be hot. The noise will be loud. The competition will be intense. Can't wait for it to get started.
* Clarifies an earlier version of the story.