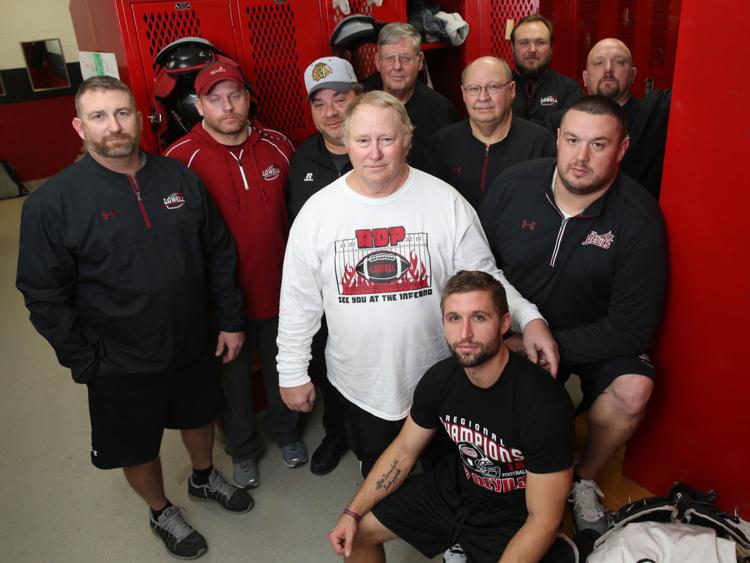 LOWELL — Change is sometimes a great thing.
In no high school sport is coaching more important than football. With all the moving parts and all the players and all the chaos, a program has to have people in charge who know what they're doing.
If a coaching staff has a revolving door of people moving in and out, success is going to be hard to find.
No one knows this more than Lowell coach Keith Kilmer.
The Red Devils will have 175 seasons of experience on their sidelines at Saturday's Class 4A state championship game at Lucas Oil Stadium.
Line coach Jim Kiechle has coached 48 years.
Wide receivers coach Jim Carlson has been doing this for 29 seasons.
Middle school coach Dale Schultz has been at it for 23.
Outside linebackers coach Chris Charters for 22.
Defensive coordinator Derek Thompson is in his 18th season. The same number as running backs coach Ed Miracle.
Middle linebackers coach Jamie Kirin is at No. 11.
Offensive line coach Jeremy Bilka has done it a decade.
Quarterbacks coach Paul Lacy is in his eighth campaign.
And defensive backs and special teams coach T.J. Lukasik is in his sixth season coaching at his alma mater.
"I'm the rookie," he joked before Monday's film session.
As their team roared back from a 7-6 deficit in Friday's semistate game against Fort Wayne Dwenger to win 21-7, the coaches of this team that had lost some heartbreakers over the last four seasons weren't dealing with emotions.
Keep reading for FREE!
Enjoy more articles by signing up or logging in. No credit card required.
"We were so involved in what was going on we weren't thinking about feelings," Carlson said. "We knew they had it in them. Once they started rolling it got fun."
"Everyone knew what to do and they did it," Kiechle added.
A lot of staffs are hampered by the younger coaches always looking for a head coaching job. One foot in. Another one out. But with several older, experienced coaches on Lowell's staff, good men happy to be an assistant, it has brought stability to the program.
In Kilmer's first few seasons when the team was struggling, there was more coaching movement than he liked. This year's group has been together for awhile.
"I think that's great," Kilmer said. "I couldn't do it without these guys."
The offensive coaches credited the guys running the "D" for all the film work done during the season. The game plan is ready to go after tired eyes are done of watching all the video.
But they also have Plan Bs or Cs ready to go if the first idea falters.
"We have to be on the same page," Thompson said. "If we're not the kids see it."
Many of these coaches were here when Lowell made it to the state championship game in 2005, 2007 and 2009, so getting back means the world to them.
Lukasik played in two of those state finals and was happy to return to the program from which he starred.
"At first I felt uncomfortable voicing my opinion because some of they guys coached me when I was 17," Lukasik said with a smile. "But they are a welcoming staff. They are my colleagues and my friends."
Carlson said he was so focused in 2005, when Lowell beat Indianapolis Roncalli 28-27 to win the championship. When the parades and firetrucks were over, Carlson realized he hadn't enjoyed the ride much.
"I was too focused," he said.
He tried to enjoy it all the next two times and the Devils lost to Evansville Reitz 33-14 in '07 and again to the same school, 23-9.
"I'm not trying to enjoy any of this," Carlson said. "We're focused. We want to win."
This season has been remarkable for these players, coaches and community.
One game left. It's all on the line.