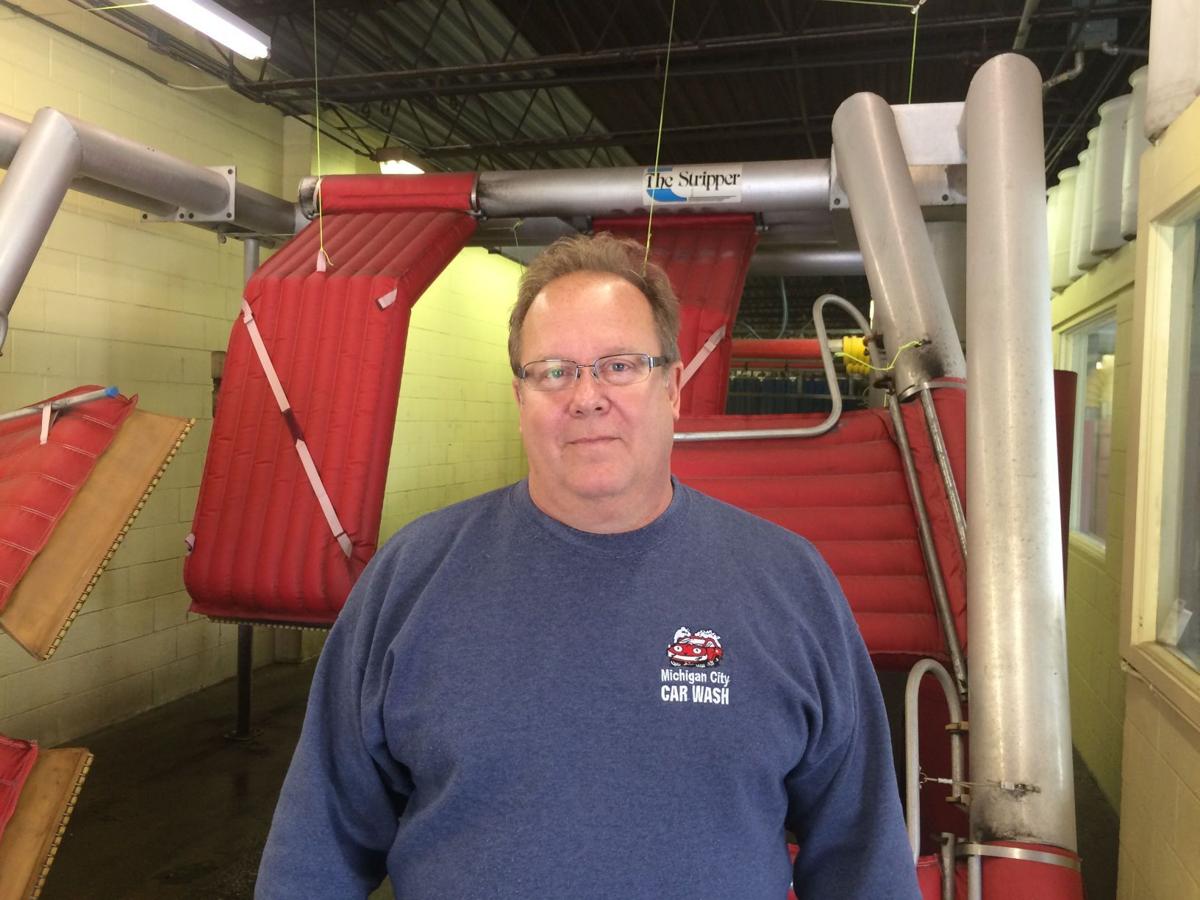 MICHIGAN CITY | As Tom VanDenburgh thought about his stellar prep and collegiate football career, he took a deep breath and smiled.
"I am a pretty lucky guy," VanDenburgh said. "I feel like a 'playbaby' in that my parents didn't make me work and I was able to play sports. I feel very fortunate."
VanDenburgh was a 1975 all-state defensive lineman for Ken Haupt's Merrillville team, a team which had just five seniors. He also played for Dick Demaree, who retired after the 1974 season. VanDenburgh went on to play for Dan Devine at Notre Dame and was on the Fighting Irish's 1977 national championship team.
VanDenburgh owns Michigan City Car Wash, a business he bought in 1986. Sunday, he was inducted into the Indiana Football Hall of Fame.
He said he loved playing sports and does not regret one moment.
"I loved two-a-days that Coach Haupt brought in when he became coach," VanDenburgh said. "A lot of guys didn't like it and quit. I loved it and Coach Haupt made football fun. I never thought of football as a job. I had a blast."
He also played basketball for Larry Liddle. He said he was thankful to Merrillville for nominating him for the hall.
"I am really humbled and flattered to be nominated and to go in," VanDenburgh said. "This is really a great honor, not something I thought of when we were playing high school ball."
He was on Notre Dame's traveling squad his freshman year there, but said he played as a special teams player.
"I was a defensive end and Scott Zettek and myself were behind Ross Browner and Willie Fry," VanDenburgh said. "That tells you we didn't see the field (as defensive ends) except for a few plays."
He said he suffered a career-ending spinal injury the practice before the Blue-Gold Spring Game in 1977. when he got hit by his roommate. Ironically, his son Mark, a Chesterton grad, suffered the same injury a few years ago at Eastern Michigan.
"The reason we knew, I never had an MRI back then, was I went in for a test," VanDenburgh said. "They did an MRI on me and it showed."
One thing VanDenburgh said he will never forget was the first time he ran out of the tunnel at Notre Dame Stadium.
"It was like you were floating on air," VanDenburgh said. "It is just something special."
So was Oct. 22, 1977 when No. 11 Notre Dame faced No. 5 USC. It warmed up in its traditional blue jerseys. Devine had his team change to green jerseys and came running onto the field and went out and beat the Trojans 49-19. The Irish's lone loss was in Week 2 against Mississippi in Jackson, Miss.
"It was like 100 degrees and humid during warmups," VanDenburgh said. "I took one sprint the length of the field in warmups and I was sweating and hot. Now they have air conditioners, fans and heaters when it gets cold."
He said he was there when the "Dump Devine" campaign and bumper stickers were started. The Irish won the national championship in 1977, beating Texas 38-10.
"Coach Devine delegated to his assistants," VanDenburgh said. "He spent a lot of practice time in the tower, seldom blew the whistle."
Though he didn't play his senior year, he kept his scholarship.
"I always admired Notre Dame for that," he said. "We had a guy who got hurt in the North-South All-Star Game and never played a down, but they honored the scholarship. A lot of schools didn't do that."
As a business owner, he said he likes the relationships he forms with customers while they are waiting for their cars.
"This is a business where you have to be here, hands-on," VanDenburgh said. "I bought this in 1986 and my dad had a car wash in Merrillville, so I decided to buy my own.
"I have really enjoyed it and i have great people working with me."
To submit a "Where Are They Now?" idea, contact Mike Nieto at mike.nieto@nwi.com or (219) 933-3232.
Be the first to know
Get local news delivered to your inbox!