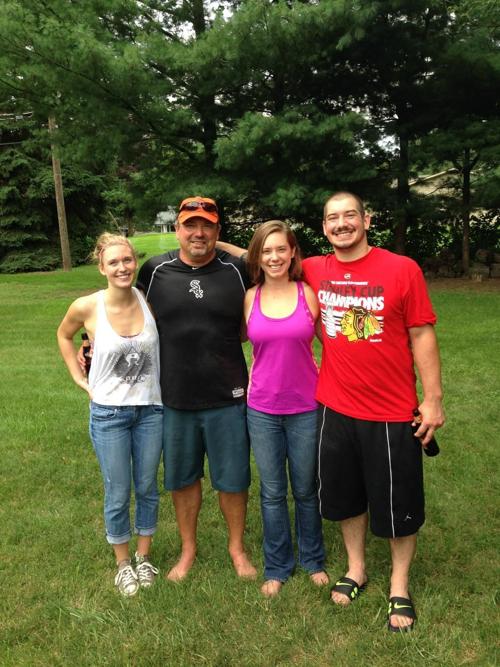 Mike Jakubowicz has gone on to have success as an engineer, played minor league baseball and was a three-sport star at Clark.
He remembers and savors his moments growing up in North Hammond. As a football player, he made many great plays, including some touchdown-saving tackles. The one that sticks out the most is one he made on the streets. He and his mom were coming out of a doctor's office and saw a car was jerking (going and stopping). He said it took him a few minutes to figure out what was going on.
"I didn't know what to think at first. I thought it was some kids playing around but then there was a cry for help and I realized that something was wrong," Jakubowicz said. "I approached the car (passenger side) and when I did the kid got out of the car and ran. I ran him down and tackled him."
He received a key to the city as a high school student, but has played it down.
"Receiving the key to the city was a great honor," Jakubowicz said. "but I never felt like what I did deserved that reward."
Now, Jakubowicz is an IC (integrated circuit) failure analyst engineer for Atmel Corp. in Colorado Springs, Colo. He said his job is to analyze why micro-controllers or an electronic device fails. Jakubowicz also broke it into layman's terms.
"It is kind of like putting different pieces together in a puzzle, only we're doing it with tiny electronics and different applications," Jakubowicz said. "You are sliding a piece into an expensive piece of equipment to figure out what is going on."
Though he may reside more than (6000 feet above sea level) a mile high, the North Hammond native cherishes his region roots and growing up in Hammond. He has yet to find a place in Colorado that serves up stuffed cabbage like the Cavalier Inn in Hammond.
"I had a great time growing up going to St. Cas's (St. Casimir Elementary School) and Clark," Jakubowicz said. "Playing sports at Douglas Park (now Pulaski Park) and Hermits Park. It was just a great time."
He also said he got great coaching at both St. Casimir's and Clark. Jakubowicz has remained close with his former baseball coach Gary Ridgley, and Ridgley said he was one of the finest athletes he ever coach.
"A very intelligent individual who you could ask to play any sport and he would be a star," Ridgley said. "As a pitcher, he used his intelligence to be one of the best at Clark with outstanding control. From his freshman year when he hit over .428 and was our leading hitter."
Jakubowicz played football under Nick Voris and basketball for Ron Sieman as well. He was all-state in football and baseball his senior year (1978-79).
"Gary and I had a lot of talks and not just about sports," Jakubowicz said. "When I was at Purdue Calumet and I had a question about calculus, I would call him and Gary would tutor me."
Jakubowicz received a football scholarship to Western Michigan, which was coached by Gary native and Tolleston grad Elliot Uzelac, but was also drafted by the Cleveland Indians and chose to play baseball. He played parts of two seasons for the Batavia (N.Y.) Trojans. His pitching coaches were former major leaguers Pat Dobson and Mel Queen.
"I had some shoulder problems and asked for my release," Jakubowciz said. "I wanted to be an engineer and I was lucky to be able to go back to Western Michigan."
He played the 1980 and 1981 season, but hurt his shoulder in the spring of 1982 and decided to concentrate on his studies.
"I wanted to be an electrical engineer," Jakubowicz said. "I came back home and I am glad I have that degree."
He has two daughters -- Nicole and Gina, and a son Michael.
To submit a "Where Are They Now?" idea, contact Mike Nieto at mike.nieto@nwi.com or (219) 933-3232.