Sometimes I don't quite understand what people want from professional athletes and also why their happiness is so deeply intertwined with a profession that — in the grand scheme of things — doesn't matter.
Maybe they're just that passionate or maybe they're just that naive.
When I heard the news about Andrew Luck's retirement, I was shocked just like everyone else. In 2018, the Colts' starting quarterback lit up NFL defenses for 39 touchdowns — one shy of his career high — and 4,593 passing yards. It was clear heading into this season that if healthy, the 29-year-old was poised for another strong campaign.
But that's the thing — he wasn't healthy. And he hasn't been for quite some time.
Throughout the past four years, Luck acknowledged that he has been in a cycle of injury, pain and rehab, and none of this has been a secret. Since the start of the 2015 season, his list of ailments include a sprained shoulder, lacerated kidney and partially torn abdominal muscle — which resulted in him urinating blood — torn cartilage in his ribs, a concussion, shoulder surgery that sidelined him for the entire 2017 season and most recently a nagging right calf strain that ultimately made him call it quits.
As Luck walked off of the field at Lucas Oil Stadium for the final time as a player last Saturday night in a preseason game against the Bears, he was booed by a number of Colts fans in the crowd, and I truly felt sorry for the former No. 1 pick and 2018 NFL Comeback Player of the Year. Sorry that he's had to abruptly leave the game he loves and also sorry that some "fans" would rather see him play through misery and pain instead of realizing that life is much bigger than football.
Some of you may think that I'm overstepping my boundaries and speaking on circumstances that I've never experienced, and for the most part, you're right. I never played football. I was too skinny and honestly, too afraid. But aside from the touchdowns and hard hits I missed out on, one thing I have experienced is loss.
On July 21, 2012, my father's best friend and my mentor, Curtis Barlow, died from a heart attack while playing basketball. He was 52 years old — matching my dad's age at the time — and took his last breath on the same court we all used to play on every Saturday morning in the summer.
The only reason my father and I weren't there that particular day is because I was playing in an AAU tournament. I still remember when my dad received the initial phone call with the tragic news. It was right after my team had pulled out a thrilling overtime victory, and my father instantly broke down in tears. His best friend for more than 20 years was gone, and in the following weeks we learned that he shouldn't have even been out there in the first place.
Barlow had been feeling discomfort in his chest and arms for a while but ignored his doctor's advice, hid it from us and kept playing. He pushed through the pain, and in the end, it unfortunately cost him his life. I never went to his funeral — a decision I still regret — because back when I was 16, I thought basketball was everything. On the day he died, my dad immediately left my tournament, and I stayed with my team for our next game to, "Get a win for Curtis!" But in hindsight, it wasn't worth it.
It never was, and it never will be.
From time to time, whenever I lace up my sneakers for a pickup game, I still think about Barlow and all of the laughs we shared while competing on that concrete court in Bellwood, Illinois. There was trash talk and hard fouls but perhaps most all — genuine love.
And if I had the chance, I'd give it all back so that one of my greatest role models could still be here.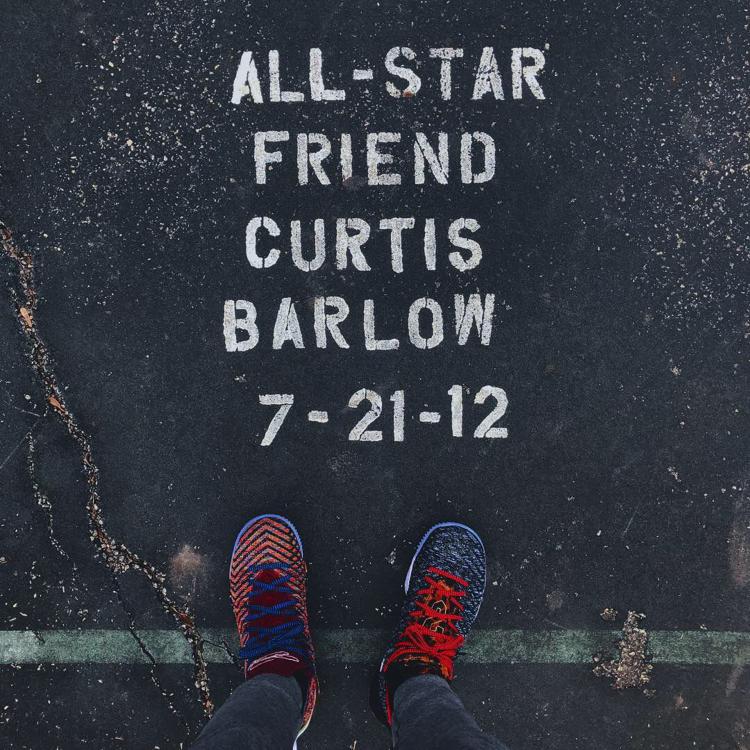 Barlow, like most of us, didn't have the opportunity to play professional sports, and certainly not at the level of Luck. As an older man whose dream of starring in the NBA was clearly behind him, Barlow played for pure joy. But in the midst of all of those weekend pickup games, he lacked the clarity to admit that playing sports shouldn't come at the expense of his health and well-being.
Luck totaled 23,671 passing yards and 171 touchdowns and was selected to four Pro Bowls in his seven-year NFL career. He was on pace to eventually wear a gold jacket and be inducted into the Pro Football Hall of Fame. However, he chose to take the nearly $100 million he's earned and spend more time with his wife and their forthcoming first child — pain free — and for that he should be applauded.
In sports, and especially football, there is often this unrealistic standard we hold athletes to. They're supposed to be "tough" and gritty, but let me be the first to tell you that the whole "macho man" routine is overrated.
So what if Luck had the entire offseason to tell the Colts he wasn't going to play anymore? I wouldn't care if he woke up on the day of the season-opener and decided to hang it up. Because the people criticizing him for being "soft" would be the same ones singing his praises if he "left it all out there" and sustained another injury — or perhaps something much worse.
Thankfully, that's not a risk he's willing to take, and none of us should fault him for it.
James Boyd can be reached at (219) 933-3268 or james.boyd@nwi.com. The opinions are the writer's.
Be the first to know
Get local news delivered to your inbox!