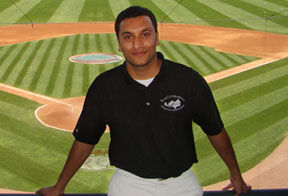 Adam Amin is a sports broadcaster who is eager to return to the normalcy of going to the stadium, putting on a headset and entertaining the audience.
He's also a Chicago native, the son of Pakistani immigrants and one of only a handful of minority broadcasters that have made it to the national scene.
While the Valparaiso University product and former Gary SouthShore RailCats play-by-play announcer is excited with a recent career change that has taken the longtime ESPN broadcaster to Fox Sports as well as the newest television voice of the Bulls, Amin doesn't believe now is the time to celebrate. Instead, he is taking time to raise awareness and resources for those in need.
"I've never felt more like myself, more like my story, more like my background, than this last week and a half," Amin said as protests that have broken out around the country landed on his block in Chicago last weekend. "When I do anything now, especially with the position I've been given, the platform that I may or may not have, I feel that I have a responsibility to try and help."
When the news came down that Amin was leaving ESPN after nine years with the company last month, he posted a statement on Twitter, where he often shares his views, and announced that he was donating resources to the V Foundation for Cancer Research in honor of four co-workers, including ESPN Chicago's Marc Silverman. As protests unfolded throughout the country in the last week, the Bulls announced the hiring of Amin to replace Neil Funk after 28 years with the franchise. Amin responded by posting another statement on Twitter and offering resources that would benefit Chicago, including the Chicago Community Bond Fund, Chicago Community Trust's COVID-19 Response Fund and The Greater Chicago Food Depository.
"If I go out and reap the benefits of saying I'm from Chicago, and we're all diverse and care about one another," Amin said. "I can say all that, but if I don't do anything about it to make sure that remains the case, then I think I'm failing as a citizen of the community that I wish to represent."
Amin arrived at Valparaiso University in the fall of 2005 and immediately began broadcasting games on WVUR-FM, the student-run campus radio station. While he eventually made his way to covering the men's basketball team, working alongside longtime play-by-play announcer Todd Ickow, Amin got his start calling volleyball and women's soccer games for the Crusaders.
Midway through his time at Valparaiso, Amin got the opportunity to broadcast for the RailCats when then-Director of Media Relations Andy Viano brought him on board. Viano, a former WVUR broadcaster himself, would later go on to become the President and General Manager of the RailCats.
"I never will really understand what drove him to do it," Amin said. "I'm certainly thankful for that to this day. He reached out and said if I wanted to jump on and call some games, he'd love to have me. (He said) 'I can't pay you, but you can come in and do the middle three innings.'"
Amin had an epiphany about his broadcasting career during one of his first times in the booth with the RailCats. The team was hosting "Valparaiso University Night" at the ballpark and a handful of Amin's friends were at the game. Instead of hanging out with his classmates, Amin was busy preparing for the broadcast in the press box.
"I know I would love to be down there having a beverage, but I (realized) I kind of like being here and calling the game," Amin said. "That really influenced me in how I started thinking about sports. Those two summers (with the RailCats) were incredibly important. It was really a good start for what I wanted to sound like and what kind of broadcaster I wanted to be."
Amin has broadcast a little bit of everything over his nine-year run with ESPN, including calling Notre Dame's national title run in the 2018 NCAA women's basketball tournament. He also started calling NBA games for ESPN in 2016 and began filling in for Funk with the Bulls in 2018. That experience helped lay the foundation for landing the permanent television job with the Bulls, a job that Amin is certain would've thrilled his late father, Mohammed, who immigrated to the United States in 1978 and passed away in 2018.
"I honestly think this would be the biggest joy in his life to see this happen," Amin said. "We would sit in the basement watching all those (Bulls) championships together, playing Nerf basketball during the commercials. Those are the great memories that I have. I really think this would probably be the greatest joy of our relationship together."
Gallery: 50 famous Region athletes