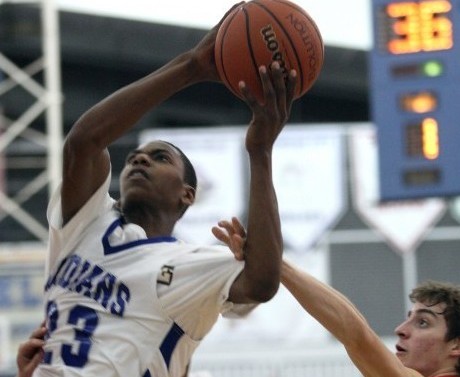 Glenn Robinson III was in Ann Arbor, Mich., recently visiting the University of Michigan, where he met Tim Hardaway Jr., a freshman in the Wolverines' program.
"We played some games of bags," Robinson said. "It was a lot of fun."
The two have a lot in common. Both share the names of their fathers, who were stars in college and the NBA. And now that Robinson, a 6-foot-6 junior at Lake Central, has verbally committed to play at Michigan, they will have even more in common.
Robinson, a Times first-team All-Area player last winter after averaging 16.1 points, 6 rebounds and 2.3 assists per game, is the son of 1991 Mr. Basketball and state champion Glenn Robinson, who picked up the hardware for Roosevelt.
Rivals.com rates Robinson as the No. 118 player in the 2012 class.
Robinson also had scholarship offers from Colorado, Valparaiso, Missouri State, IUPUI and Indiana State. He did not have an offer from Purdue, where his father was an All-American and National Player of the Year before skipping his senior season to play in the NBA.
"I had some thoughts about going to Purdue," Robinson said. "I really like coach (Matt) Painter. But I just thought that Michigan was a better fit."
The NBA fit in Ann Arbor doesn't end with Robinson and Hardaway. Michigan also has sophomore guard Jordan Dumars (Joe Dumars) and freshman forward Jon Horford (Tito Horford) to round out their "sons of the NBA" roster.
Lake Central coach Dave Milausnic said the Wolverines, led by head coach John Beilein, recruited Robinson all summer, and their sweat and work paid off.
"We're all awfully proud of him," Milausnic said. "I'm very excited for him. Glenn has earned this. He's worked very hard to have these kind of opportunities."
Robinson officially committed on Monday night, but he did not let the word get out until Tuesday evening. He wanted the time to speak personally to all the coaches who had recruited him but lost out on him.
"I wanted to thank them for their time, and I wanted to thank them before it got out," Robinson said. "I wanted all of them to know that I appreciated them for taking an interest in me."
Robinson attended the Wolverines football team's season opener against Connecticut and had a blast at the school where Chesterton's Zack Novak is now a junior guard.
Like his father, "Trey" wants to take his high school team to Indianapolis for a shot at a state championship. Getting the recruiting process over early will help him focus on the one big goal still ahead.
"There was no reason to keep waiting," Robinson said. "I had some time, but I wanted to do it right now. I can now focus on my school (ball) and on me getting better. Getting to state has always been my goal. I want to take us as far as we can go. Getting this done early will help.
"I have a relief off my shoulders. I'm going to work even harder. I want to prove to those who didn't offer me that they made a mistake."