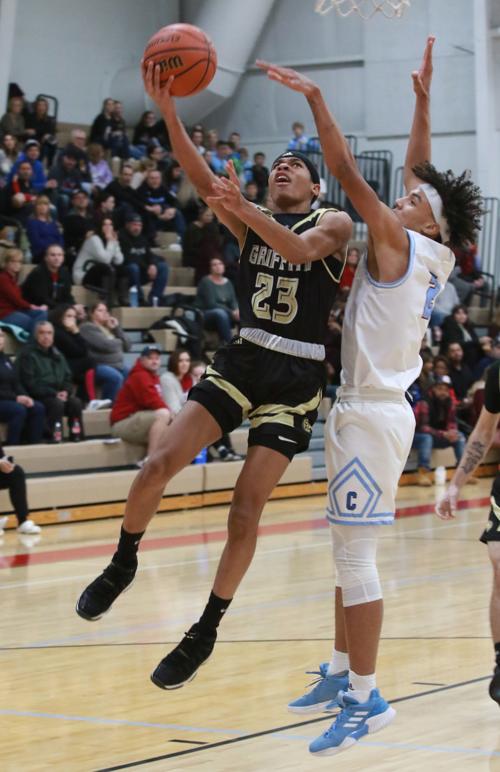 Last week's rankings in parentheses. NR = not rated.
Nate Aerts' buzzer-beating putback at Crown Point last Friday earned Valparaiso at least a share of the Duneland Athletic Conference title. The Vikings retake the top spot in our poll thanks to their 13-1 record against Region opponents.
It was a tough call between Griffith and Chesterton at No. 2, as both teams knocked off previous No. 1 Munster this past week. The Panthers have been more impressive relative to their class, however, and are 9-0 in 2019.
The DAC comes down to Friday's game between Chesterton and Valparaiso, and the Trojans would likely jump to No. 1 on this list with a road win. The Vikings don't have a great match-up for Jake Wadding, but Chesterton may not have a great one for Brandon Newman, either.
Munster had a chance to separate from the crowd at No. 1, but instead the Mustangs lost consecutively to West Side, Chesterton and Griffith. Those are three tough opponents, but Munster will likely face similar competition in the postseason.
A 3-0 week for the 59ers moves them up two spots. Friday's game against Munster will decide the Northwest Crossroads Conference crown.
The Cougars' winning streak continued with a win over Kouts last Friday. Between 21st Century, Kouts, Washington Township and Morgan Township, Sectional 49 is absolutely loaded.
Although Kouts took its second loss of the season at 21st Century, the Mustangs bounced back for a quality win at Lake Station. Kouts will need a Washington Township loss at Hebron on Tuesday or at Morgan Township on Feb. 22 to earn a share of the Porter County Conference round-robin title.
The Bulldogs are a threat to make noise in sectionals and beyond, despite their record. CP doesn't have much size, but it makes up for that with athleticism and versatility all through its lineup.
West Side gets a slight edge over Washington Township despite a road loss to Andrean. The Cougars earned a road win at Munster, and talented freshman forward Jalen Washington made his long-awaited return from injury.
10. Washington Township (8) 13-5
Can the Senators clinch a PCC round-robin title? With four games over the next week (including two league match-ups), Washington Township may have to battle fatigue.
On the bubble: Calumet (15-8), Hammond (12-5), Lake Station (15-6)