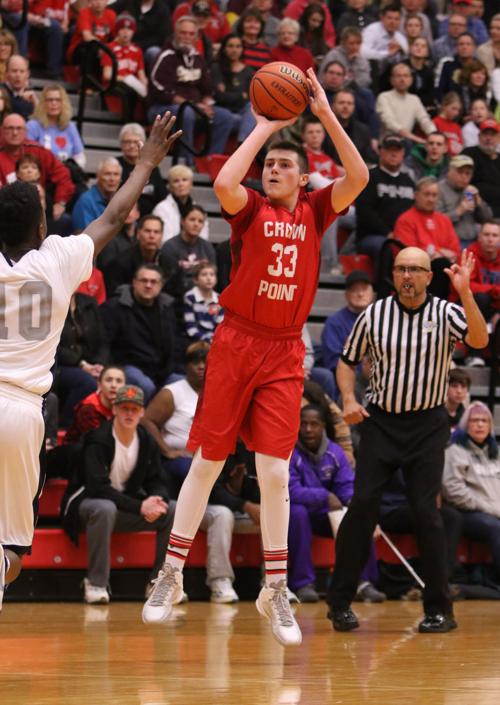 When Sasha Stefanovic was a lad, his family went down to watch one Purdue football game every autumn.
They would tailgate and it was a thrill for the young Crown Point kid.
With the hot dogs, baked beans and potato chips came something else for the excited youngster -- a love for West Lafayette, Indiana.
"I was always around it as a kid, I loved the school, and it stuck with me," Stefanovic said.
On Thursday night, Purdue men's basketball coach Matt Painter came to watch the Crown Point Bulldogs play Portage. After C.P.'s 48-38 win, the Boilermakers coach spoke with Clint Swan.
Watching Stefanovic score 14 points with 14 rebounds surely enticed the coach of the 23rd-ranked Boilers, who whispered in Swan's ear after the game.
"I avoided Sasha (Stefanovic) and his family like the plague after the game," said Swan, Crown Point's coach. "Because Painter told me he was going to offer Sasha and I couldn't tell anyone."
So Painter called Stefanovic as the guard was driving home and made him a scholarship offer. Stefanovic waited until Friday morning to return the call and make it official.
"I really like the coaches," Stefanovic said. "I love the whole atmosphere of West Lafayette. I always grew up a fan of them. It was the dream school since I was little. It was a no-brainer for me, the right choice."
The 6-foot-5 scoring guard, who was averaging 19.7 points and 6.2 rebounds a game heading into the Portage game, had 24 offers on the table when he chose to become a Boilermaker.
"As exciting as it is, we had some really good coaches we had to talk to that were disappointed with the news," Swan said. "But we felt we needed to let them know before it got out."
Stefanovic's teammate, Grant Gelon, is a freshman at Indiana University. Crown Point grad Spike Albrecht is in his final year of eligibility at Purdue right now.
"Isn't that something?" Swan said. "I'm going to have a few more years of having a lot of interest in that game. It's very gratifying."
Stefanovic's brother, Dejan, was a teammate of Albrecht, so the sixth-grade student, Sasha, saw a lot of games of the flashy point guard. He said Albrecht sent him a really great text congratulating him on Friday.
"I've kept in touch with Spike," Stefanovic said. "He was a major influence on my game and decision. This is definitely a big burden lifted off my shoulders. I can now fully focus on my team and the wins and help us get as far as we can in the state tournament."