When Kim Yelich thinks about her IHSAA officiating career, a song by the late country singer George Jones comes to mind.
In 1985, Jones released a single called, "Who's Gonna Fill Their Shoes?" and it's a question that Yelich, who has refereed basketball in the Region for 32 years, contemplates more and more as she gets older. The Schererville native followed in the footsteps of her father, who also officiated, and considers it a privilege to be such an integral part of prep sports.
The longtime referee has seen athletes from the start of her career grow up and form their own families, and now she's officiating some of their children. She said it's been a joy to watch things come full circle, but in the back of her mind she knows she can't hang on forever.
According to the IHSAA, the average age of an official across all sports is 50.1 years old, and since the 2015-16 season, the total number of officials certified by the IHSAA has dropped from 6,863 to 5,198 heading into the 2019-20 campaign. During that same time span, the number of basketball referees has decreased by 25.4%.
"I think that (poor) sportsmanship makes it really hard," said Yelich, who has officiated five IHSAA state finals. "I think fans don't always realize that at different levels, people are learning. This isn't their main job. This is something that they do in the evening to give back to the sport that they love. No one is perfect. Coaches make mistakes. Players make mistakes. So of course officials are going to make mistakes, too."
Yelich is an at-large director for the Lake County Athletic Officials Association and makes a conscious effort to recruit younger basketball referees, especially women. The IHSAA does not currently keep track of how many female officials it has, but Yelich said that throughout her career she has rarely had the opportunity to work a game with an all-women staff.
From her perspective, having that representation is important, and she praised fellow director and official Michelle DeRosa for being a source of inspiration and support. DeRosa has been a softball umpire for 11 years, nine of those at the high school level, and is the chairperson for the LCAOA IHSAA Mentoring Program.
Throughout her entire life, DeRosa said softball has remained one of her greatest passions and there are not too many places she'd rather be than on the field. She credits her thick skin for being the reason she's remained close to the sport and acknowledged that it can be tough for officials to ignore the constant criticism.
The IHSAA's total number of softball umpires has dwindled by 22.5% over the past six seasons, and to combat the decline, DeRosa takes recruiting and mentoring very seriously. She reiterated that it's not enough to simply have someone call balls and strikes but to make all newcomers feel welcome and included.
"I know for the softball program, we'll have a couple of retired officials go to their games and give them a rundown afterward," said DeRosa, who umpired the 2019 Indiana Coaches of Girls Sports Association North-South All-Star Game. "A lot of people in the past have joined an association and get their (officiating) license, and they don't have a mentor. They just throw you to the wolves, and when you're not prepared, you're going to fail. So we have bent over backwards to make sure that we prepare anyone that comes in for success."
Keep reading for FREE!
Enjoy more articles by signing up or logging in. No credit card required.
Both DeRosa and Yelich emphasized that they wouldn't be where they are without those who came before them, so it's only right that they look out for the next generation of referees. They each thanked numerous officials who have mentored them along the way, including LCAOA volleyball director Deb Glass. They hope to see their careers extend as long as hers.
Glass started officiating volleyball in 1976 at Marion College, which has since been renamed Indiana Wesleyan University, and has worked seven IHSAA state finals. In February, she was awarded the 2019 Stan Dubis Award for her standout career as a referee, and after over 40 years of making calls, she understands that she's closer to the end of her career than the beginning.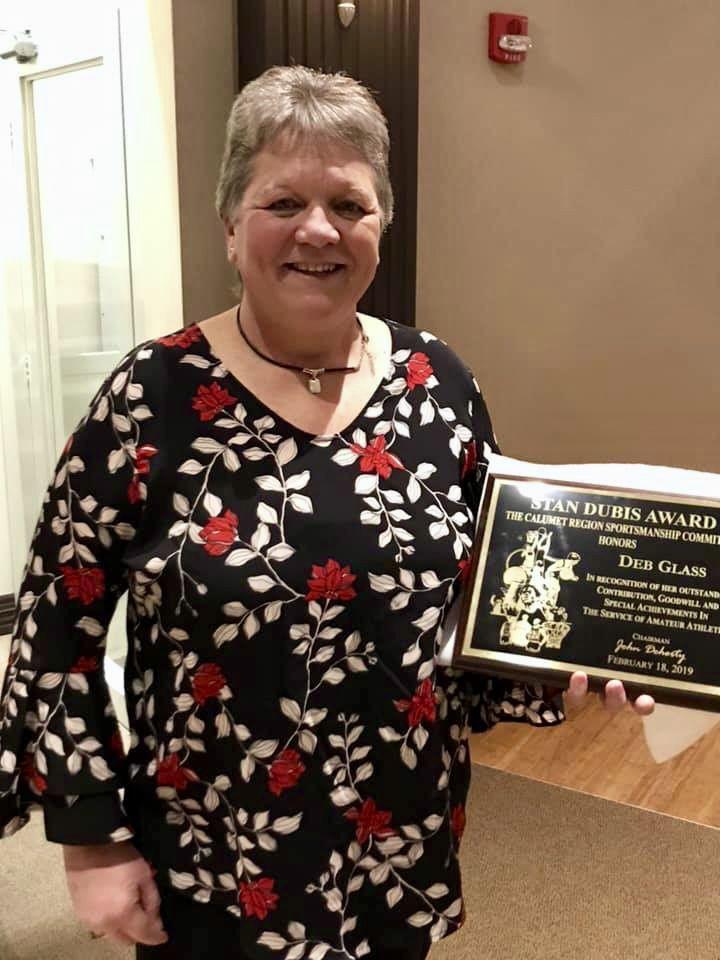 According to the IHSAA, it has lost 29.4% of its volleyball officials from the 2015-16 season to the 2019-20 season. Glass said she never expected to be as well-respected as she is now, but she hopes to use her recognition as a referee to show prep athletes, specifically girls, that their dedication to a sport doesn't have to end in high school.
"I always try talk to girls at the end of the season," Glass said. "It's not just men who should be officials. It should be the females as well. They compete in athletic events, too. So why can't they be officials? You're just trying to give them something positive to do. Because let's face it, not a lot of these kids are going to Division I schools, but you can stay in the sport by officiating."
Yelich, DeRosa and Glass all said they support the IHSAA's collective effort to combat the officiating decline. The IHSAA launched the "#RespectARef" campaign a couple years ago and 240 free refereeing licenses are offered to new officials every year to encourage people to apply.
In an op-ed released in January, National Federation of State High School Associations executive director Karissa Niehoff and IHSAA commissioner Bobby Cox implored fans to calm down and show more appreciation toward officials. IHSAA assistant athletic director Sandra Walter added that team sports like basketball and football haven't been affected as much by the reduction in referees, but individual sports like wrestling and track and field aren't so lucky.
She believes the IHSAA is doing everything it can to recruit and retain officials across all sports but explained that the majority of the onus still falls on the fans. If they don't show more respect toward referees, they run the risk of possibly not having games in the future.
"To be quite honest, the day we run out of officials, we'll no longer be able to play," said Walter, who has been an IHSAA assistant commissioner for eight years. "We certainly don't want to see that happen, so eliminating some of these issues and problems that our fans are creating is going to lead us to where we want to be."