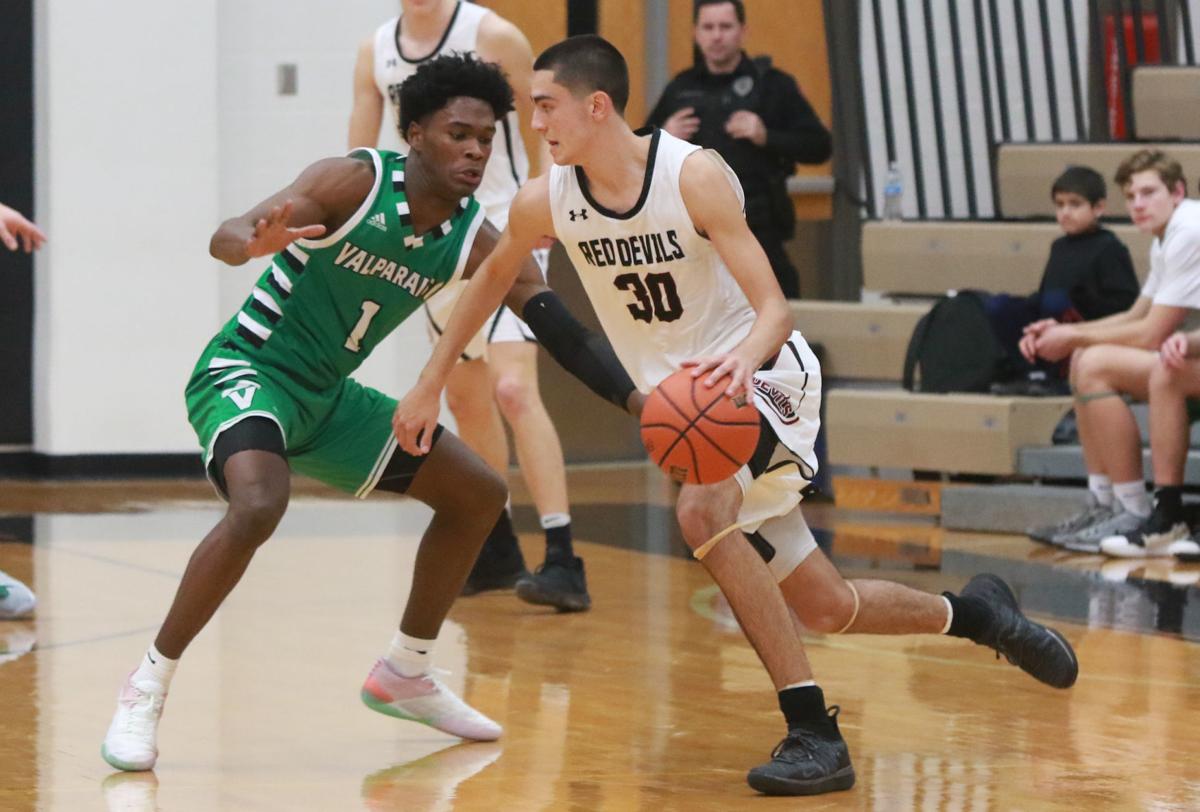 LOWELL — Christopher Mantis held his own against some of the top competition in the country during the offseason, and Lowell's standout guard is eyeing a big year individually and collectively after landing his first two Division I scholarship offers from Incarnate Word and Ball State.
The junior was mainly a role player for his AAU team, Under Armour G3 Grind, but raised his stock exponentially at some high-level camps — including the inaugural NCAA College Basketball Academy at Illinois. At these showcases, Mantis was able to display his athleticism and show that being an outside threat is just one asset in his game.
"My jumping ability, how much quicker I am than last year has really changed," Mantis said. "Last year, I could dunk, but this year I can do it way easier. I feel like I've definitely gotten stronger, and we've been working really hard in the weight room as a team. We've been going for about 18-19 weeks.
"Coaches always think, 'Oh he's just a shooter.' But I feel like I can do more than just shoot the ball."
As Mantis continues to hone his craft, it's evident he'll have the chance to use his expanded skill set and strengthened frame. Last season, the 6-foot-6 guard weighed roughly 160 pounds. Now, he's up to 175 pounds and ready for a broadened workload.
The Red Devils graduated eight seniors, headlined by Dustin Hudak, who averaged 17.0 points, 5.9 rebounds and 2.7 assists per game. This year, Lowell's roster features zero seniors, nine juniors and two sophomores.
Mantis is the team's only returning starter and averaged a team-high 19.4 points, a team-high 9.7 rebounds, a team-high 3.1 assists and 1.3 steals per game last season. While there were other Region athletes who showed off their scoring ability, it's Mantis' efficiency that sets him apart. As a sophomore, he shot 49.7% from the field, 80.1% at the foul line and 44.8% from behind the arc.
With his work ethic, Red Devils coach Joe Delgado expects Mantis to continue developing.
"He can handle the ball, shoot from the outside, post up on the inside. He can really pass the ball, which I think a lot of people overlook," Delgado said. "But he's just such a great all-around player, and a lot of schools took notice of him really early in the summer. The NCAA camp was great for him, so I'm excited to see what he does this year."
Regardless of the increased attention he's getting, Mantis stays grounded. Troy Huseman, Mantis' stepdad and Lowell's junior varsity boys basketball coach, has witnessed his stepson's growth both figuratively and literally. Mantis, who came into the program as a 5-foot-9 freshman, is now the tallest player on the team and has remained humble throughout the recruiting process.
Huseman believes Mantis' maturity is a reflection of the guidance he receives from his mother, Annette Huseman, and his older brother, Nicholas Mantis, who was a star for the Red Devils and now plays for Division II Cedarville. According to Troy Huseman, Christopher Mantis recorded 27 points, eight rebounds and seven assists during a scrimmage at the NCAA Academy and received high praises from a noteworthy college coach later in the summer.
"When we went to the Purdue Elite camp, (Matt) Painter came up to him," Huseman said. "He put his arm around him and said, 'Chris Mantis, I'm Matt Painter. I really enjoyed watching you at the Academy.' So now he's starting to creep onto their radar."
Even still, Mantis didn't let the compliment go to his head.
Lowell's leader remembers how it felt to walk off of the court following a Class 4A sectional championship loss to Munster last year, and that was all the motivation he needed to work even harder in the offseason. The 56-33 defeat, which occurred on March 2, is a memory he never wants to relive.
Mantis wasn't even born yet the last time the Red Devils raised a sectional trophy in 1993. But after falling one win short last season, the 17-year-old is eager to give his squad another chance at some hardware.
"Since March 3, it has been running through my mind all year, all summer," Mantis said. "I'm happy to be back. I'm excited, anxious and I can't wait to start playing again. It should be a good year for us. Some people are doubting us right now, but I think we're going to be pretty solid."
Get in the game with our Prep Sports Newsletter
Sent weekly directly to your inbox!