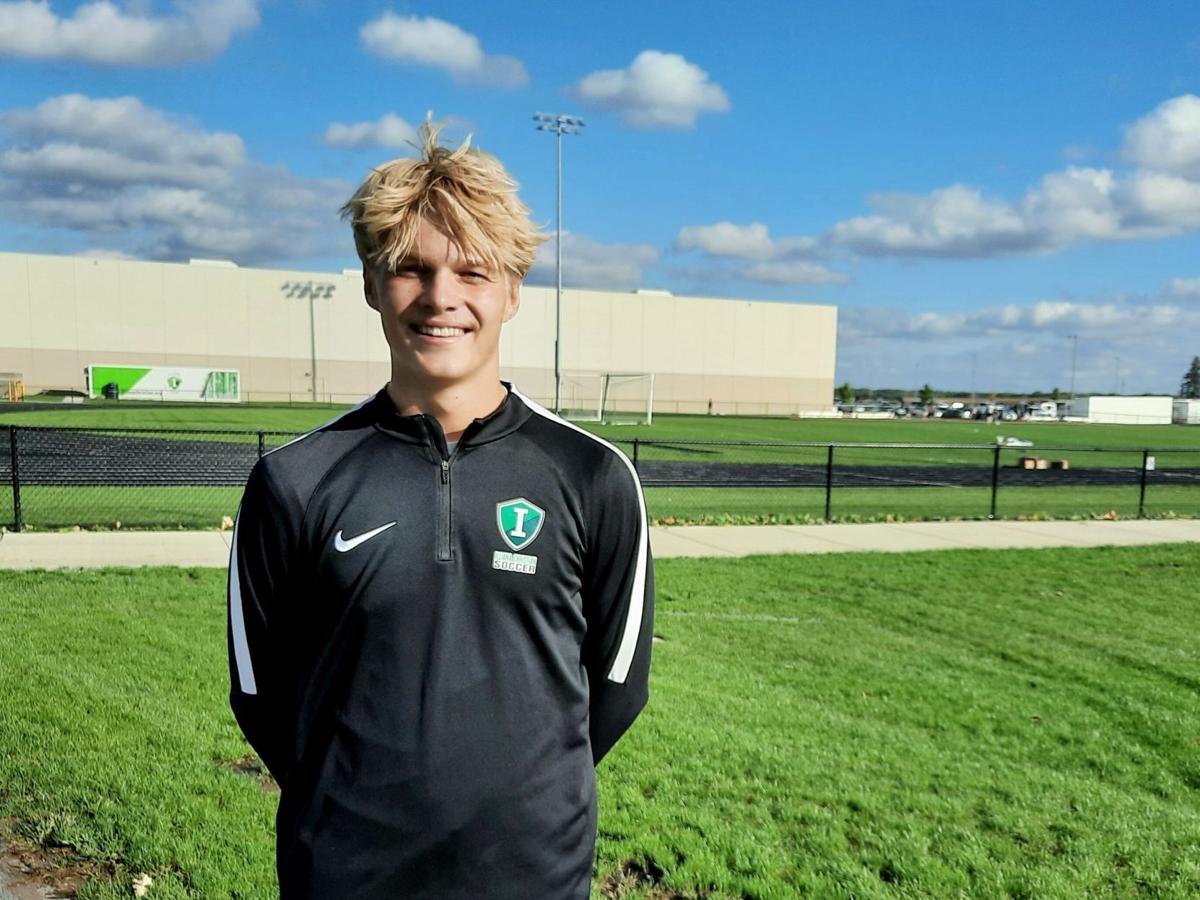 DYER — Illiana Christian's boys soccer team is on a historic run this season and Adam Gibson is a big part of that.
Not only does Gibson lead one of the area's best defenses, he lines the field, puts the gear away and even washes the pinnies. The Vikings often play video games and eat at his house before games. The team would have trouble operating without him.
"I'm a Christian. Serving is more important than soccer. I want to be a leader and the best way to be a leader is to serve," the senior defender said. "It's just helping out in any way I can."
Coach Todd Bevan backed that up. He said Gibson is as high-character a player as he's coached in his six seasons with the Vikings.
"He's a servant leader for our program," Bevan said. "He doesn't get a lot of recognition because he plays center back but he is definitely the person who keeps us together as a cohesive unit."
Illiana Christian fell apart while Gibson missed a Sept. 23 match at Griffith with a deep bruise. The team was so out of sorts it forgot to bring the gear bags. The result of that discombobulation was a 4-0 loss.
"When he's not a part of warm ups, when he's not a part of pregame talks, things like that, the rest of the guys can kind of drop off. It's just that leadership mentality, that desire to win every single ball, it's just not there without him," Bevan said. "If his head dropped, our whole team's head would drop. But his head doesn't drop."
With Gibson, Illiana Christian has been dominant. Even when it had to grind out wins it did so while controlling most of the game.
Against Highland, the Vikings needed a Zach Davids score with about 30 seconds left to get a 1-0 win despite an overwhelming advantage in shots. Nolan Flipse scored on a penalty kick late in the second half against Wheeler to secure a 2-1 victory.
The sectional opener against Kouts came down to a 7-6 shootout. That one was emotional for the Vikings. The Mustangs won a 2-0 sectional championship over Illiana Christian a year ago. The rematch was something the Vikings looked forward to all season.
"That felt really good for us," Gibson said. "(Kouts) has a good defense. Our sophomore attack couldn't quite break it down just like they couldn't last year so it felt really good to go into PKs and win that shootout."
Gibson doesn't get involved in the attack much. At 6 foot 3, he's a physical player who's strong in the air. His four goals and seven assists have all come on set pieces and corner kicks.
The Vikings (16-1-1) didn't lose a game he played this season. He headlines a defense that allows 0.657 goals per match, a mark Bevan said would shatter the school record.
"There are a lot of people who depend on me and I depend on them in the back. I don't want to let my teammates down by letting easy goals in," Gibson said. "There's a brotherhood on this team. We don't want to sacrifice that even for a state championship."
Thursday, Illiana Christian will host Trinity in the first round of the regional. The Titans (8-4-1) are in their first season sanctioned by the IHSAA. Beyond that likely lies Westview (13-5), ranked No. 16 in the final Indiana Soccer Coaches Association poll. Illiana Christian was No. 9.
"I think if we just play our game, come out with the intensity and desire that we have every other game outside of one, I think it's our's to lose," Bevan said.
Football recap: Crown Point hits milestone and Hanover Central's aerial attack on display
Here's a look back at what transpired on the gridiron around the Region Friday.