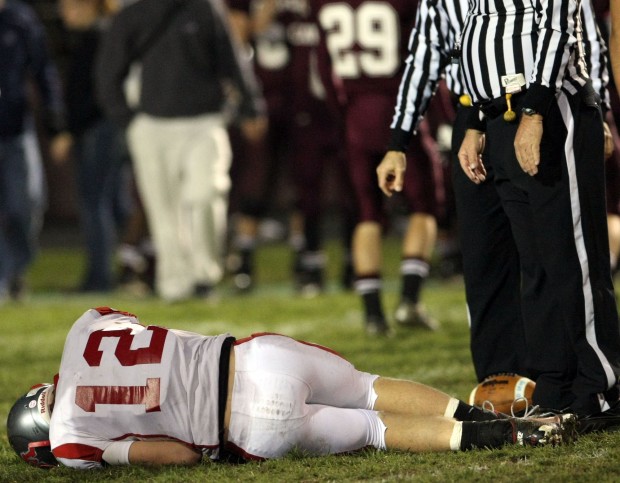 Before Jimmy Glidewell broke his ankle in a football regional championship game against Mishawaka in 2012, Morton coach Roydon Richards had told his quarterback to shake off more injuries.
"The week before that, I yelled at Jimmy for always getting hurt," said Richards, also the school's athletic director. "I told him to man up and learn what an injury was. Every time he got sacked, he'd come to the sidelines limping. When he got hurt against Mishawaka, I came on to the field yelling at him, and he said, 'Coach, I really think it's broken this time.'
"We're in the middle of the field, laughing, because he knew I was going to yell at him."
A trip to the emergency room confirmed the break, and Glidewell, then a senior, already had ended his football career with the Governors thanks to a loss in that regional final.
After the game, Richards had no problem addressing the media with what he could assess of the injury.
"You can make a comment about an ankle," Richards said, "but when he has a head injury, you're not even going to make a comment because, God forbid you're wrong. You're not going to tell someone it could be internal bleeding because you don't know what it is."
It wasn't a question of whether Richards should tell players, assistant coaches or media about an injury that was seen by a stadium full of fans after the 2012 regional final.
However, other school districts across the region ask their coaches to remain mum regardless of the injury. Coaches are hesitant to speak for many reasons, including affecting college recruiting prospects, protecting young athletes and fear of violating HIPAA, or, the Health Insurance Portability and Accountability Act of 1996.
"Where coaches tend to become reluctant is if kids are being recruited," Lowell Athletic Director Patti McCormack said. "Those media blasts go to a lot of places, and if you say 'career-ending injury,' that could mean a scholarship. For the most part, coaches are trained to be reserved for other reasons, and these are kids. They're extremely protective of their players."
HIPAA, the reason most cited by coaches for keeping mum, dictates how much information a doctor can tell a third party about a patient's illnesses.
It extends to sports because of the medical relationship between certified athletic trainers and athletes. However, HIPAA doesn't extend to coaches, said Dave Emmert, a lawyer with the Indiana School Board Association, and any administrator who directs a coach otherwise is misreading the law.
At Crown Point High School, for instance, coaches are told in the coaching manual: "The Office for Civil Rights enforces the HIPAA Privacy Rule, which protects the privacy of individually identifiable health, which sets national standards for the security of electronic protected health information; and the confidentiality provisions of the Patient Safety Rule, which protect identifiable information being used to analyze patient safety events and improve patient safety. Please do not discuss injuries or share private health-related documents with anyone."
Yet, HIPAA mostly regulates written records, Emmert said.
"Let's say a head coach doesn't get the information from a (written) record, or if it comes from experience, like seeing a broken leg on the field," Emmert said. "If a doctor has told a coach that it's not from a record, that it's a fact, the coach can tell you what he saw, or go to the trainer and ask questions about a health issue."
Robert Faulkens, assistant commissioner with the IHSAA, said the association doesn't specifically recommend any guidelines about HIPAA to member schools.
HIPAA's protection of information between a patient and a medical professional applies across all sports and all levels. The NFL Collective Bargaining Agreement has a HIPAA clause written into each player's contract, allowing coaches and doctors to discuss sports-related injuries.
When Audric Warren was the certified athletic trainer for the RailCats, he created his own HIPAA form for the players to sign. It designated who may have the information about an injury, including the manager, the media and the franchise. 
When Warren moved to Indiana University Northwest, he was asked to develop the same release. In this case, because most college athletes are 18, it includes parents as part of the release.
"It depends on how the athlete goes about telling the coach," Warren said. "If an athlete talks to the coach and tells them what's going on, but doesn't say not to tell anyone, then a coach can talk to whoever they want — the parents, the players, the media. If the athlete expresses that they don't want someone else to know, they're absolutely not allowed to tell anyone.
"It's a very slippery slope. That's why you'll see different contracts when athletes come in for a physical."
The American Association, the independent baseball league of which the RailCats are a part, doesn't have a specific HIPAA contract. Warren said that's why he helped to start an organization of certified athletic trainers within the ATC association to write a single HIPAA document for all players to sign.
At the high school level, players aren't old enough to sign such a contract, though their parents could sign one for them. So, coaches in some districts are simply told to keep mum about injuries.
"We run that through our athletic trainer and that's the reason you get one through a hospital," said McCormack, Lowell's athletic director. "We've got a good one, and we have our kids sign everything related to the HIPAA law. We let their parents know and let them decide what and when they're going to talk about an injury."
Blanket silence is the easiest way to comply with HIPAA, but coaches and nonmedical staff aren't a part of the HIPAA law, and sports medical information isn't covered under Family Educational Rights and Privacy Act, the law that regulates the privacy of school records.
"Sometimes you're attaching a medical document statement to a student's attendance record as an issue for gym, or the ability to participate in athletics, that would be covered under FERPA," said Emmert, the lawyer with the Indiana School Board Association. "As long as we are FERPA-compliant, there's no violation on the school on the part of HIPAA."
In college, when players become adults, they tend to be less informed about what HIPAA is until confronted with an injury, local certified athletic trainers said.
"I think they don't understand unless they are told about it," said Purdue University Calumet certified athletic trainer Rachael Smith.
"I know I've had some athletes who are freshmen come in. We explain we can't talk to certain people about an injury, (and they say), 'Well, why not? I don't care, go talk to anyone you want about my injury.' You have to understand, we're in the medical field, if you go into a doctor's office and they have your chart, and your aunt comes in, they can't just give it to her. That's the same for us."
Though coaches don't need to cite HIPAA and can say what they'd like about injuries, "Let's face it," Emmert said, "the easiest thing is to say nothing."