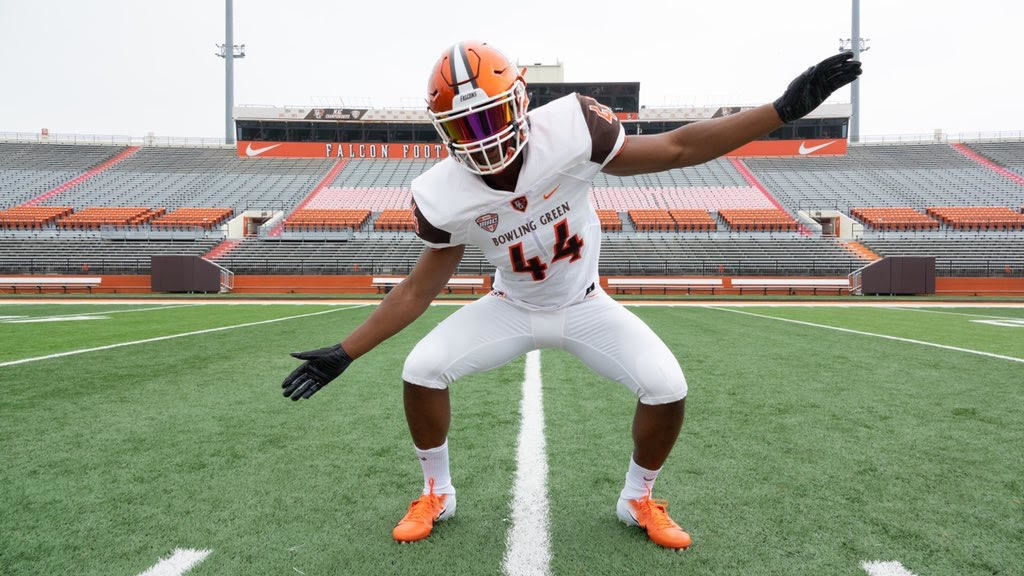 Maybe it was Fortune Woods' first name or maybe it was hard work.
No matter what those on the outside might think, Clark coach Nick Testa is certain Woods' scholarship to Bowling Green is a product of the latter. The Pioneers' leader had a breakout junior season on both sides of the ball and often showed he was the most gifted athlete on the field.
"I think he knows that the best chance for him to improve his life and have more opportunities was to bust his butt and get a scholarship," Testa said. "He realized that, and he decided that's what he wanted to do, get out of Hammond and play college football somewhere. So he put the work in and made it happen."
Woods recorded 124 tackles — including 15 for a loss — three sacks, two forced fumbles, one fumble recovery and one interception return for a touchdown at middle linebacker. He also racked up 31 receptions for 567 yards and three touchdowns as a slot receiver and 69 carries for 672 yards plus five touchdowns at running back.
The 17-year-old committed to the Falcons last month and is excited to continue his athletic journey at the Division I level, especially because he didn't know if he would have the chance. Clark has won only four games during his prep career, and aside from the team's collective struggles, Woods admits he wasn't always a good example for the program.
According to Testa, Woods' immaturity during his sophomore year landed him in trouble at school and also resulted in him being kicked out of one game and held out of a couple other contests. Testa believes the person Woods used to be is someone he doesn't think he'll see again, and Woods is confident that after doing some soul-searching, he has changed for the better.
"I realized that if I wanted to play big ball, I had to change my act in school," Woods said. "I had to change my act as a person. I had to grow up and mature. And football, it opened up my eyes to life. It changed everything about me."
Woods considers himself to be a "dog" on the field, and Testa emphasized the 6-foot-3, 200-pound athlete is as physical as they come. Whether it's on defense or offense, Testa said Wood seeks out contact and always wants to dominate his opponent.
But for as aggressive as Woods is on the gridiron, it doesn't fully show who he is. Testa acknowledged it took some time to get Woods to trust him because he hardly lets people into his inner circle. When he does open up, he's devoted, and it's evident he cares deeply and loves genuinely.
Woods credits his loyal demeanor to his father, Jesse Woods, who has made countless sacrifices for him and his siblings.
Jesse Woods works as a local truck driver in the Region, often logging 12- to 14-hour days, and Fortune Woods doesn't want to waste the opportunities his dad has given him. He understands his father can't always pick him up from practice or attend his games, and he doesn't fault him for it.
The adoration Jesse Woods has for his youngest son is still present regardless.
"He's my heart," Jesse Woods said. "He's well driven and driven in a way that I never was. I have a lot of respect for this boy. He just shocks the hell out of me. There's never a dull day or a day when he doesn't impress me. Even if he doesn't go all the way in football, I know mentally he can go to school and be whatever he wants. I have a lot of faith in my son."
When Fortune Woods decided to commit to Bowling Green, Jesse Woods said he was overcome with emotion about his son's milestone achievement, and Testa was proud as well. Fortune Woods praised Testa for always being there when his dad wasn't able to and helping him through the recruiting process, and he even had Testa share the news with the team.
As Testa announced it to his players and Fortune Woods' teammates at a practice last month, the Pioneers' co-captain couldn't hold back his tears. He said there moments when he doubted if he could make it to the next level and questioned if his hours of dedication would amount to nothing more than disappointment.
Ultimately, he kept pushing because he was raised to always give his best effort — even if the outcome is unclear.
"It's instilled in him," Jesse Woods said. "He sees me when I work my little jobs. I don't give up, and I know I have to keep going and keep going to pay the bills and provide for this family and keep us comfortable.
Bowling Green hasn't had a winning season since 2015, and Fortune Woods is sure the 2020 recruiting class can help the Falcons get back on track. Before he leaves for Ohio, the Hammond native also wants to cap off his high school career by guiding Clark to its first winning season in nine years.
"Individually, I want to lead the Northwest Indiana Region in tackles, all-purpose yards, sacks and interceptions. I want to lead it all," Fortune Woods said. "And as a team, our goal is to win half of our games and two or three of our playoff games. It would be a dream come true to change Clark around like that."