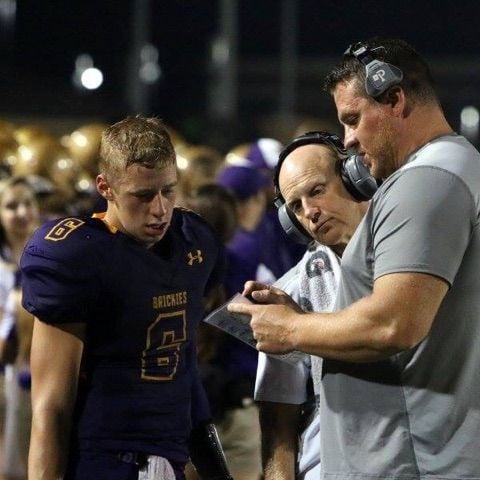 HOBART — There will not be a long, drawn-out transition period in the Hobart football program.
On Thursday night, Craig Osika was voted in as the Brickies' new coach.
The 1998 Hobart grad replaces Ryan Turley, who resigned in December after going 40-35 in seven years of leading one of the state's most storied programs.
"I've been in the program since 2005, so it's kind of been status quo since Ryan stepped down," Osika said. "I've been running the conditioning program the last seven years anyway and I've continued in that role.
"We did not want the kids to have that uneasy feeling."
Osika graduated from Hobart in 1998. He played in the 1996 Class 4A state championship game for the Brickies, the last time Hobart has played in Indianapolis on Thanksgiving weekend.
The Brickies have played in 11 state championship games and won four state championships, the last one coming in 1993.
"I want to keep our program playing for our legacy," Osika said.
Upon graduating, Osika went and starred at Indiana University. His first two years in Bloomington, he played tight end. The final two, he was the Hoosiers' center.
Twice he was selected as an All Big Ten choice and was IU's Offensive Lineman of the Year twice, along with being a captain his senior year.
In 2002 he played for the San Francisco 49ers. The next two season he played for the Cleveland Browns. In 2005, he was in camp of the Jacksonville Jaguars when an injury brought him back home.
"It was fun and difficult," Osika said. "Being a utility player you didn't know if you would be there day to day. But it was a great experience, something that most people don't get an opportunity to do."
Osika said that former Valparaiso coach Dave Coyle will be the Brickies' new offensive coordinator. Coyle led the Vikings to an 8-1 regular season last year and the Duneland Athletic Conference championship before resigning the opening week of the Class 6A sectionals.
Valpo assistant Jason Renn will be coming with Coyle to coach at Hobart.
Since 1948, Osika is only the sixth head coach in Hobart history.
After winning a state record 19 straight sectional championships, Hobart went another 19 years before winning their 20th sectional crown in 2016.
But this roster is filled with talented young players which make the coming years very exciting for the local fans.
For the second year in a row Hobart's teams had winning season from seventh grade through the varsity after the 6-4 season last fall.
"We have a lot of work to do but the next few years could be special," Osika said. "The foundation has been built. Ryan hired me and told me I would be his right-hand man. We changed the culture from hoping to win to expecting to win.
"We are no longer just hoping to win any more."
Hobart superintendent Dr. Peggy Buffington said she went to the 2009 Indiana Football Hall of Fame induction of Hobart's Steve Balash when Osika approached her. He told her he wanted to be just like Balash — a great man, teacher and coach.
Osika worked hard to get his teaching certification and the rest is history.
"He is an amazing teacher and coach," Buffington said. "He has served as a leader to our students as a wellness coordinator. He is a Brickie who loves the purple and gold and has an amazing heart to serve kids on and off the field.
"I am proud to have him lead the Brickies."