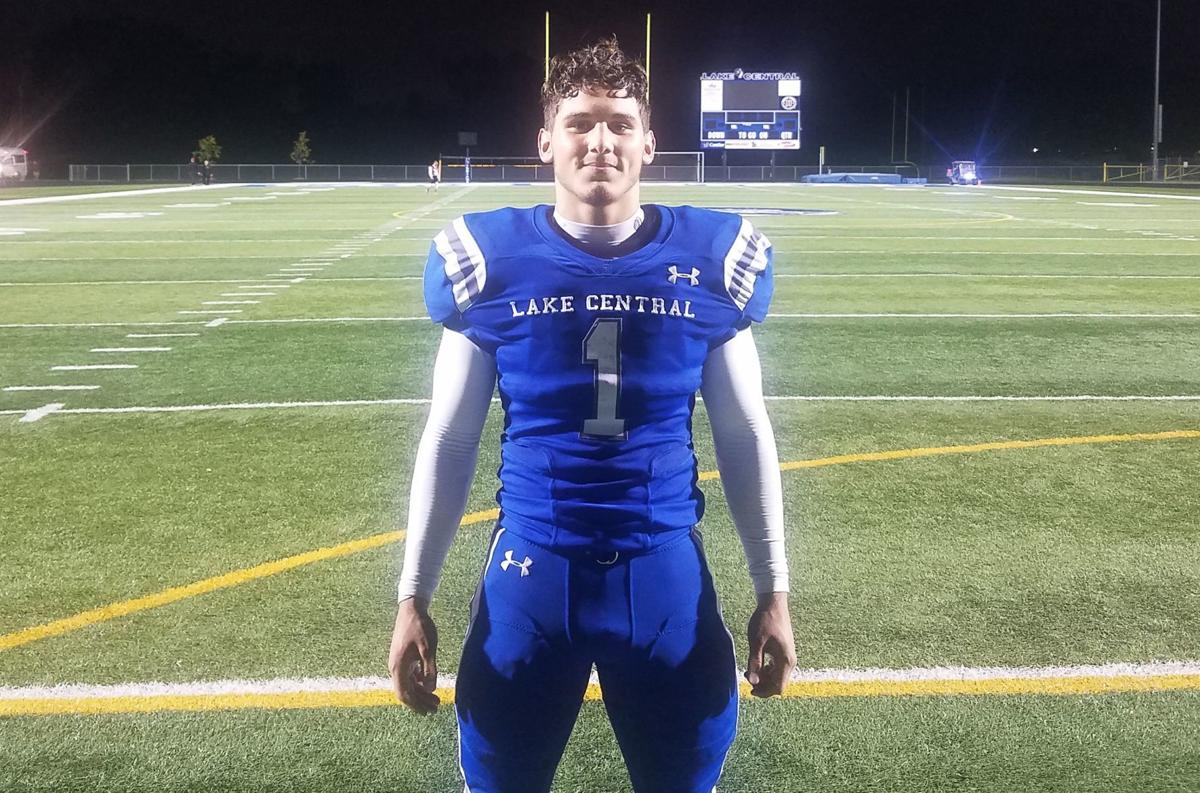 ST. JOHN — Lake Central senior running back Sir Felix Garcia greets contact with contact.
Football is physical, he says, and Garcia likes playing physical.
As Portage defenders swarmed him around the line of scrimmage Friday, Garcia didn't ease up. The third-year starter kept his legs moving, lowered his shoulder and plowed away looking for an extra 2, 5 or sometimes as many as 20 yards on a play.
"I'd always been scared of contact, especially my sophomore and junior year, but coming into this year I realized that there's no point in running away," Garcia said. "I'm either going to run through a defender or have to make a move on him, so I'd prefer to run through him and set the statement for the team.
"It gets the whole team going when someone gets put on their butt, you know what I mean?"
Portage defenders do. Garcia carried would-be tacklers with him into end zones or simply shed their efforts to the ground en route to 181 yards and three scores on 23 carries in Friday's 30-21 Duneland Athletic Conference victory. It marked LC's first conference win since defeating Merrillville back on Oct. 6, 2017.
Garcia was just a sophomore back then. He's been through every step of the rebuild — back-to-back 2-8 seasons — since.
"He's a guy that's been through wars for us," Lake Central coach Tony Bartolomeo said. "He's been through tough times here. He started as a sophomore tailback when we had to start the program from scratch. He took a lot of lumps as a young back. For him to have the success tonight makes me happy for him because he's worked hard over the years."
Garcia either shook off or dragged a defender with him into the end zone during all three of his scoring plays. The highlight of the night was a brutal stiff arm that sent a Portage defensive back straight to the ground about 20 yards beyond the line of scrimmage before Garcia continued on another 20 for a 40-yard score that put LC up 14-13 late in the first half.
Later, facing fourth-and-inches trying to seal the win in the final seconds of a one-score game, Garcia pounded a rush up the middle for 38 yards to end all hopes of a Portage comeback. He disposed of multiple defenders along the way.
"Coach before the game told me to put my name on all these runs," Garcia said. "Every single time I touched the ball I was going to let them know who was running into them."
Garcia, who says he's rooted by his faith, said routine blowout losses over the last two seasons motivated him to become a stronger player. He's found success running over defenders and already has more than 350 yards and four scores to show for it through just three games.
Bartolomeo calls Garcia "the happiest kid in America" because he's always smiling, even after a fumble or a mistake. Garcia says he's just thankful to be playing a game he loves with his friends and that the work is far from over.
He's got more defenders to run over.
"I'll be honest with you, there's nothing worse than being blown out like we have been, so this is just proof that when you work hard you can get somewhere," Garcia said. "There's no going back now."