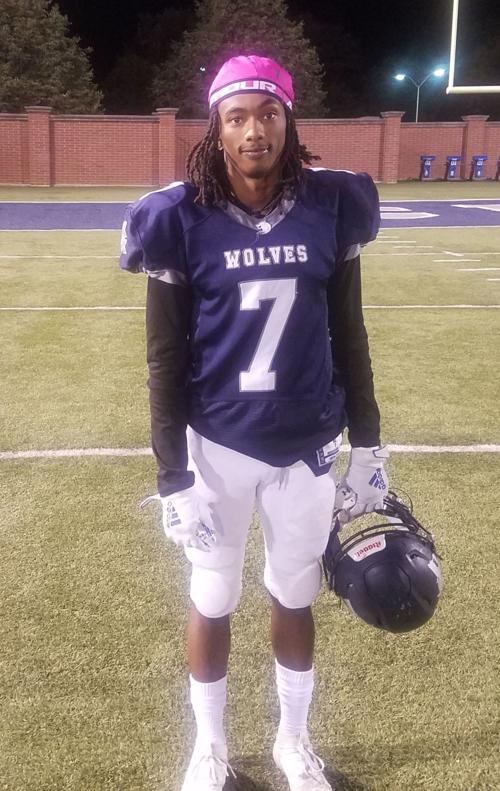 MICHIGAN CITY —- Michigan City generously lists senior Kejuan Rufus at 5-foot-8 and 145 pounds on its roster.
Rufus cracks a smile when that gets brought up. Then the truth comes out.
"Well, he starts, "maybe 5-5, 5-6."
Rufus doesn't try to hide it and couldn't if he wanted to. He doesn't have a prototypical build that screams "football player" but does what he can with what he's got. He put together his best game to date last Friday's 28-0 senior night win against Portage with two interceptions while helping limit the pass-heavy Indians to just three completions.
"A lot of people doubt me for my size," Rufus said, "so I just want to prove them wrong."
Rufus typically plays a true cornerback role with one-on-one matchups being the brunt of his work but got moved to safety against Portage so he could float in the secondary chasing errant throws. He capitalized on a pair of Indian senior quarterback Zack Warchus' overthrows with the first and second interceptions of his career.
Rufus only left the field late in the game to shake off some cramping issues but by then Michigan City's offense — led by two touchdown throws from sophomore Giovani Laurent to junior Kaydarious Jones — had locked up the win.
"To do this on senior night is really special," Rufus said. "With that first (interception), really I didn't think I was going to make it. I threw my hands up and it fell right in. On that second one, I saw the ball and chased it down and just got to it."
Rufus hears plenty of chatter on the field about his size. Larger receivers will call out variations of "matchup problem" and "little guy can't guard me" when they see how much of a physical advantage they have.
Rufus said he doesn't care much about the talk. He just takes a few steps back off his man and uses his speed and agility to close in on passes before the receivers can get to them.
"He's one of the better cover corners we've ever coached," Michigan City coach Phil Mason said. "He really does a nice job and does a physical job. Every once in a while we get a little concerned if we get a 6-5 receiver on him, but he battles hard."
Michigan City (3-4, 2-3) snapped a three-game losing streak with the comfortable win against Portage (1-6, 0-5), and with LaPorte and Crown Point looming before sectionals Rufus said it's critical the Wolves keep momentum rolling.
He admits teams may overlook his after losses to Valparaiso, Merrillville and Lake Central but doesn't mind. He's used to being overlooked and wants to keep surprising people.
"We've had a lot of ups and downs this year but we're back now," Rufus said. "Everything gets reset right here."