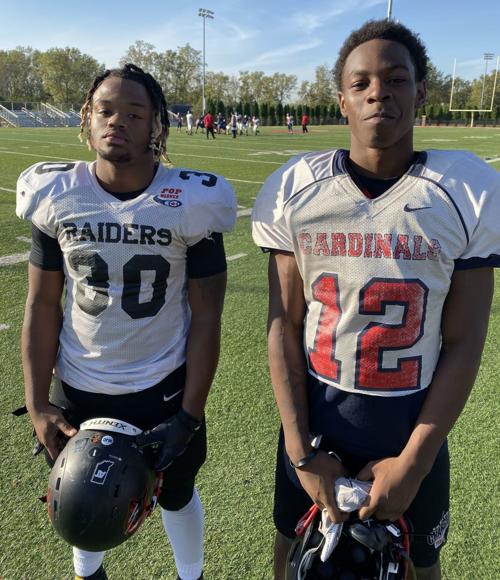 Dante Dinkins can hardly hold back his emotions when he starts explaining that an effective running game has been the key to EC Central's recent three-game winning streak.
It's not that Dinkins is passionate about running the football, it's that the first-year coach is passionate about who is running the football for the Cardinals, notably seniors Mike Perkins and Tahj Jordan.
"I had the best scenario when I was fortunate enough to take over the head job," Dinkins said. "I have a stable of running backs that you dream of having. Mike and Tahj are the senior leaders that everybody looks up to. They're the leaders of our team."
According to Dinkins, Perkins and Jordan have combined for nearly 1,600 rushing yards this season and the pair haven't just been getting it done on Friday nights. Teammates since middle school, the two senior running backs push each other every time they step on the field.
"Every day in practice, we're working to improve for the next game," Jordan said. "We've been playing together for so long; we know how to work together."
"Just our consistency in practice and putting in the work in the weight room," Perkins said.
Dinkins made it clear to both running backs when he took over the job from Jay Novak that the starting position was wide open. It's a directive that has remained true as the Cardinals have started the season 5-2 and face a key Great Lakes Athletic Conference game against Morton on Friday night.
"The bond is definitely there between the two," Dinkins said. "They hold each other accountable. If Tahj isn't bringing it in practice, Mike will get up right in his head and push him. They do that to each other. They compete with each other and it makes them both better. We've told them that whoever is putting in the work that week, that's the one that is going to start."
Regardless of who starts at running back, the pair barely leave the field. Perkins and Jordan both play linebacker on defense and they stay in the game for special teams.
"They're the ultimate leaders for this football team," Dinkins said.
Merrillville moving on
Merrillville coach Brad Seiss gave the Pirates 48 hours to stew over last Friday's last-second loss to Valparaiso, but by Monday, he was turning the page.
It marked the second time this season the Pirates have squandered an 18-point lead. Merrillville came back to beat Crown Point 27-24 in overtime on Sept. 6 and appeared to knock off Valparaiso before a penalty wiped out an 84-yard touchdown reception late in the fourth quarter.
"We need to learn from the mistakes of the game," Seiss said. "We had a couple opportunities to make plays. We did a lot of really good things, but we fell a little short."
Seiss understands that the loss all but eliminates Merrillville's chance to win the Duneland Athletic Conference title, but bigger goals remain.
"We still have plenty of accomplishments that we can reach," Seiss said. "There's bigger tragedies out there than losing a football game."
No quit in Whiting
Whiting is one loss away from suffering its first losing season in 15 years, but longtime assistant and first-year coach Brett Jennings is choosing to take a glass half-full approach.
The Oilers have dropped four straight games, including a pair of shutout losses.
"It's been unfamiliar for us, but we've gone through ups and downs before," Jennings said. "When you graduate a good senior class, you build the program back up. We have a bunch of young guys and our future is bright. Our older guys are helping to get the younger group ready.
Whiting closes out the regular season with Friday's game at Griffith and then at home against Greater South Shore Conference leader Boone Grove.
"We've got a group that is still competing," Jennings said. "We've got a game we feel can be winnable on Friday and then with Boone Grove, they're a rival of ours. We'd like to get them a blemish."