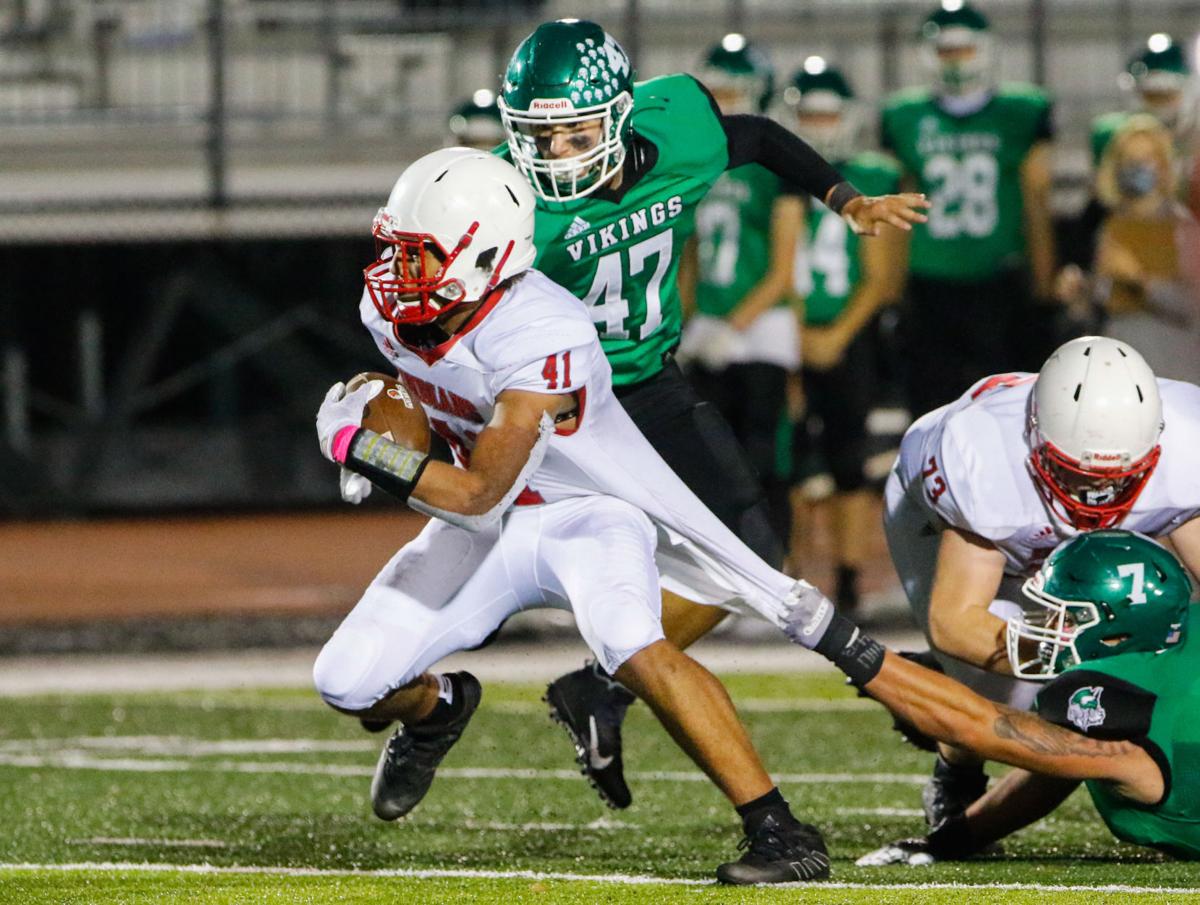 Things looked bleak for Portage after running back Devan Howard went down with what turned out to be a torn ACL in a 38-0 loss at Valparaiso on Oct. 8.
The senior running back was the steam engine that made the offense go, averaging more than 9 yards per carry. On the field, it's been a tough year for the Indians, who are 2-7 overall and went 1-6 in the Duneland Athletic Conference.
But there was plenty of pride to play for on Friday night against LaPorte (2-7, 1-6 DAC), and junior playmakers Terrell Craft and Colton Wilkie stepped up to fill the void in a 35-13 win.
"There (were) a lot of moves on offense," Craft said. "We moved (Colton Wilkie) back to quarterback. It was me and him in the backfield my freshman year. Just that in itself really helped our offense a lot."
Coach Terry Chestovich's moves paid off, and Wilkie had 218 rushing yards and one touchdown on 22 carries. Former starting quarterback Josh Bloom still contributed, hitting Craft for a wide-open touchdown pass from 52 yards.
"It was a lot of me blocking for (Colton), a lot of play fakes to me, so it got a lot of pressure off me and helped him open up a lot of yards," Craft said. "In the red zone, he'd just hand it off to me and I could score."
Craft scored two touchdowns on the ground, rushing 11 times for 20 yards.
"I think we were able to see a little bit more the last few weeks what he's capable of doing," Chestovich said. "(Craft) gives us lots of options. He catches well, obviously. He's our starting tailback, so that gives us options to get him the ball."
Chestovich cited the Merrillville game on Sept. 10, when Craft had 186 rushing yards on 31 carries. Craft also had two touchdowns and 71 rushing yards on 22 carries in a 43-29 loss to Michigan City.
After seven straight defeats, Portage has every intention of pulling a Class 6A sectional upset against Chesterton (6-3, 4-3 DAC), which has lost two in row.
"It's a credit to them," Chestovich said of his players. "Regardless of what the score is, we've played throughout the whole game, and we haven't quit."
Hammond Central offense clicks
Another team that has weathered a difficult season is Hammond Central, which is in its first year after the consolidation of schools in the School City of Hammond.
But Adam Hudak and the Wolves (2-7, 1-1 Great Lakes) broke through for a 51-12 win at EC Central last week, just in time to head into a sectional matchup against Munster (2-7, 0-5 NCC) with some momentum.
"Munster is probably as happy with the draw as we are," Hudak said. "It's a winnable game either way, and one of us is going to be playing for a sectional title."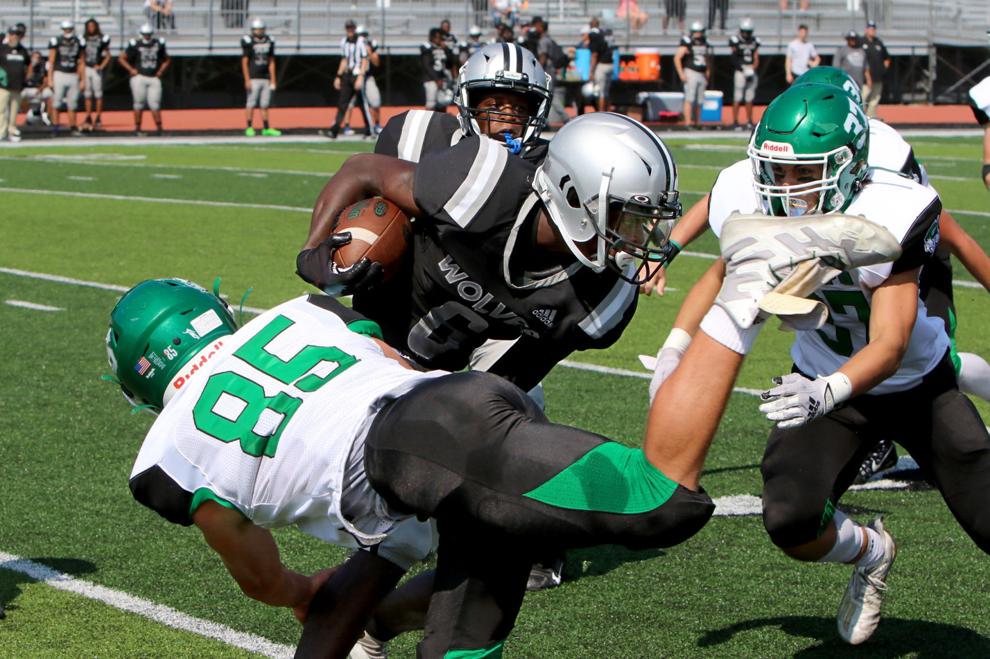 Junior wideout Jordan Woods had a memorable evening for Hammond, racking up 148 yards and three touchdowns on six catches from quarterback Anthony Huber.
Huber, a senior, completed 13 of 23 passes for 261 yards and five touchdowns with two interceptions.
"(Huber) is doing a great job of getting the ball moving around to different receivers and stuff," Hudak said. "But Jordan Woods is a heck of a player and we get the ball to him as much as we can."
Hudak moved linebacker Jeremiah Ruth back to safety, which made it a bit easier to play both ways, and the move paid off with a pick-six in the win. Ruth also had three catches for 32 yards and a score.
"He's a big-time playmaker," Hudak said. "And Danny Reeves is the same way, he's our tight end and our outside linebacker. He's going both ways and making plays on both sides of the ball."
Guevara sparks South Central
Power and counter runs to Tony Guevara have been the life force of South Central's winning campaign in the Greater South Shore's North division
The Satellites (4-3, 3-0 GSS North) weathered a tough nonconference slate and won four in a row to finish the season above .500, and coach Buzz Schoff keeps no secrets about his team's winning formula.
"You hand the ball off to Tony, and he was getting 9, 10, 11 yards at a time," coach Buzz Schoff said. "There was no reason to go away from that."
"Tony's a big part of our team," Schoff continued. "Offensively, you look at the yard production and he's probably 75, 85% of it."
Guevara is also the team's third leading tackler, and has fielded a few kickoffs throughout the season.
South Central is set to open the Class A sectional against Caston (2-7) on Friday night, with the winner facing off against the South Newton-Culver Community winner.
North Newton surging into playoffs
North Newton has rattled off five straight wins to run the table in Midwest Conference for the fourth year in a row.
Coach Scott Rouch's team is tasked with Rensselaer (5-4) in the opening round of sectionals on Friday at 7 p.m., and the winner will face the Andrean-Wheeler winner for the title.
"We're small in numbers, but we've got some good kids playing well for us, especially these last five weeks doing just enough to win each game," Rouch said.
Sophomore quarterback Evan Gagnon has helped the Spartans move the ball consistently, and sophomore Kadyn Rowland is averaging more than 5 yards per carry.
"(Gagnon) stepped in this year and played quarterback, had never played quarterback before," Rouch said. "Kadyn Rowland, running the football from the fullback position, just went over 1,000 yards for the year as a sophomore. He's a very physical-type runner."
"Then we've got some good speed guys on the outside with Lane Zander ... who has run back I think a kickoff and three punt returns this year," Rouch added.
Rouch also shouted out seniors Brayden Schoon and Gavin Johnson, who can line up at receiver or running back and both play on the defense, and two-way lineman Matt Barry.
"(Johnson) has done just about everything over the course of his four years," Rouch said. "And he's doing a great job this year, both offensively and defensively."
Football recap: Conference champions were decided, highlighted by Lowell beating Andrean
Friday night The Times dove inside Merrillville's DAC dominance, other DACtion, Lowell's upset of Andrean, GSSC division titles and more. Get caught up here!