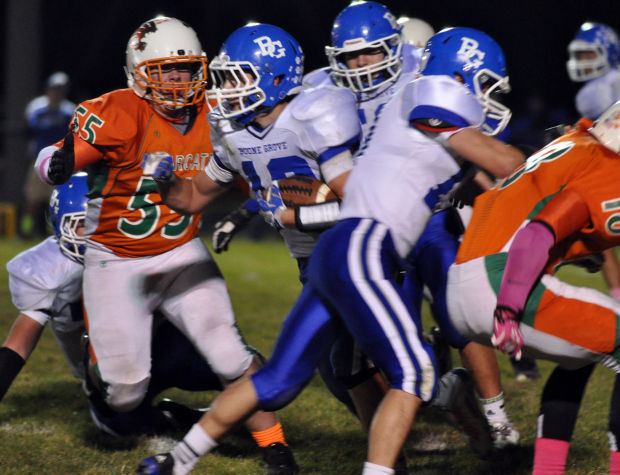 Everybody's All-American
Evan Stewart, Sr., RB/LB. Coach Tony Tinkel thinks the 185-pound Stewart will have a chance to lead the state in rushing. "If he can walk, he's going in," Tinkel said. "He's just football smart. He picks his holes very well. He just keeps going. When he gets open, he's tough to catch." Stewart has worked outside of practice with his brother, a trainer, to prepare himself for what may be an even heavier running load. He is a leader on defense, too."
He's got next
Tony Skoda, Sr., K. Skoda was off to a strong start last year when he was sidelined by disciplinary issues. He has been attending camps, where he has shown 50-yard range. "I honestly think he could be a state leader in field goals if he has the opportunity," Tinkel said. "Him putting the ball in the end zone (on kickoffs) will save us a lot of headaches. That's a real nice weapon to have."
The Times' breakdown
With inexperience at quarterback and receiver, the Wolves will lean even more heavily on their running game behind Stewart, who averaged nearly 19 carries a game last year, and Derick Cioni, another physical back. Stewart will also form a strong linebacker combination with Lange. Depth is a concern with numbers less than 40 and at least four players likely starting on both sides. Tinkel expects to have the edge on special teams in most games with Skoda. "I think we'll have a really good year," Tinkel said. "I think we have the potential to go 8-2 at the worst."
Roster
| | | | | | |
| --- | --- | --- | --- | --- | --- |
| No. | Name | Ht. | Wt. | Yr. | Pos. |
| 2 | Sam Kilburg | 5-11 | 185 |   | QB/C |
| 3 | Derick Cioni | 5-10 | 195 | Sr. | RB/LB |
| 5 | Dylan Paul | 5-9 | 190 | Fr. | QB/LB |
| 7 | Brandon Vann | 5-9 | 160 | So. | WR/DB |
| 11 | Brett Morris | 5-4 | 140 | Jr. | RB/DB |
| 12 | Cameron Jones | 5-9 | 130 | So. | WR/DB |
| 13 | Evan Stewart | 6-0 | 185 | Sr. | RB/LB |
| 14 | Gari Nunez | 5-5 | 145 | Fr. | FL/DB |
| 18 | Brett Adler | 6-0 | 155 | Jr. | WR/DB |
| 19 | Tony Skoda | 6-0 | 190 | Sr. | K |
| 20 | Keiggan Lange | 5-9 | 180 | Jr. | RB/LB |
| 22 | Zac Beatty | 5-6 | 140 | So. | RB/DB |
| 23 | Joel Colvin | 5-6 | 135 | So. | FL/DB |
| 24 | Josh Keaton | 5-5 | 130 | Fr. | WR/DB |
| 25 | Tyler Whetsel | 5-8 | 130 | Fr. | FL/LB |
| 35 | Brian Spears | 5-7 | 135 | Fr. | FL/DB |
| 40 | Pete Kilburg | 5-10 | 175 | Jr. | FB/LB |
| 44 | Teddy Truby | 5-10 | 185 | Jr. | TE/DL |
| 52 | Javid Stahl | 5-5 | 160 | Sr. | OL/DL |
| 53 | Adam Recio | 5-7 | 170 | Fr. | OL/DL |
| 58 | Mitchell Allen | 5-6 | 165 | Fr. | OL/DL |
| 61 | Cody Morris | 6-3 | 265 | Sr. | OL/DL |
| 62 | Matthew Crisman | 5-7 | 180 | Jr. | OL/DL |
| 64 | Alec Mshar | 5-9 | 200 | Jr. | OL/DL |
| 68 | Austin Hoskins | 6-2 | 206 | Fr. | OL/DL |
| 70 | David Childress | 5-7 | 200 | Jr. | OL/DL |
| 72 | Ryan Dziewicki | 5-9 | 200 | So. | OL/DL |
| 73 | Shaun Beird | 5-10 | 265 | Sr. | DL |
| 74 | Bryce Vann | 6-0 | 190 | Jr. | OL/DL |
| 76 | Luke Wilkening | 5-7 | 200 | Fr. | OL/DL |
| 80 | Luke Crisman | 6-1 | 165 | So. | WR/DB |
| 82 | Taylor Piazza | 5-10 | 140 | So. | WR/C |
| 83 | Cody Krieter | 5-11 | 145 | So. | FL/S |
| 84 | Nathan Williamson | 6-1 | 160 | Jr. | WR/S |
| 85 | James Katona | 6-0 | 160 | Sr. | WR/C |
| 87 | Zack Albee | 6-3 | 205 | Sr. | TE/DE |
| 88 | Kyle O'Neal | 5-8 | 150 | So. | WR/DB |