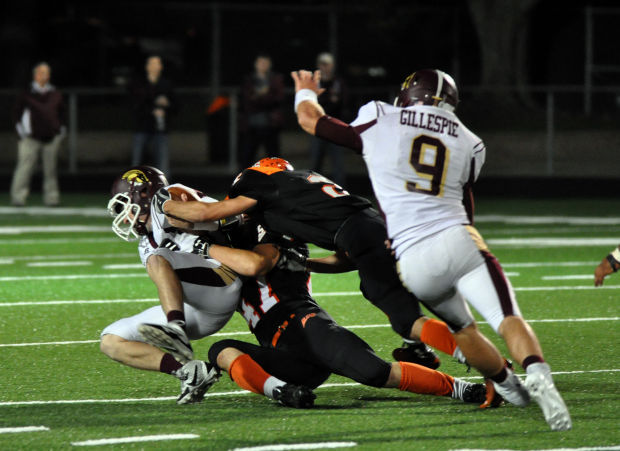 Everybody's All-American
Matt Otwinowski, Sr., ILB. At 6-foot-3, 221 pounds, the Kent State recruit is a one-man wrecking crew. "What most impressive about Matt O isn't his size and speed, it's how he's committed to working even harder," coach Dave Sharpe said. "He takes football as seriously as almost anyone I've ever met."
He's got next
Nik Ormsby, Jr., ILB. The possible heir-apparent to Otwinowski, the 6-1, 198 Ormsby will line up alongside him. "He jumped off the screen, watching JV films," Sharpe said. "He's got a ton of upside."
The Times' breakdown
After LaPorte's run to the 5A state finals, coach Bob Schellinger retired. The graduation of Times Offensive Player of the Year Charles Salary (2,989 yards, 29 touchdowns) leaves a huge void and not the only one for Sharpe as he leads the Slicers into 6A. Mobile quarterback Mazany returns to direct the Wing T set that will still accentuate downhill running. The workload will be distributed among several backs with a blend of size and speed in Gino Francesconi, Dion Williams, Brennen Long and Drayson Nespo. They'll follow another strong line anchored by 6-4, 287-pound Nate Warnock and 6-5, 245 Joel Hines. The defense also has to replace plenty, but features two of the area's best in Otwinowski and safety Owen Strieter (eight interceptions), and has an abundance of depth up front. "The system is well-stocked with talented players," Sharpe said. "It's a trusting group with a mentality that you tell them what to do and they do it."
Roster
| | | | | | |
| --- | --- | --- | --- | --- | --- |
| No. | Name | Ht. | Wt. | Yr. | Pos. |
| 1 | Dion Williams | 5-7 | 136 | Sr. | RB |
| 2 | Caleb Yandek | 5-8 | 151 | Sr. | DB |
| 3 | Eric Mazany | 5-11 | 169 | Sr. | QB |
| 4 | Drayson Nespo | 5-8 | 155 | So. | RB |
| 5 | Brennen Long | 5-10 | 200 | Jr. | RB |
| 6 | Gino Francesconi | 6-0 | 198 | Sr. | RB |
| 7 | Mason Kosior | 6-3 | 178 | Jr. | LB |
| 9 | Nolan Lorenz | 6-2 | 192 | So. | QB |
| 10 | Adam Cizewski | 5-7 | 171 | Sr. | DB |
| 11 | James Tatum | 6-0 | 153 | Sr. | DB |
| 12 | Ryan Steder | 5-10 | 152 | So. | DB |
| 13 | Aaron Cory | 5-7 | 135 | Sr. | DB |
| 14 | Ben Dermody | 6-2 | 179 | Jr. | DB |
| 16 | Zach Domogola | 5-6 | 179 | Jr. | DB |
| 17 | Tyler Schoff | 5-8 | 168 | Jr. | LB |
| 18 | Grant Seaburg | 6-1 | 150 | So. | DB |
| 19 | Jacob Cole | 6-0 | 155 | Jr. | DB |
| 20 | Michael Peeples | 5-6 | 140 | So. | RB |
| 21 | Owen Strieter | 6-0 | 172 | Jr. | DB |
| 22 | Rylan Epple | 5-10 | 162 | So. | RB |
| 23 | Zion Hurt | 5-9 | 146 | So. | RB |
| 24 | Casey Cornett | 5-10 | 145 | Sr. | K |
| 25 | Carter Bernth | 5-10 | 140 | So. | RB |
| 27 | Xavier Wilson | 6-2 | 136 | So. | DB |
| 28 | Tyler Cave | 5-9 | 134 | Sr. | DB |
| 29 | Kyle Adkins | 5-2 | 117 | Jr. | DB |
| 30 | Brenton Forker | 5-9 | 140 | So. | RB |
| 32 | Jackson Neal | 5-8 | 138 | So. | LB |
| 33 | Jarvise Franklin | 5-7 | 155 | So. | RB |
| 34 | Chris Juskiewicz | 5-11 | 200 | Jr. | LB |
| 35 | Dashon Woods | 5-11 | 200 | Jr. | LB |
| 36 | Zach Cannon | 5-9 | 136 | So. | DB |
| 37 | Billy Mofield | 5-11 | 87 | Jr. | LB |
| 38 | Dakoda Yon | 5-8 | 181 | Jr. | RB |
| 39 | Nik Ormsby | 6-1 | 198 | Jr. | LB |
| 40 | Taylor Medeiros | 5-8 | 121 | So. | DB |
| 41 | Joey Hlinovsky | 5-8 | 157 | Jr. | DB |
| 42 | Juan Villa | 5-8 | 161 | Jr. | K |
| 43 | Cody Chavez | 6-0 | 158 | So. | LB |
| 44 | Sergio Garcia | 5-8 | 177 | Jr. | LB |
| 45 | Tony Munoz | 5-9 | 163 | So. | LB |
| 46 | Brenden Stodden | 5-10 | 172 | Jr. | LB |
| 47 | Matt Otwinowski | 6-3 | 221 | Sr. | LB |
| 48 | Devyn Hammons-Flanagan | 6-1 | 187 | Jr. | DL |
| 49 | Austin Lowe | 5-9 | 196 | So. | LB |
| 50 | Westin Haislet | 6-1 | 212 | Sr. | OL |
| 51 | Myles Jageman | 6-0 | 238 | Sr. | OL |
| 52 | Tim Walsh | 6-0 | 251 | Sr. | OL |
| 53 | Carter Puckett | 6-0 | 189 | Jr. | OL |
| 55 | McKirby Montalbo | 5-11 | 157 | So. | LB |
| 56 | Joel Uribe | 5-9 | 160 | So. | OL |
| 57 | Tyler Nehl | 5-9 | 189 | Jr. | OL |
| 60 | Myron Ward | 5-6 | 207 | So. | DL |
| 62 | Nick Gragido | 5-11 | 242 | Sr. | OL |
| 63 | Mason Anderson | 5-11 | 212 | Jr. | OL |
| 65 | Felipe Marcano | 5-8 | 201 | So. | OL |
| 66 | Zakary Lane | 5-7 | 224 | Sr. | DL |
| 67 | James Kame | 6-0 | 205 | Sr. | DL |
| 68 | Michael Irk | 6-1 | 227 | Jr. | DL |
| 69 | Tristan Schnick | 6-2 | 250 | So. | OL |
| 72 | Jake Thode | 6-2 | 234 | So. | OL |
| 74 | Nate Warnock | 6-4 | 287 | Sr. | OL |
| 75 | Kyle Simpkins | 6-4 | 246 | So. | OL |
| 77 | Joel Hines | 6-5 | 245 | Sr. | OL |
| 78 | Kameron Browder | 6-0 | 273 | So. | DL |
| 80 | Jovani Villa | 5-4 | 121 | So. | K |
| 81 | Jered Ross | 6-0 | 152 | So. | TE |
| 82 | Mark Haines | 6-3 | 203 | So. | TE |
| 83 | Andy Halaschak | 5-9 | 134 | So. | TE |
| 84 | Noah McFarrin | 6-1 | 201 | Jr. | TE |
| 85 | Josh Bohling | 6-3 | 182 | Jr. | TE |
| 86 | QuaShawn Jenkins | 6-3 | 181 | So. | TE |
| 87 | Blake Cornett | 6-2 | 155 | So. | TE |
| 88 | Scott Cooper | 6-4 | 224 | Jr. | TE |
| 89 | Jordan Fadke | 5-11 | 146 | Sr. | TE |
| 91 | Josh Peterson | 5-10 | 176 | Jr. | DL |
| 92 | J.J. Sanders | 6-2 | 247 | Sr. | DL |
| 93 | Florentino Avila | 5-10 | 232 | Sr. | DL |
| 94 | Chris Cernel | 5-10 | 161 | Jr. | DL |
| 95 | Hunter Stemmler | 6-0 | 193 | Jr. | DL |
| 96 | Vendee Williams | 5-10 | 174 | Jr. | LB |
| 97 | Oscar Gomez | 5-8 | 174 | So. | DL |
| 98 | Cesar Rosales | 5-7 | 233 | So. | DL |
| 99 | Ruben Cuarenta | 5-9 | 215 | Jr. | DL |
| 70 | Charlie Mofield | 6-6 | 222 | So. | OL |