Merrillville dominated the Duneland Athletic Conference all season, thanks in large part to a sturdy defense and the play of running back Lavarion Logan and wide receiver Justin Marshall.
Both players are seeing serious recruiting interest from Division I schools.
Logan, a senior, has 259 carries for 2,087 yards and 36 touchdowns.
He initially committed to FCS powerhouse South Dakota State on Oct. 24, but on Nov. 9, he announced that he was reopening his recruitment.
"Me and my dad, we felt like it was a really quick decision (to commit) and things like that," Logan said. "We didn't take everything into consideration at first. It's a far distance from home."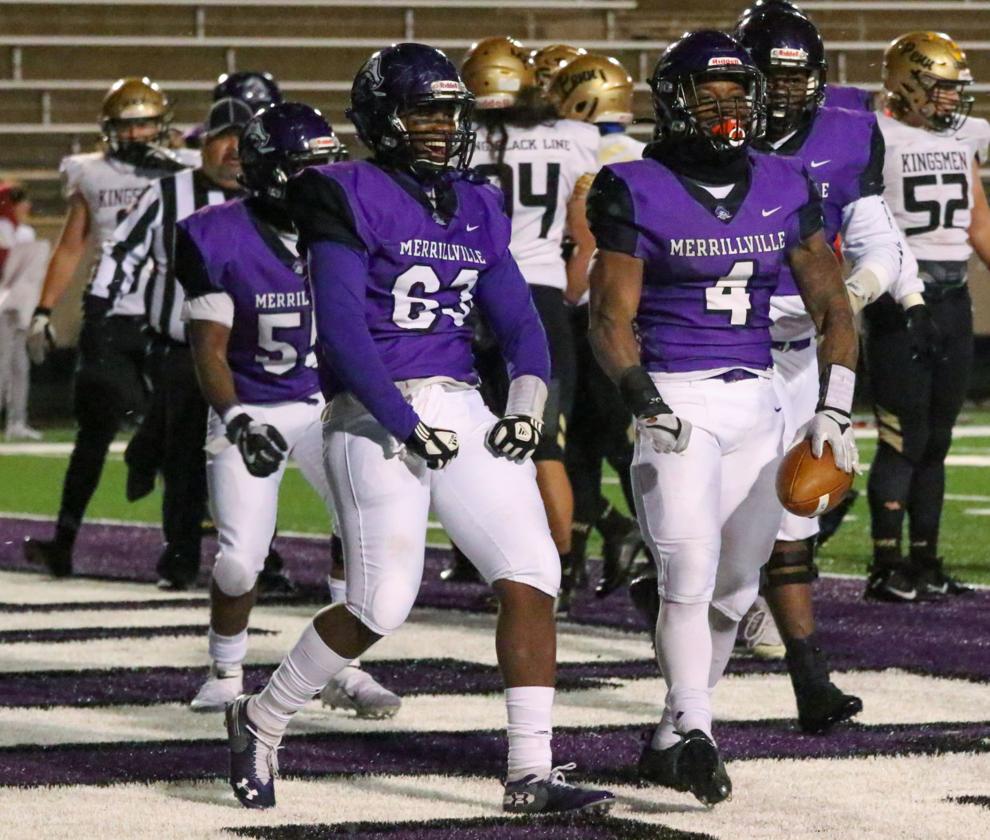 "I don't have a timeline yet," he added. "But really, the relationship with the coaching staff and with my parents and the coaching staff, things like that, will play a real big part."
Logan holds FBS offers from Navy, Air Force and Idaho and has a host of FCS offers, including Northern Iowa, Eastern Illinois, Indiana State, Missouri State, Fordham and South Dakota State.
His coach, Brad Seiss, notes the unusual nature of recruiting in 2021.
"The number of scholarships out there is probably lower than in most years simply because schools are trying to figure out what they're going to do with the transfer portal, and then also the numbers being a little off because of all the kids staying for extra years that wouldn't have done that before," Seiss said.
Players like Kenneth Grant, a four-star recruit who committed to Michigan, won't go unnoticed. But other players could be facing difficulties because of the current recruiting climate.
"To be honest, the 2022 kids in recruiting right now probably have it the toughest," Seiss said. "Lavarion, in his case, he's been offered by the service academies and he's been offered by the Missouri Valley schools, which is as good as it gets in (FCS) football. He's right there on the cusp of probably getting some MAC offers and all that. Those levels are trying to figure out how they're going to navigate through the new way of recruiting."
Logan is focused on helping the Pirates capture the IHSAA Class 6A state title, but he'll have more time to consider his future soon.
"It's a blessing," Logan said. "The season comes first, but when the season's over, I'll be focused on where I'm going to play college football."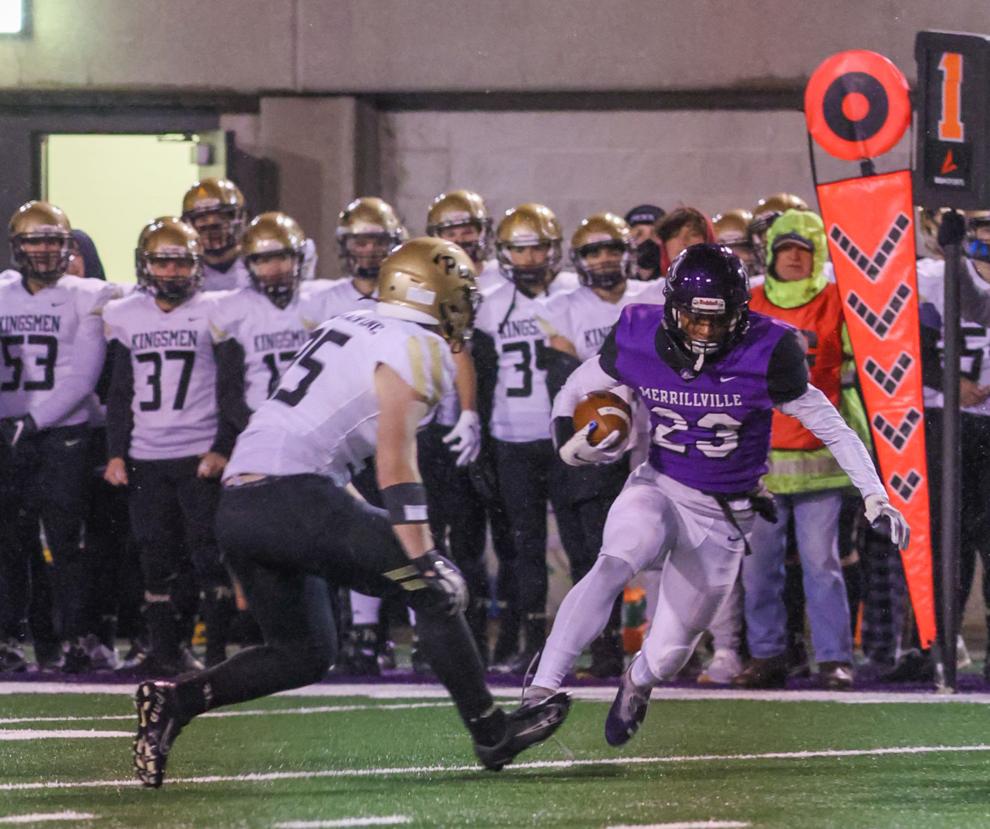 Meanwhile, Marshall's recruiting could be poised to blow up in the coming months, Seiss said.
Ball State recently became the first FBS program to offer the junior a scholarship.
"I was just shocked to get any offer right now," Marshall said. "I thought I was going to get most of my offers when I was a senior or something. I wasn't expecting them to offer me so soon."
Marshall leads Merrillville with 1,088 receiving yards and 16 touchdowns on 43 catches for an average of more than 25 yards per reception. He's also added five rushing touchdowns and 440 yards on 41 carries.
"Even early in the year when Justin really started being a huge piece for our offense, seeing how well he can run, you knew he was going to be an elite college football player," Seiss said.
Marshall is just trying to make the most of the present as the Pirates compete for a state title.
"It was just fun," Marshall said. "I didn't even know I was going to have a good season like this. I've just played my game, and that's what happens."
"(My parents) were excited, proud of me," he added. "They just want me to do even better and do greater things."
Seiss expects that Ball State's offer will be the first of many, including Power Five opportunities.
"To be honest, I'm surprised that IU or Purdue or Illinois, somebody like that, hasn't offered yet because he's elite fast," Seiss said. "He's going to go run a crazy 100 (meter dash) time in the spring and all that. The reason that probably hasn't happened yet is he came out of nowhere a little bit and those guys are busy with their season. The second they see him and see he's (5-foot-10), 185 pounds and a good-sized kid, I think it will really blow up for him with all kinds of guys offering him."
Andrean's Clacks gets Pitt offer
Andrean sophomore receiver Patrick Clacks III picked up his first Division I offer Friday, from Pittsburgh.
His coach, Chris Skinner, isn't surprised that Clacks is starting to generate some buzz.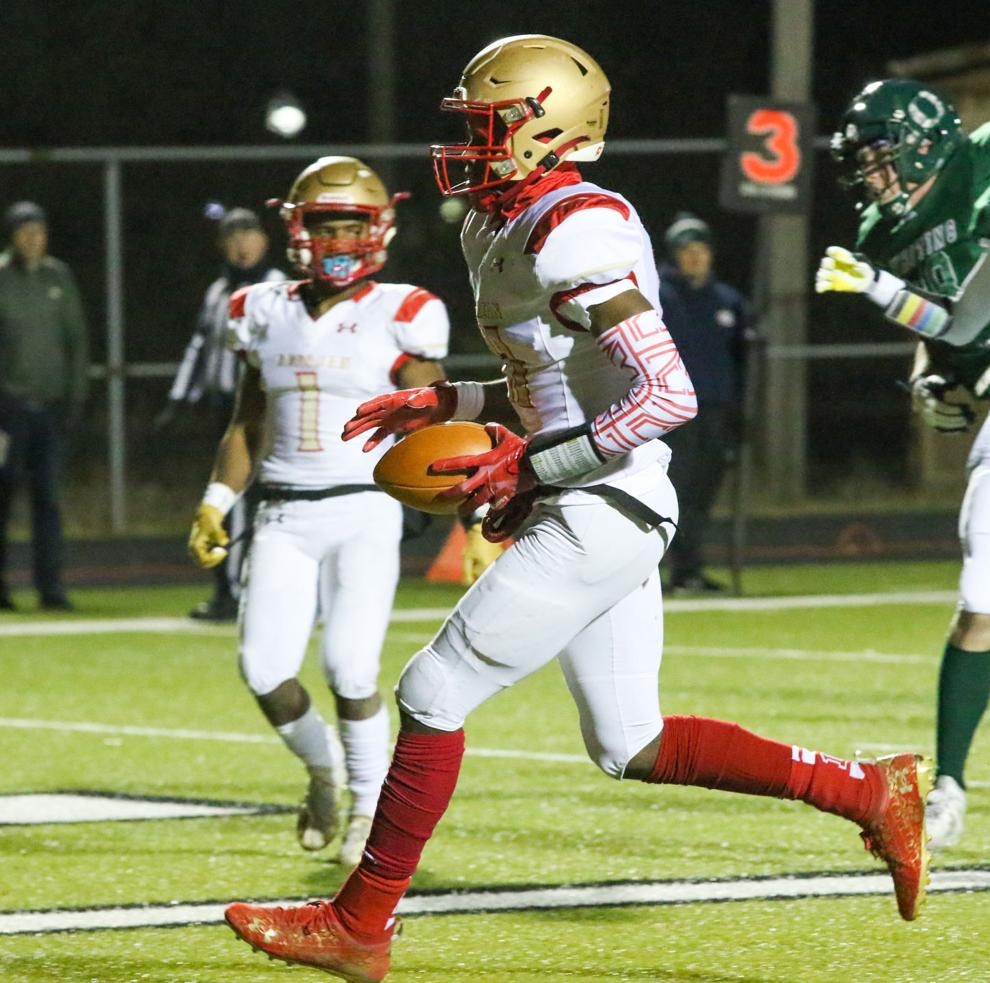 In the season-opening loss to Merrillville, he had four catches for 72 yards and a touchdown. He is now second on the team in receiving yards (701), and third in touchdowns (five) and receptions (44).
Before the Panthers offered, Indiana, Miami and Miami (Ohio) had all shown interest. After the first offer, Skinner is hoping there's a sort of domino effect.
"It's kind of a warning shot to other schools that, 'Hey, clearly a Power Five conference believes in the potential of this kid. Maybe we should start doing our homework,'" Skinner said.
He pointed to five-star Notre Dame recruit Drayk Bowen, whose recruitment picked up significantly once the Fighting Irish offered.
"I think we saw that with Drayk," Skinner said. "Once the Notre Dame offer came through, a lot of these big schools were like, 'Notre Dame threw that offer, we should probably start looking into this a little more.' That's when the Clemson's came around and the LSU's. Hopefully the same thing happens for Pat this offseason."
Football recap: Region teams punch semistate tickets, have historic seasons end on snowy night
Friday night was packed with entertainment, including a double-overtime finish, program record, multi-TD performances and more as snow fell. Get caught up with The Times' complete coverage!