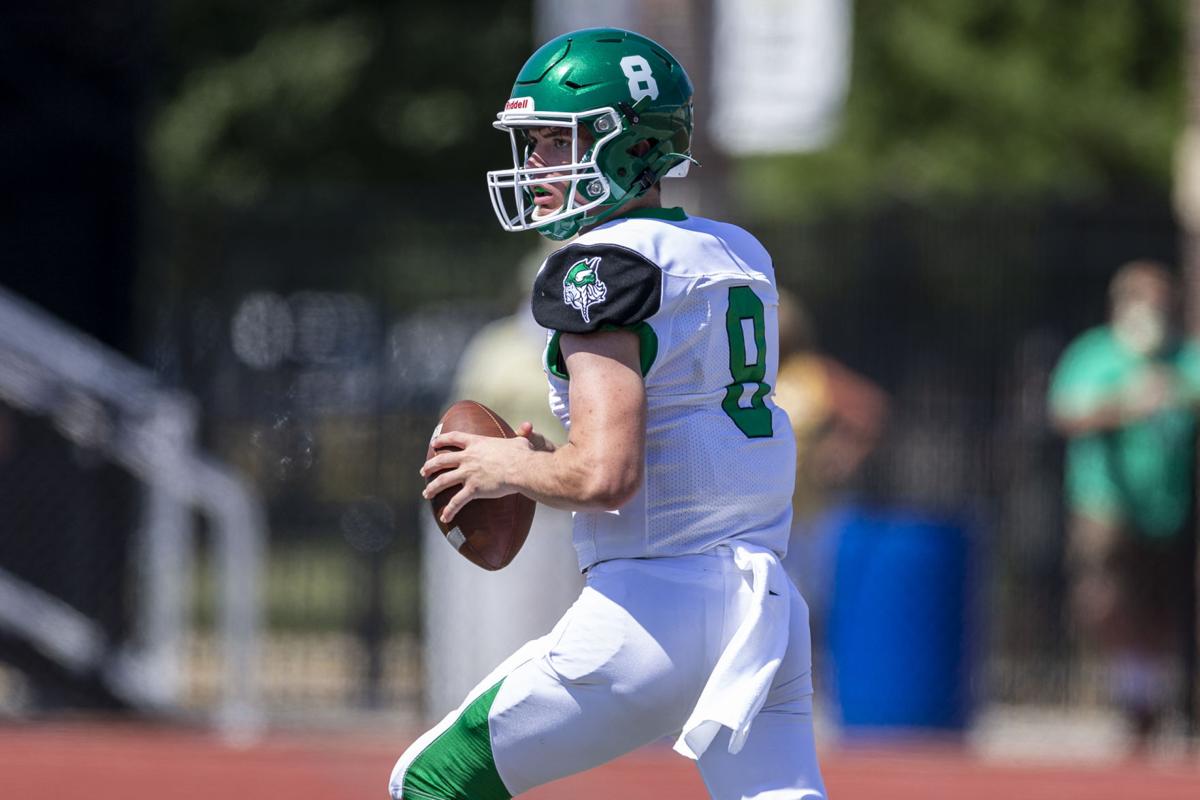 Valparaiso hasn't been able to find much of a rhythm so far this year, and its tumultuous season just took another sharp turn.
Vikings coach Bill Marshall confirmed Thursday night after the IHSAA's annual football sectional pairings show that Maximus Grimes' standout prep career is over.
"Max, unfortunately, is out for the season," Marshall said.
Logan Lockhart has replaced Grimes, and Marshall said he will continue to guide the team's offense. The junior is 21 of 43 passing for 345 yards, one touchdown and one interception this season.
"He has shown a lot of maturity, and he has the ability," Marshall said. "Now, it's just a matter of getting him those reps over these next two weeks and in practice."
Marshall believes the Vikings' matchup with the Indians and their regular season finale at Lake Central will be crucial as the team gears up for the playoffs.
Munster will play at LaPorte in the other Sectional 9 opener.
"Having only played a small amount of games this year, we need time to prepare," Marshall said. "We're fortunate enough to still have two regular season games to prepare ourselves for the postseason."
'Week in and week out'
So far, Andrean has made it through the regular season unscathed.
The 59ers are 6-1, competing in all seven weeks of the season, and they've been matched up with Boone Grove, which has also played all seven games, to open Class 2A postseason play in Sectional 33.
Andrean will face the Wolves at Valparaiso High School on Oct. 23, and 59ers coach Chris Skinner believes his team has benefited from playing a full schedule up to this point.
"It helps in terms of the grind of the season because when you get into the playoffs, every Friday is a test," Skinner said. "So the ability to play week in and week out allows you to kind of maintain that energy and maintain that focus. I think it's important."
Boone Grove is 1-6 with its lone win coming against Bishop Noll in Week 4.
Bowman at Rensselaer Central, Wheeler at North Newton and Whiting at Bishop Noll make up the rest of the Sectional 33 first-round matchups.
"It's just one week at a time," Skinner said. "That sounds so cliche, but that's always how we've handled things. We don't take anybody for granted."
Fueled by 15
Hobart got a taste of history last season, and Brickies coach Craig Osika is certain that his team is hungry for more.
"We came up five points short of the ultimate goal of playing for a state championship," Osika said. " ... We have a lot of guys back who were major contributors to us playing 14 games (last year), and our goal is to play 15. As long as we stay healthy, we should have an opportunity to put ourselves in position to make another playoff run."
The Brickies, who are 4-2, will face Gavit on the road Oct. 23 in Sectional 17.
EC Central at West Side, Griffith at Highland and Morton at Lowell are the other Sectional 17 first-round meetings.
Clark, Gavit, Hammond and Morton opened their seasons Saturday and have only played one game so far. Fall contact sports were initially canceled by the School City of Hammond on Aug. 4 due to the coronavirus pandemic, but that decision was reversed Sept. 15.
The Governors downed the Wildcats 38-8 at home to earn their first victory of the year, and first-year Morton coach Mac Mishler said his team will try to do something special despite its late start to the season.
"Our message the whole time since we came back is that we're working for the sectional," Mishler said. " ... I told the kids at the end of practice (Thursday), these last two regular season games are just business trips to get better."
Cautiously optimistic
Merrillville coach Brad Seiss knows how quickly things can change during a football season, and this year has been unlike any other he's ever experienced.
The Pirates, who made it to a Class 6A semistate last season, will host Crown Point in Sectional 1 on Oct. 30. However, Seiss said it will take a concerted effort by everyone in his program to ensure that Merrillville even makes it that far.
Lafayette Jefferson will host Lake Central in the other Sectional 1 opener.
"As exciting as the (postseason) is, there's a little bit of nervousness when you see games getting canceled and postponed when teams have (COVID-19) cases," Seiss said. " ... The tournament is almost here, but I think we still have to understand that in order to get to that point, we have to be responsible."
According to the IHSAA's COVID-19 resource center, if a team is unable to compete in the playoffs because of coronavirus, the matchup will be ruled as a no contest. The team affected by COVID-19 will have its season ended, and the program it was supposed to face will advance.
The Pirates are 5-1 and have had a relatively smooth season, missing only one game because Michigan City was unable to play in Week 5 due to coronavirus. 
Valparaiso also couldn't face the Pirates last week because of possible COVID-19 exposure, but Merrillville was able to pick up a replacement game at Bishop Chatard.
"I think it was good for our kids to realize how much attention to detail they have to have and how hard they have to play when you're going against somebody that's really good," Seiss said. "That's what happens in playoff football. Hopefully we can take the hard lessons we learned from last weekend and apply them and use them to have success down the road."