Bill Marshall and Valparaiso football were having a season to remember when they ran into Merrillville on Oct. 1.
The Vikings, who average 40.25 points per game, were stopped in their tracks and defeated at home, 45-7.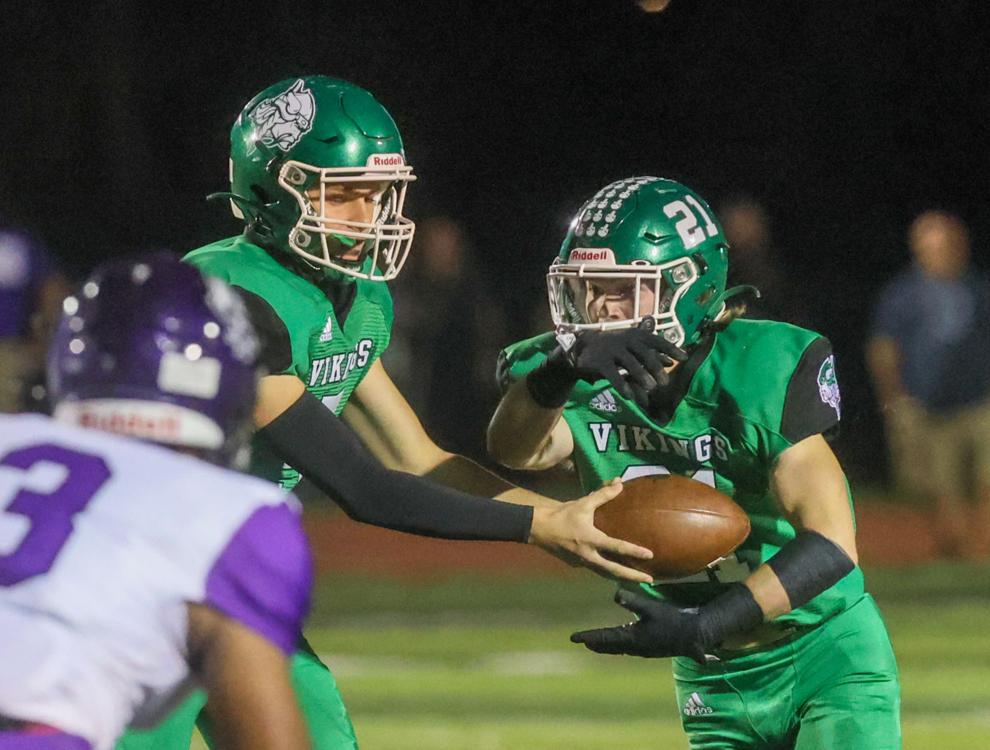 But Valparaiso bounced back in a massive way on Friday, blanking Portage 38-0, to advance to 7-1 on the year and erase any doubts about the direction the team is headed in.
"Coach (Sam) Bernardi, who is our defensive coordinator and linebackers coach, he just touched on (the Merrillville loss) all weekend practice," Marshall said. "He says, 'Well, how do you want to be defined? Do you want to be defined as the group that ... lost a big game to Merrillville and ... let Portage team or Lake Central team slip by you?'"
Safe to say, Valparaiso resumed business as usual, allowing just seven first downs to Portage. The running game resumed its normal ways, as senior tailback Hayden Vinyard raced for 233 yards and two touchdowns.
The Vikings backfield combined for five scores and 356 yards on the night, as quarterback Logan Lockhart added two scores on 10 carries for 66 yards.
Marshall wasn't surprised his guys stepped up in a big way.
"I said learn from it," Marshall said. "Reflect on (Merrillville), bottle up that emotion what you're feeling right now after a loss and kind of uncork it or uncap on every team that we play from here on out. That's exactly what they did."
Senior Mason McMullen blocked a punt and made eight tackles.
"Mason has been a three-year starter for us, so for him to go ahead and have a great senior year like he is right now has been great," Marshall said. "He's not the vocal captain, but he's always on point, he's focused and his execution is absolutely great throughout practice and the games."
Next up for the Vikings is the regular-season finale against Lake Central (3-5), which has lost five in a row, and then a playoff date against Morton on Oct. 29.
"(We) got back to that work ethic and that mentality at practice," Marshall said, "and it definitely paid off."
EC Central's Wallace shows potential
EC Central isn't a senior-laden team this year, but freshman quarterback Yamauree Wallace helped make the Cardinals' senior night special.
Wallace led the Cardinals (2-5) to a 48-42 win against Bishop Noll (1-5), racking up four touchdowns and more than 100 rushing yards on Friday night.
"He has done a lot," Dinkins said. "He has not let me down. He fights until the end, which is one of our team sayings, he fights through every ball game he's been in. ...
"I'm just glad he's able to get that freshman exposure out the way. Because a couple of years from now, especially senior year, he's going to be a freak athlete at the quarterback position."
EC Central rallied from a two-touchdown deficit.
Cardinals coach Dante Dinkins liked his team's resilience.
"Just kind of rounded the guys together, told them to keep their composure and that we were prepared to overcome these types of situations," Dinkins said.
The win ended a four-game losing skid for EC Central.
West Side rallies for comeback win
After going down 18-0 to Hammond Central, Eric Schreiber Jr. admits he saw some signs of previous West Side teams that have struggled.
But this edition of the Cougars (5-2) is different, and had the tools to turn the game around.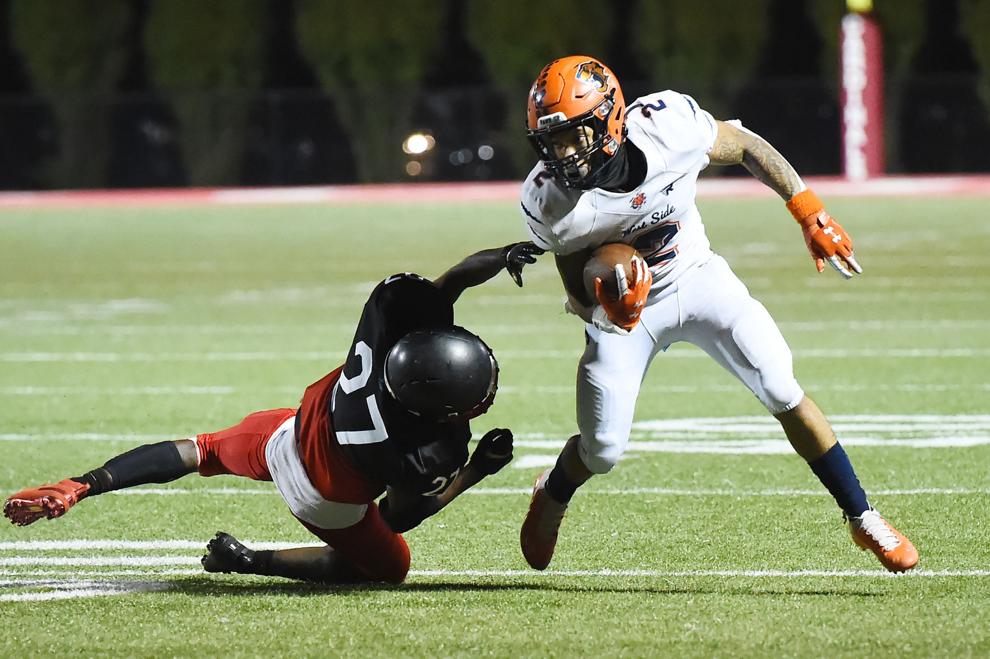 "You kind of saw them fold a little bit and give up in some ways and start blaming each other," Schreiber said. "It took a couple of things to go our way, we stopped them I believe two or three drives in a row, which helped us build our confidence."
Standout running back Camajay Griffin-Terrell got off to a slow start, but eventually went for 125 yards and a touchdown on 23 carries.
"That's actually a pretty good game for just any kid," Schreiber said. "But for him, the numbers he's put up ... it can be disheartening," Schreiber said.
"It really did show a lot of growth for him ... to be able to push through, stick with it and trust that something would pop open at some point," he added.
Defensive back Jamari Turks added an 85-yard interception return and sophomore linebacker Terrelle Elmore had four tackles for loss.
"That was something that was good to see for him to get in the backfield as much as he did," Schreiber said of Elmore. "He probably should've had three or four more, but he's young and it was good for him to get that confidence boost at his position."
Football recap: Crown Point hits milestone and Hanover Central's aerial attack on display
Here's a look back at what transpired on the gridiron around the Region Friday.