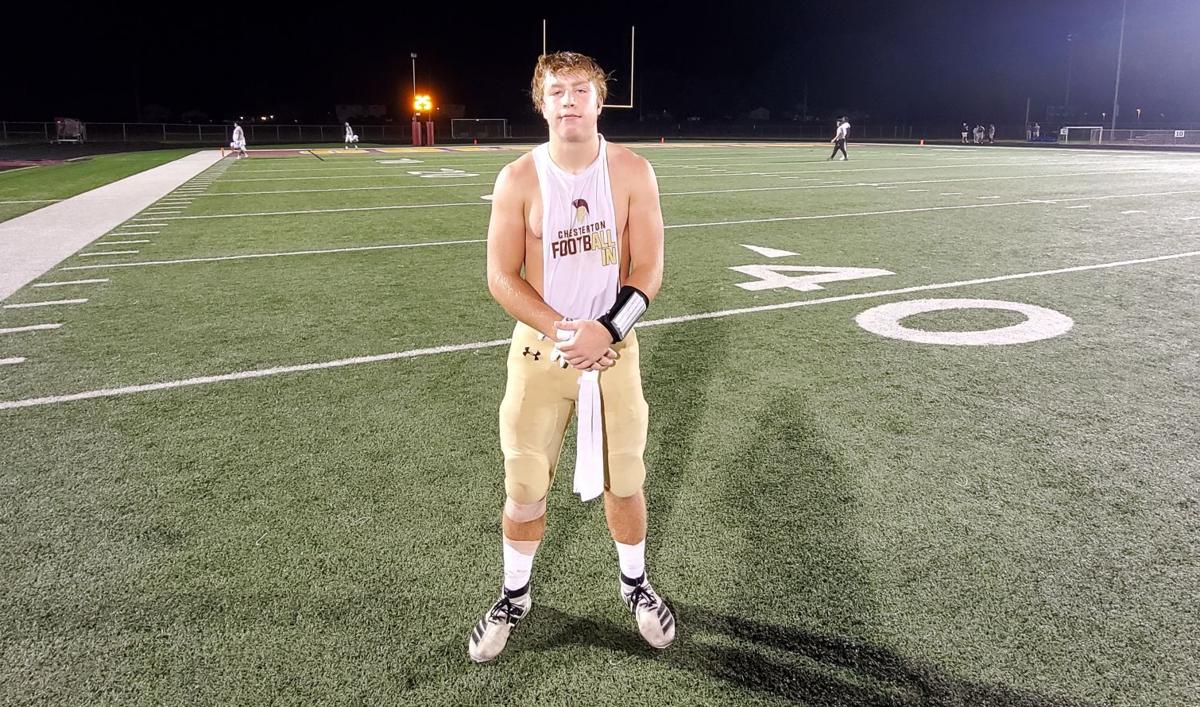 CHESTERTON — COVID-19 canceled Colby Bullock's would-be sophomore track season and sent him to his basement.
That's where the now-junior keeps his bench press.
"I just started lifting a lot," Bullock said. "I had nowhere to go and nothing better to do."
As a result, Bullock added what he'd estimate to be about 10 pounds in muscle mass without sacrificing much in terms of speed to get him primed for a larger role in Chesterton's offense this season. The wide receiver and fullback hybrid picked up 92 yards of offense in helping the Trojans to a 21-13 Duneland Athletic Conference win against Michigan City.
"This was a really important win for us," Bullock said. "After our start it was easy in practice to start getting down or lose faith, but Michigan City is a really good team and I'm proud of how we could bounce back and win like that."
Bullock's fingerprints were all over the win between his special teams contributions, two rushes for 24 yards and four catches for 68 yards and a touchdown.
Chesterton coach Mark Peterson said Bullock is too good of an athlete at 5-foot-9 and 190 pounds to not get the ball in his hands. The Trojans (1-2, 1-0) will line him up at receiver, fullback or tailback — anything to get him involved in the play.
"Colby is an all-around guy," Peterson said. "He's one of our key performers each week and does so much for us. We certainly want to get the ball in his hands as much as possible."
Bullock played about 15-20 snaps per game as a sophomore behind a foursome of senior receivers who ate up the bulk of the snaps on the outside but managed to stay occupied by playing another two or three quarters of JV each weekend in addition to his varsity duties.
On Fridays, Bullock saw where he needed to go.
On Saturdays, he worked on getting there.
"That experience was just invaluable for him," Peterson said.
Bullock spent the winter warming up for a track season in hopes of building on a freshman year where he helped get the Trojan 4x100 relay down to state but had those plans derailed when spring sports were canceled as a result of the pandemic.
Not having a track season sent Bullock to the weight room. He's now able to get five reps of 225 pounds in on the bench press and said his strength has made a significant difference on the football field without hurting him as a runner.
In addition, Bullock said spending time during the summer working out alongside junior quarterback Chris Mullen went a long way toward perfecting their timing. His touchdown grab against Michigan City essentially fell right into his hands before he could even see the ball, Bullock said.
"I knew this year that I'd be getting a lot more reps," Bullock said. "Chris and I spent a lot of time working together just to make sure I was ready."
The work has paid early dividends that Bullock hopes to keep growing.
The touches aren't going away any time soon.
"We're going to continue to get him involved," Peterson said. "We've known Colby has the speed and the talent. He had a great offseason, and I think you're seeing that now."
Friday Night Football Recap: Catch up on all of last night's excitement here!
Calling all Region preps football fanatics! Catch up on all the need to know football Friday excitement, final scores and more here.
Get in the game with our Prep Sports Newsletter
Sent weekly directly to your inbox!