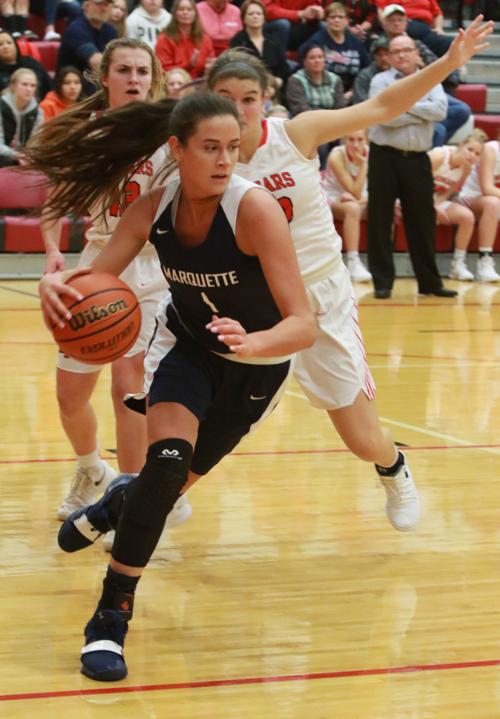 Emma and Sophia Nolan have already changed Marquette Catholic's program.
Over the next two weekends, they'll have a chance to assert their Blazers as one of the state's top Class A outfits since the IHSAA ended its single-class tournament format.
The Blazers face Northfield in Saturday's Class A LaPorte Semistate with a berth in their second straight state title game on the line, and they're more dangerous now than they were a year ago.
"I think it helps a lot just to know that you've been there before," Marquette Catholic coach Katie Collignon said. "You know the environment; you know what you're gonna walk into. I think two years ago when we walked into that semistate down in (Logansport), we had no idea what to expect. I think even last year, walking into Valpo, … we knew we were meant to be there. I think that just helps to not let the moment get too big, not let the game get too big."
Marquette Catholic is the first local team to win three straight regional titles since Highland from 2001-03, and a short trek to LaPorte has the Blazers even more excited to play for another trip to Bankers Life Fieldhouse.
The opposition won't make it easy, however. Northfield enters with a 25-2 record identical to the Blazers' and features two elite 3-point shooters. Point guard Kelcie Thomson shoots 48 percent from 3, while leading scorer Ariel Dale knocks down 42 percent on more than six attempts per game.
Marquette Catholic may not have to contend with a dominant post threat, but such explosive backcourt play will test the Blazers' discipline.
"They're a really guard-oriented team," Collignon said. "They have some great shooters. I think our focus all week will be how we defend them and make everything tough for them from the outside."
For the Blazers, support from role players along the lines of what they got at regionals will determine their offensive efficiency. Morgan Cook led Marquette Catholic with 21 points on six 3s against South Central in the regional semifinal, while Claire Salyer added 14 on four 3s in the title game win over Fremont.
If the two senior guards keep coming through when opponents commit help defenders to the Nolans, Marquette's offense will be tough to stop.
"We've been talking about them all year, and really the last three years," Collignon said. They've got to be ready to shoot; they've got to be ready to score. I think that confidence level has finally set in for all my guards."