CROWN POINT — Over 900 boys and girls high school basketball players around the country were nominated for the 2020 McDonald's All American Games, and Sara Zabrecky is the only Region athlete on either side being considered.
Munster's senior guard wasn't formally notified that she was a McDAAG nominee and found out because her father, Al Zabrecky, scrolled through the list when it was posted online Tuesday morning.
He was just causally browsing but did a double take when he saw his daughter's name. Once Al Zabrecky realized his eyes weren't fooling him, he notified his child.
"My dad tagged me (in a tweet) saying 'Congrats,'" Sara Zabrecky said after the Mustangs' loss to Crown Point on Tuesday night. "So, now I know I gotta keep working. I gotta get a spot on that roster. It's a great feeling."
The St. John's signee played AAU basketball for All-Ohio in the Nike Girls Elite Youth Basketball League last summer, and the team's entire starting five — including Sara Zabrecky — received nominations. 
After transferring from Lake Central and joining Munster for her final prep campaign, the 5-foot-8 guard leads the team in scoring at 17 points per game. She has notched six 20-point performances and drained a team-high 33 3-pointers.
Mustangs coach Jim Davidson believes Sara Zabrecky has given his program a much-needed scoring punch, but he also said the senior does many little things which have helped her emerge as Munster's leader.
"She's the first one to pick people up off of the floor," Davidson said. "She's got a well-rounded game. She can take the ball to the basket, she can pull up and hit the 3 and she plays a little defense, too. ... She's fit in really well with us and deserves everything she gets."
The McDAAG, which was held last year at the State Farm Arena in Atlanta, will be played for the first time ever at the Toyota Center in Houston on April 1.
Only 14 Indiana girls basketball players have ever been selected to the prestigious all-star game, and Sara Zabrecky said it would be surreal to see all of her hard work pay off by making the 24-player roster, which will be released later this month.
If she is picked, the senior would be the first girl chosen from the Region since West Side graduate and Louisville guard Dana Evans was selected in 2017.
"(This nomination) is because of all of the endless nights with my dad in the gym," said Sara Zabrecky, who was one of nine Indiana girls basketball players nominated. "I couldn't have done it without my teammates either."
Mixed results for CP's Carrothers

Jessica Carrothers hasn't even finished two full seasons at Crown Point, but she has already established herself as one of the best players in the state.
The star sophomore scored 23 points in a 77-48 Duneland Athletic Conference road win over Michigan City on Jan. 10 to eclipse 1,000 points for her prep career. Through 49 games, Carrothers has poured in 1,013 points and hopes to reach an even steeper milestone.
"I really tried to not make it a big deal. 2,000 would be more of a big deal," Carrothers said. "But I'm glad I got to score 1,000 with my friends and the people that I love the most."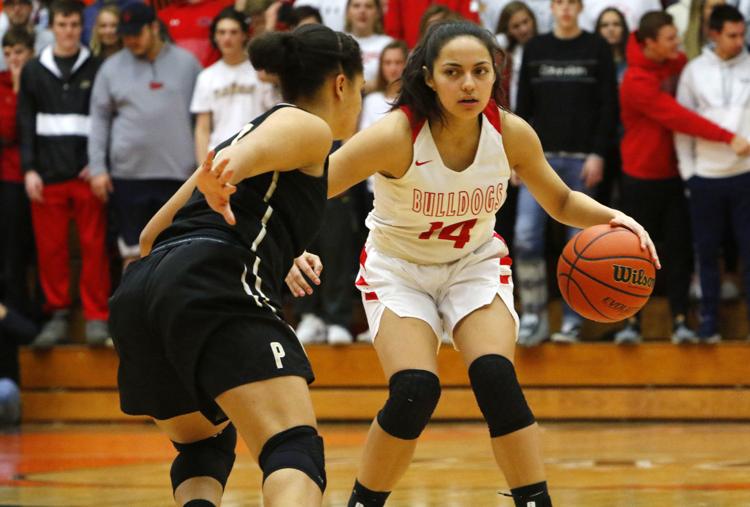 Carrothers went down with a right ankle injury at the 2:52 mark of the first quarter in the Bulldogs' 52-33 home victory against Munster on Tuesday and did not return to the game. The sophomore's limited action resulted in the first scoreless outing of her high school career.
A hush fell over the crowd as Carrothers was carried off of the court, and after the game she left the gym in a walking boot. According to her father, Mark Carrothers, she underwent an X-ray Wednesday morning, revealing a severe ankle sprain. The sophomore could be out for a few weeks as her undefeated squad looks to close out the regular season.
"I think the biggest thing is just the next man up mentality," Crown Point coach Chris Seibert said. "That's what we've talked about with our kids. ... We talk a lot in our program about 'controlling the controllables,' and (Carrothers' injury) is something you can't control."
Portage winning the close ones
Portage coach Marc Bruner was thinking about calling a timeout in the final seconds of a tie game against Valparaiso last Friday night. Senior guard Troilisia Lacey had other ideas.
Lacey floated in the game-winner at the buzzer to knock off the Vikings 63-61 on the road and help the Indians win their sixth straight game, dating back to Dec. 28.
Lacey finished with a game-high 13 points, leading three other players in double figures. The senior added five assists.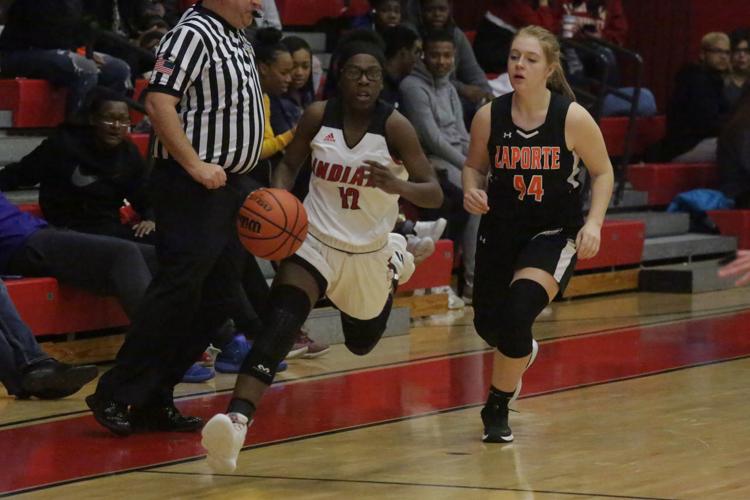 "That's a shot that (Lacey) takes a lot in practice," Bruner said. "She doesn't always make them."
The win was extra special for the Indians because of the manner in which they have been winning as of late. Portage held off Lake Central in overtime the week before and also won a close game over Andrean in the same tournament in which they fell to South Bend St. Joseph 53-52 in its last loss.
"We used to lose a lot of games that way," Bruner said of the late-game heroics against Valparaiso. "Now, we're starting to win games like that."
Lacey is Portage's third-leading scorer (7.7) behind Jordan Barnes (11.3) and Kristen Cravens (11.1), but the senior has scored in double figures in three of her last four games.