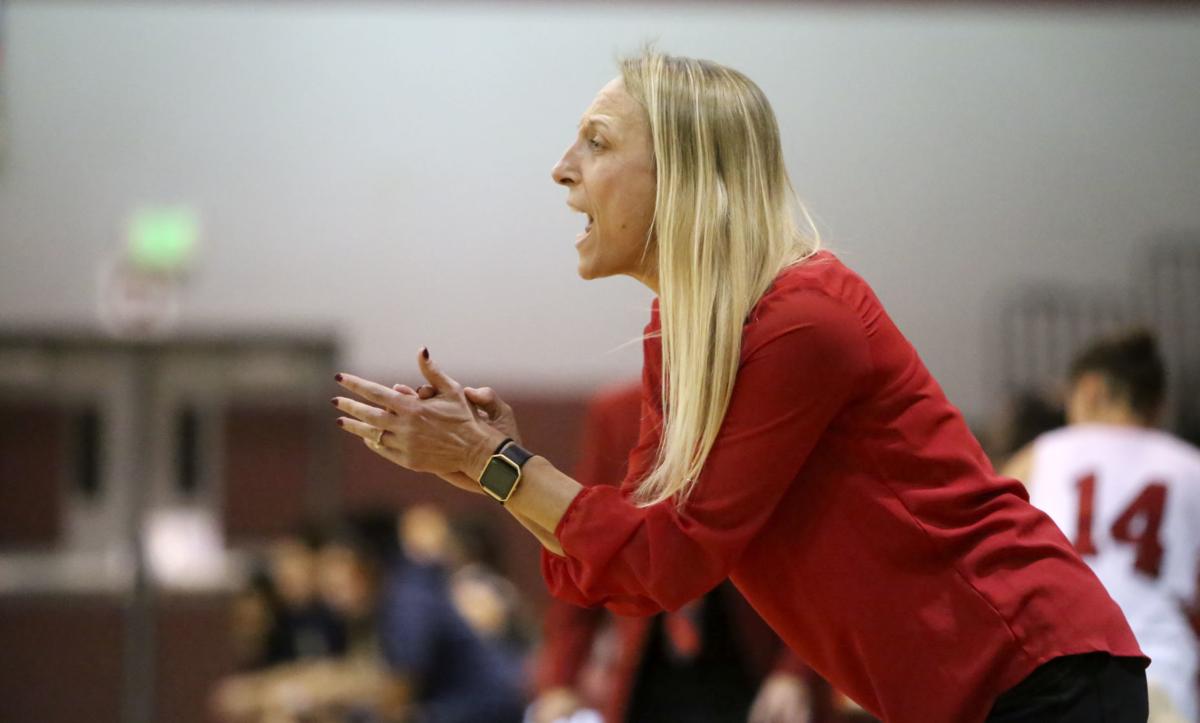 All signs point to the Lake Station girls basketball team, and possibly the Eagles volleyball team, being under new leadership next season.
Kristy Hite, the head coach of both programs this past season, steered the Eagles girls basketball team to a second-place finish in the Greater South Shore Conference and a school-record 15 wins, according to first-year Athletic Director Jeff Bean and Principal Christine Pepa. However, Hite said that during her year-end evaluation on March 19 she was informed by Bean and Pepa that unlike in years past, she will not be automatically retained for another season.
"It came as a surprise to me, actually," Hite said. "I don't know why they did it or what happened to make them do this. It would be different if we were losing and I wasn't being productive."
During her yearly evaluation after the volleyball season, in which the team finished 1-13, Hite said she received a positive review. Pepa and Bean said they would still like to automatically retain her as the school's volleyball coach.
"In the fall, Jeff was new," Pepa said. "He was still trying to get his feet wet and trying to get to know Lake Station and what our expectations are. He went through the evaluation process with volleyball. He discussed with coach Hite the expectations for the program. There didn't seem to be any questions or concerns. She had a plan for what her expectations were, and therefore was recommended to be renewed for the volleyball program."
Hite, who works in sales marketing at ArcelorMittal, understands that as a coach with a full-time job outside the district her contract is technically terminated after every season before officially being renewed. But she said she was stunned when the school asked her to clean out her belongings and return her keys, which they've never asked her to do in the past.
Bean confirmed that Hite has not been hired back for the girls basketball 2019-20 season, but said that she has been encouraged to reapply for the position after her contract ended on March 31. Hite said she does not plan to reapply for the girls basketball coaching job. She declined to comment on her future with the volleyball program Monday.
"Coach Hite has not been fired (from girls basketball)," Bean said. "We just decided not to automatically renew her contract, and we're just going to open it up for all candidates to apply. We also have some teaching openings as well that we haven't had in the past, so it gives us the option to hire someone that could potentially be a teacher and head coach here at Lake Station."
Plans for the future
Bean and Pepa both said Wednesday that there were deficiencies within the girls basketball program that they felt needed to be addressed, but they would not elaborate on the ways Hite could improve. They both said they didn't want to violate Hite's privacy by sharing her year-end review publicly. However, Pepa insists that she conducted a thorough evaluation of Hite and when she asked Hite what her plans were for the future, the coach could not provide any.
"Specific expectations that I have are, what are you going to do in the offseason?," Pepa said. "What are you going to do in the summer? How are you going to incorporate the program from the elementary level all the way through to the varsity level? How are you going to increase competition so that we have stronger competition? How are you going to do scouting reports? And what are you going to do to teach that to students so they can prepare for the next game? How do you better your students by watching game film?"
However, Hite sent an email to Bean on March 1 discussing her plans for the future of the team and said she received no response.
In the email, which Hite shared with The Times, she highlights the partnership she's built with local AAU program Region Elite, the team's accomplishments during the 2018-19 season and "plans that I have for the program in the future," including offseason workouts on Mondays and Wednesday through May 11, participation in the Griffith High School summer league, a summer basketball camp run by college coaches for high school and junior high students, workouts and league play for junior high girls basketball players, and a summer basketball camp for elementary school students conducted by the high school team.
Her email also noted: "Pending approval, I have found a speed/agility coach to come in 2 days a week to work with the girls basketball team."
Hite didn't mention scouting reports or film sessions in her "snapshot of what the future holds," but her email covered most of the other topics on Pepa's checklist.
Pepa said Wednesday she still had not seen Hite's email to Bean. The Times offered to forward it to her, but she declined. During her year-end review, Hite said she did not have a copy of the email to show Pepa but added that she did in fact share specific examples with Pepa and Bean of how she planned to build on the Eagles' 15-win season.
"I told them that I have reached out to coaches, which I have emails from because they're emailing me back and starting to make plans," Hite said. "I have an email out to the Calumet coach trying to schedule a scrimmage. I told them that, too."
Bean commended Hite on a strong girls basketball campaign and said the school required a lot from her because it didn't want the Eagles' success to be a one-time thing. He would not share if the same additional standards — off-season workouts, leagues, camps, etc. — were uniform across all varsity sports, including volleyball. Pepa said expectations for coaches depend on the sport.
Experienced assistant
In the fall, Hite said she was contacted by former West Side girls basketball coach Rod Fisher, who was let go before the 2018-19 campaign after 35 seasons with the Cougars. Fisher is the second winningest girls basketball coach in state history with 674 wins and led West Side to a runner-up finish in the 2005 Class 4A state championship.
With his coaching pedigree, Hite said she was pleased to bring Fisher onto her staff as an assistant for the 2018-19 season, but she doesn't know if he will be in the running to take over the program. A head coach hasn't officially been announced by the school, and Fisher — who is also a lay coach — said he hasn't decided if he will apply for the job but enjoyed sharing the sidelines with Hite.
"She was all for the kids, and I was for the kids," Fisher said. "We had a good working relationship."
Fisher also stated Wednesday that he is not involved with the team at the moment. However, Bean confirmed that Fisher is overseeing open gyms at Lake Station on Mondays and Wednesdays from 5-7 p.m.
"Currently, he is stepping in and leading the team during open gym sessions," Bean said. "But he is not the head coach or interim coach or anything like that. He's just stepping in and running that position."
Bean and Pepa said that Fisher came to Bean months ago to discuss the possibility of summer workouts and Bean said he thought that Fisher was acting as an extension of Hite's coaching staff. Hite, however, said she did not know Fisher had approached Bean until contacted by The Times on Monday.
She mentioned that she also had plans for summer workouts, like she's had in years past, but wasn't able to share them during the season like Fisher did because she was focused on winning games and closing out the year. The Eagles lost to Bishop Noll in the Class 2A Bowman Academy Sectional opener to end their season, and Hite said she was excited to hopefully take her alma mater a step further in the 2019-20 campaign.
Hite graduated from Lake Station in 1997 and has also been the boys and girls tennis coach in the past. Throughout her 10 seasons at the helm, she said she's never had an issue with past athletic directors, principals or even parents.
Ericka Castillo is the mother of two players from the 2018-19 girls basketball team — Jacqueline Smith, who completed her freshman season, and Julie Castillo, who finished her senior campaign — and is also a 1999 Lake Station graduate. She said she's known Hite since they were in high school together and commended her for always going above and beyond for her players. Ericka Castillo added that her oldest daughter, Julie Castillo, played volleyball and girls basketball under Hite and had a great bond with her coach.
"She put her heart into my children, into their success, into their season. She wasn't someone that didn't care, that's for sure," Ericka Castillo said. "When a coach brings snacks on the bus because they know the kids have been at school all day, and it's been a long night and they might be hungry, that's not something a coach has to do. Kristy does so many things that she doesn't have to do that makes her such a great person. She really truly cares."
Ericka Castillo also said that Hite took the girls basketball team to watch a Trinity Christian College men's basketball game, where former Lake Station athletic director Jason Hawkins is the head coach, and even helped her daughters get jobs at their local Dairy Queen.
"I think it's horrible that she isn't just given the (girls basketball coaching) position if she wanted it, after working the girls so hard," Castillo said. "If you go and ask any of those players of hers if she pushed them, they will tell you that she pushes them to be better people. She trained them as much as she could on the court, but it was up to them to play. And the results are proven."
Hite said on the same day she received her year-end evaluation, she sent out a group text message to her players and told them that she was no longer going to be their girls basketball coach. She said that many of them were shocked and saddened that Lake Station could possibly move forward without her, especially after finishing eight games above .500 and 6-1 in the GSSC.
But since she didn't want their last interaction to be a negative one, she took the team out for pizza roughly a week later to reflect on all of the achievements they reached together.
"I loved my kids," Hite said. "Part of my job as a coach was to set them up for success in life. It was never about wins and losses to me. Obviously I had expectations, but it was really about developing great young girls with good, strong character."
Get in the game with our Prep Sports Newsletter
Sent weekly directly to your inbox!