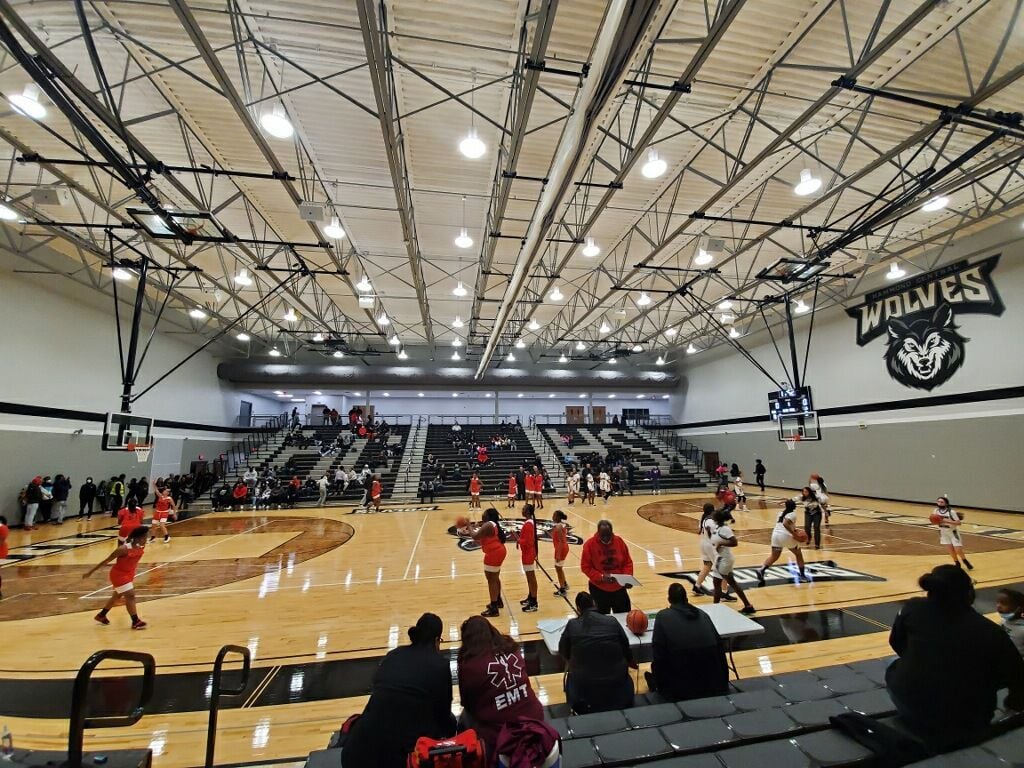 HAMMOND — Coach Okeisha Howard threw herself into the middle of the action as soon as her Hammond Central players took the floor ahead of their opening-night win against 21st Century.
Howard took control of the new Hammond Central program in its first year after consolidating Clark, Gavit and Hammond ahead of the school year. She spent the previous two seasons coaching Clark to a 9-33 record.
Now she's starting over. So as soon as her team took the floor she inserted herself in the middle of warm-ups, directing traffic from the free-throw line and coaching right up until she and her players took their spots for the national anthem.
"We're at a point where teaching is very important," Howard said. "We're teaching them 24/7 because they have the athleticism but need that basketball IQ. They have to learn why we do what we do. They have to learn why to cut, why to get in the passing lane. A lot of them don't have that yet but are going to get there by doing it."
Howard's first priority is getting everyone on the same page. Hammond Central's roster is made up of players from all three former Hammond schools, transfers from outside the city and some girls who've never played varsity basketball.
The mixed bunch was evident from day one.
"At first when they got together you could tell they all had different mentalities, different characters, different attitudes," Howard said. "I had to instill in them that they brought this together so we can make something really powerful out of this instead of trying to go at each other. We came together as schools so we have to come together as players."
Sophomore forward Aniyah Henry admits there were some trust issues early on. A starter for Hammond as a freshman, Henry said it was natural that it would take time for players to feel one another out having only played with four teammates before herself and seeing some others play for different programs last season.
"Sometimes I felt like we were underestimating each other because they were all new," she said. "We're getting more comfortable with one another now. It's kind of like we're becoming a family."
Henry scored 26 points in Hammond's season-opening win against 21st Century and is expected to take the brunt of the work in the post for the Wolves. She said she scored most of her points last season on the fast break and broken plays but that she's improving as a shooter and finding new ways to score now that offense is beginning to run through her.
Having a hands-on coach like Howard helps.
"She's really good for us," Henry said. "She's really into it and isn't one of those coaches who just sits on the bench and watches. She gets involved."
Senior point guard Jada Bullard should set the tempo. The EC Central transfer averaged 12 points, three rebounds and one assist at point guard for the Cardinals last season before transferring to Hammond Central.
Bullard missed the first game of the year but didn't go unnoticed. She helped Howard during warm-ups and stayed vocal on the bench throughout the game.
Howard considers Bullard an extension of herself on the floor.
"She's a very high energy player," Howard said. "She's a leader already. She's been talking on the bench, and I love point guards like that. They're like a coach on the floor. She stays by me and asks questions. 'Coach, how do I do this? Coach, how can I help with that?' I love that. I think she can take it to another level."
For Hammond Central to go there with her it'll take time, Howard said.
But they've got nowhere to go but up.
"We're building something," Howard said, "and we're going to do it together."