Patti Burton pulls out her cellphone and scrolls through her calendar. The Android screen illuminates in green — highlighting everything she has to do and everywhere she has to be. Her schedule doesn't display her life, but rather the life of her grandchildren. She makes it her business to be at every practice, game, meet or competition. And it's no secret that one grandkid, Rachel Pratchett, keeps her the busiest.
"She has something every single day," Burton said. "I get Sunday off, not her."
Pratchett is a junior at River Forest, and in some ways she is a typical teenager. She walks to school and works weekends at Bellaboo's Play and Discovery Center.
But she's also a member of the spell bowl and academic decathlon teams, and ranks No. 1 in her class with a 4.2 GPA.
If that wasn't enough, she also plays basketball and volleyball, and is on the track and cross country teams. Most days when the final bell rings, Pratchett practices for hours with her teammates, so that when the time comes to compete, their chemistry is second nature.
But despite spending so much energy trying to mesh with others, Pratchett still finds time for herself and one more sport. This one doesn't involve any teammates, and in fact, when she practices there are usually only two other voices she hears — the thoughtful critiques of her coach Matt Wendell and constant words of encouragement provided by her grandmother and biggest fan.
"When I first picked up the club, I just felt it," Pratchett said. "I just always wanted to come back for it. And then I watched it on YouTube and saw how good you can get from your first shot. And I just wanted to keep getting better."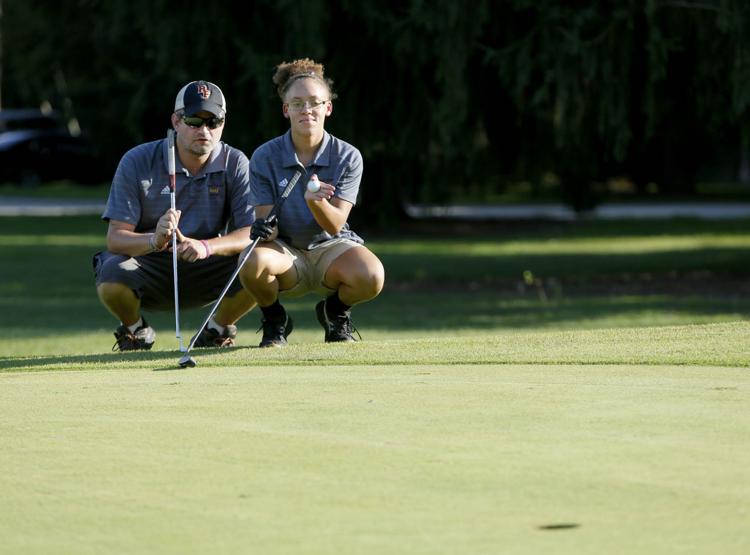 Pratchett's favorite sport is golf and in River Forest's 60-year history, she is the Ingots' first and only female golfer, according to Wendell. The last two seasons she played on the boys team, but this year she is competing in the school's inaugural girls campaign.
Wendell said it was difficult to get a girls program started because River Forest wanted at least five girls to compete. The school repeatedly shot down his requests, but that didn't stop Burton from making a way for her granddaughter. On May 3, she spoke with the River Forest school board and a week later the Ingots had a girls golf team.
It wasn't magic, but rather another example of how Burton will do everything she can to help her granddaughter. She's done it Pratchett's entire life.
"Rachel was a premmie," Burton said. "She was three months early. She was two pounds, one ounce. She's been a fighter. I quit work when she got released from the hospital.
"The day she came home, I quit working."
Her granddaughter was born April 18, 2002, at Methodist Hospitals Southlake Campus in Merrillville and transferred to Methodist Hospitals Northlake Campus in Gary before finally going home. Since then, Burton has remained by Pratchett's side. Burton watched Pratchett during the day while her mom worked.
But even after Pratchett's initial release, she spent most of her childhood in and out of the hospital with health complications, most notably asthma. Burton said that because Pratchett was born so early, her lungs never fully developed, leaving her with permanent breathing problems.
Pratchett remembers those never-ending visits to the doctor and understands how fragile her life once was. But she never let the uncertainty of her birth cloud the possibility of her future. She has always believed she can do anything she wants to, and her relentlessness continued when she found an opportunity to play golf.
"When she was in eighth grade, I had a summer camp," Wendell said. "It was a three-week camp during the time the kids were in summer school, so she was actually a part of that camp along with my boys. And she just continued to develop."
Wendell said that from the start of their relationship, Pratchett has been a detailed player and is never truly satisfied with her game.
She always sees an area of weakness, and she always has a question about how to improve it. That makes Pratchett a very coachable player.
And it also put Wendell at ease. He had some nerves early on when he realized that for the first time in his six years as River Forest's head coach, he'd be coaching a player one-on-one.
"I was concerned about that going into it," Wendell said. "But it's actually so much easier because I can focus my total attention on her and just her. And the improvement I've seen by her, just from me being able to work with her, is huge."
Pratchett appreciates Wendell's willingness to work around her busy schedule and practice twice a week at Indian Ridge Golf Course. She credits him for all the technical improvements in her game, but acknowledged that her initial love for golf was shaped by another man — Burton's husband.
"My grandpa always had it on TV," Pratchett said. "We always played it in the backyard."
When Pratchett's granddad bonded with her, he didn't imagine her one day making history at River Forest. But then again, neither did she — until she did. Now she has her eyes set on something bigger.
Over the past two years, Pratchett has competed on the boys team but never had the chance to play in the postseason due to IHSAA rules. Since girls golf programs are offered by other schools in Indiana — and River Forest didn't have one at the time — Pratchett was prohibited from participating with the boys after the regular season.
This season, that is no longer a problem.
"She competed in the Greater South Shore Conference tournament," Wendell said. "She was the first female to ever do that in River Forest history. And she will be the first female in River Forest history to compete in a sectional for the girls."
Pratchett will golf at the Lake Central Sectional at Palmira on Friday. Her nine-hole low score for a match this season is 50 and she is averaging a score of 55. 
Wendell said that Pratchett's history-making success has already sparked interest in a handful of other girls at the school, and by next year he anticipates that he'll have enough players to form a small team.
Pratchett is looking forward to sharing her coach, and is grateful to inspire other girls to follow in her footsteps. But more than anything, she wants her journey to encourage others to never put a lid on their dreams.
One day, Pratchett plans on playing college golf. And years from now, she envisions herself competing on the LPGA Tour.
The chance of any golfer reaching the professional ranks are slim, but since Pratchett's premature birth, the odds have always been stacked against her. And through it all, she has always found a way to overcome them.
"They always tell me stories about how long I had to stay in the hospital," Pratchett said. "My mom was telling me that I might not be able to do this kind of stuff. And here I am, just going strong. It's just kind of cool to see how I conquered it."