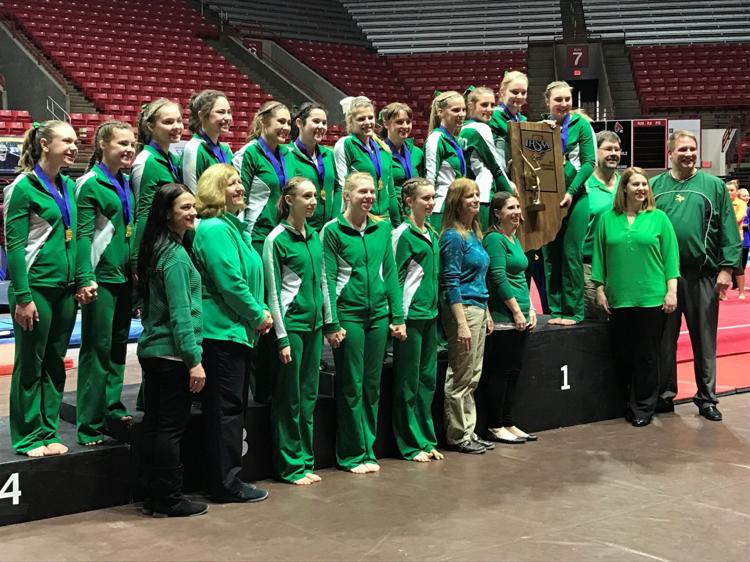 MUNCIE — The tradition of excellence continues.
After a runner-up finish last year, Valparaiso was hungry to get back to the mountain top.
In a battle decided by .325 of a point at Saturday's state gymnastics meet at Ball State's Worthen Arena, the Vikings scored a 112.375 and laid claim to their record 12th state title and their third in the last four years.
Chesterton took third, finishing .025 behind runner-up and defending champ Columbus North, while Merrillville took eighth.
Valpo trailed by 0.05 points entering the final rotation. The Vikings scored a 28.35 on vault, while Columbus North had a 28 on beam.
Whitney McKeon (37.575), Rachel Moneta (37.425) and Jenna Algozine (37.325) all medaled in the all-around, finishing fourth, fifth and tied for sixth respectively, for Valpo,
"We're on cloud nine right now," Valparaiso coach Lorie Cook said. "The kids kept it together and kept working hard all season, believing and continuing to try and make it happen.
"We weren't perfect but we were certainly good enough. You always want to win and it's a great tradition that's been here before these kids, so there was for sure some motivation coming in. We're thrilled for the kids and this is something they're going to remember for the rest of their lives.
"To have all three all-arounders place, that's great, they were awesome. Lizzy (Wilson) competed and did great in three events and our freshman Megan (Wagenblast) started off on beam and did a great job for us all year. Those are our five mainstays but we had ten other kids who made it happen. It was an overall team effort."
A stalwart for the Vikes all year on floor, Moneta came away the state champ with a 9.55 in the event.
"The music is so loud here and there's so much adrenaline," she said. "I'm pretty sure that was one of the best routines of my life and it was the perfect timing for it too. After not winning (the Duneland Athletic Conference) and sectionals, we really went into the gym and worked super hard. It's so nice to see it pay off like this."
McKeon is now a two-time medalist in the all-around in her two state meet appearances. She tied for third on beam with a 9.325.
"It's just the most amazing feeling," McKeon said. "It was a good day, there were some mistakes and some bumps but I was able to come back from my mistake on floor and recover well."
Algozine tied for third in bars (9.625) and was also third on floor with a 9.475.
"This feeling will never get old, I'm at a loss for words," she said. "We had the drive this year and I wanted to get back what we had my freshman year (state title). It was definitely in the back of our heads. That feeling taking second egged us on every day in the gym."
For the top-ranked Trojans, Chesterton took third with a 112.05, improving upon last year's fifth place finish. Standout freshman Sophie Hunzelman took home the all-around and bars titles, as Jordan Bush placed sixth in the all-around.
"For a team that's done so well on beam all year long, starting there should've been a little cleaner. I think the girls were just a little nervous," Chesterton coach Dawn Matthys said. "We're usually really solid there, but Sophie was the only one that stayed on. We lost by .325, that's one fall. One more girl stays out on beam and we take the meet.
"Our only upperclassmen was Brittney (Troup), so there's still great confidence going forward and lots of promise for the future."
Merrillville returned for the first time since 2014, taking eighth. Heather Osorio was the lone medalist, taking sixth on bars.
"We had many goals for today, but one was to make sure Heather can finish her four events the best she could given her injury and we were able to do that," Merrillville coach Diane Roberts said. "There were some freshman moments from our girls being their first time here but I'm proud of all of them, especially for what they did up to this point."