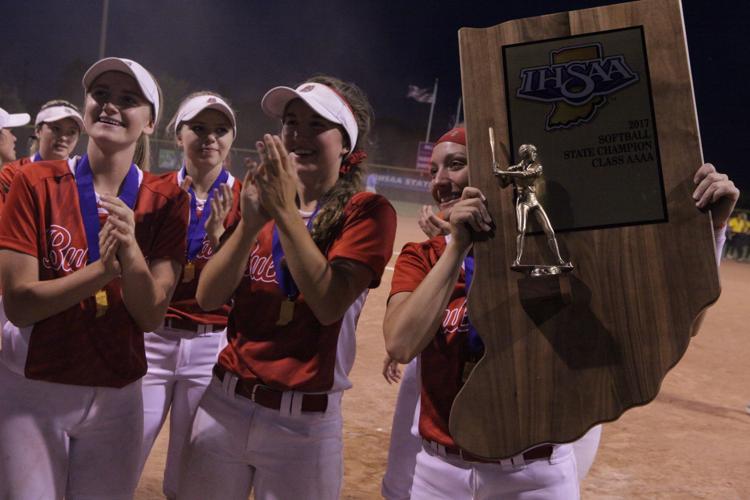 INDIANAPOLIS — When you've been around as long as Crown Point coach Pete Iussig has, as he admits, weird stuff comes to your mind.
The C.P. coach had a dream that Mallory McMahon was going to be the difference maker.
Going off the notion of that dream, Iussig bumped up McMahon to the No. 4 spot in the order and she delivered the two-run double in the first inning that proved to be the difference maker in Crown Point's 2-1 win over Avon at the Class 4A state finals at Ben Davis in Indianapolis.
"I had this dream that it was going to be her day and I told her that before the game," Iussig said. "She's been our No. 5 hitter all postseason but after that dream, I bumped her up to fourth. I have no idea where it came from. After 40 years, you start thinking of stuff like that.
Defending 4A champion Avon struck first as the Orioles plated a run in the top of the first. With two outs, Haylie Foster doubled and then Paige Eichelberger singled. On the single, Eichelberger forced a run-down and Foster was able to scamper home for the early lead.
The lead wouldn't last for long.
MacKenzie Dunlap bunted and Gracie Frazier had an infield single. After a stolen base from Dunlap, the 'Dogs were in business. Following an Alexis Holloway groundout, the sophomore McMahon stroked a two-run double to left field for what proved to be the game-winner.
"I was thinking she was coming inside and that's my best pitch to hit," McMahon said. "I saw that it came up a little up and out but it was really meaty, so I decided I had to go for it. I knew I had to step up for my team and Alexis and do something for the seniors.
"I wanted to come out here and make school history and that's what we did. With Avon being so hyped up, we knew we needed to get to that level and even higher to win the game and that's what we did."
You have free articles remaining.
Keep reading for FREE!
Enjoy more articles by signing up or logging in. No credit card required.
Those three hits proved to be all Crown Point (30-2) would get.
That wasn't an issue. Holloway was nails the rest of the way. The senior gave up four hits in the first three innings, but blanked the Orioles for the final four.
"This still hasn't quite sunk in," Holloway said. "This is what every team works for and this town and school has been behind us and it's an awesome thing to happen. After the first, I knew I had to settle in a little bit and just go to work."
The C.P. defense turned a pair of double plays along the way, catching Avon (23-9) being too aggressive on a pair of occasions.
"The defense won us that game hands down," Holloway said. "We've been working on that all year. Defense wins championships. It's a cliché, but it's true and we saw it (Saturday). There is not another defense I'd rather have behind me. This is a great group of girls."
The last out in Holloway's career as a pitcher was fittingly, a strikeout as the Notre Dame signee struck out six.
"I told the girls to play it like it's 0-0 and let's get three up and  three down," she said. We had to play it like it was any other inning in any other game. We knew it wasn't but you have to that mentality, because that last out is the hardest to get."
It is the first state title for the Region since 2013, when Portage won.
"I thought I'd be way more emotional than I am," Iussig said. "I guess I'm kind of shocked a little bit. It'll probably hit me on the bus, and I'll start bawling like a baby."