Pete Iussig's 28-year softball career has been a journey of failure, triumph and self-evaluation.
The 63-year-old became the head coach at Lowell in 1990, and after nearly three decades, two previous retirement stints and one state championship, he's finally calling it quits — for good.
This season, he guided Crown Point to a 29-5 record and its fourth regional crown in school history. The Bulldogs fell one game short of advancing to the state final, but Iussig doesn't think any of his players should hang their heads.
Every year won't end like the team's 2017 state title run. After the Bulldogs' season-ending loss to Leo in the Class 4A Harrison Semistate Championship, Iussig reminded them that they were still one of the last team's standing.
This week he also told them they were the last team he'd ever coach.
"I don't know if I've touched everybody that I've coached in a positive way," said Iussig, who is the Times' Softball Coach of the Year. "But I hope the vast majority of them feel that we're all better people for having known each other."
Before he started coaching softball, Iussig was actually the Red Devils' head baseball coach. He was only 25 years old when he took over the program, and early on he admits that he struggled to lead his team. The wins weren't coming, and every time Lowell came up short, he put more pressure on himself.
After four seasons of obsessing over every loss, Iussig said he resigned to give himself some clarity and peace of mind. He realized that he couldn't have fun if he put so much stock into his team's record and when he started coaching again, this time softball, his entire perspective was different. The defeats were looked at as reasons to grow rather than panic, and he learned to care about the person more than the player.
"It's funny how it was all about winning when I started," Iussig said with a laugh. "Now, it's gotten to the point where I would tell the girls, 'I don't even care about the winning.' I wanted to have the hardest schedule in the state."
Caitlyn Phillips, who just wrapped up her senior year at Crown Point, understands that she had the opportunity to play for a legendary coach. Iussig retired with a 524-293-1 overall record and was named the District 1 and state Coach of the Year by the Indiana Coaches of Girls Sports Association in 2014. However, she thinks his character precedes his accolades.
Register for more free articles.
Stay logged in to skip the surveys.
"When we lost a game, a lot of the time he would take that blame," said Phillips, who was an ICGSA Class 3A/4A Third Team All-State selection. "He takes the blame but won't take the credit. That's just how he's always been, and it's really cool to see someone with this much success over the years do that and always do it. When we won state, he put everything on us."
The Marian commit added that Iussig helped her reach her goal of playing college softball and never hesitated to extend his support to individuals in the community as well. Earlier this year, before a conference game against rival Lake Central, Phillips helped transplant patients and elementary school students Makenzie Hon and Clare McShane throw out ceremonial first pitches.
Makenzie and Clare both live in Crown Point and have faced life-threatening illnesses during their youth. They became best friends while receiving treatment at Cincinnati Children's Hospital, and when Iussig read about them in a previous Times article, he made sure that they made it out to a game. The goal was for both young girls to recognize that there are people who care about them even outside of their families.
"His heart is huge," Phillips said. "For him to go out and start this whole thing with Clare and Makenzie was cool. It kind of opened my family's eyes, too, and we wanted to do something special. We contacted them, and that's all because he started it. Everything he does is for other people. He tries to give back as much as he can."
Sheila Hon, Makenzie's mother, knew nothing about Crown Point softball or Iussig until he reached out to her, and she's grateful he did. Even though Makenzie is still dealing with leukemia, she said that allowing her daughter to throw out a first pitch lifted her spirits and is a moment Makenzie will never forget.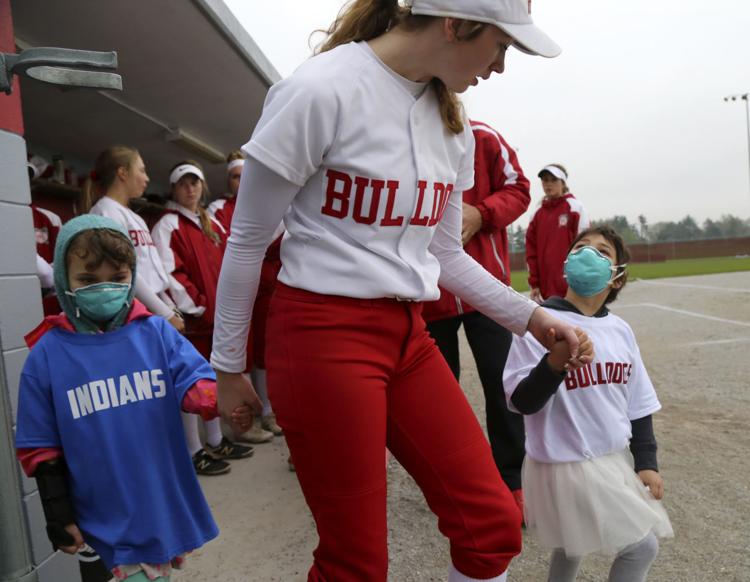 Throughout Iussig's career with the Red Devils and Bulldogs he combined to win six sectional championships, four regional crowns, one semistate title and one state final. He was also inducted into the Indiana Softball Hall of Fame in 2011, but Hon believes his selflessness will always matter more than his achievements.
"When it's not really somebody that you know or your family, you may see something like this and say, 'Oh, that's really sad,' and not ever reach out," Hon said. "But to really take the steps and take the initiative to find the girls, I think it says a lot about his character. I think it shows that he's a really caring, giving and generous person."
Hon hopes Iussig has a long and happy retirement, and he said he looks forward to dialing it back. After decades of dedicating himself to the sport he loves, the 1973 Merrillville graduate is certain that he has nothing left to accomplish.
"I'm going to take up golf, and I'm finally going to get to mow my yard in the spring," said Iussig, who was also the Times' 2017 Softball Coach of the Year. "And I'm going to be a huge fan of softball. I'm going to watch a lot of Lowell and Crown Point softball games next spring."