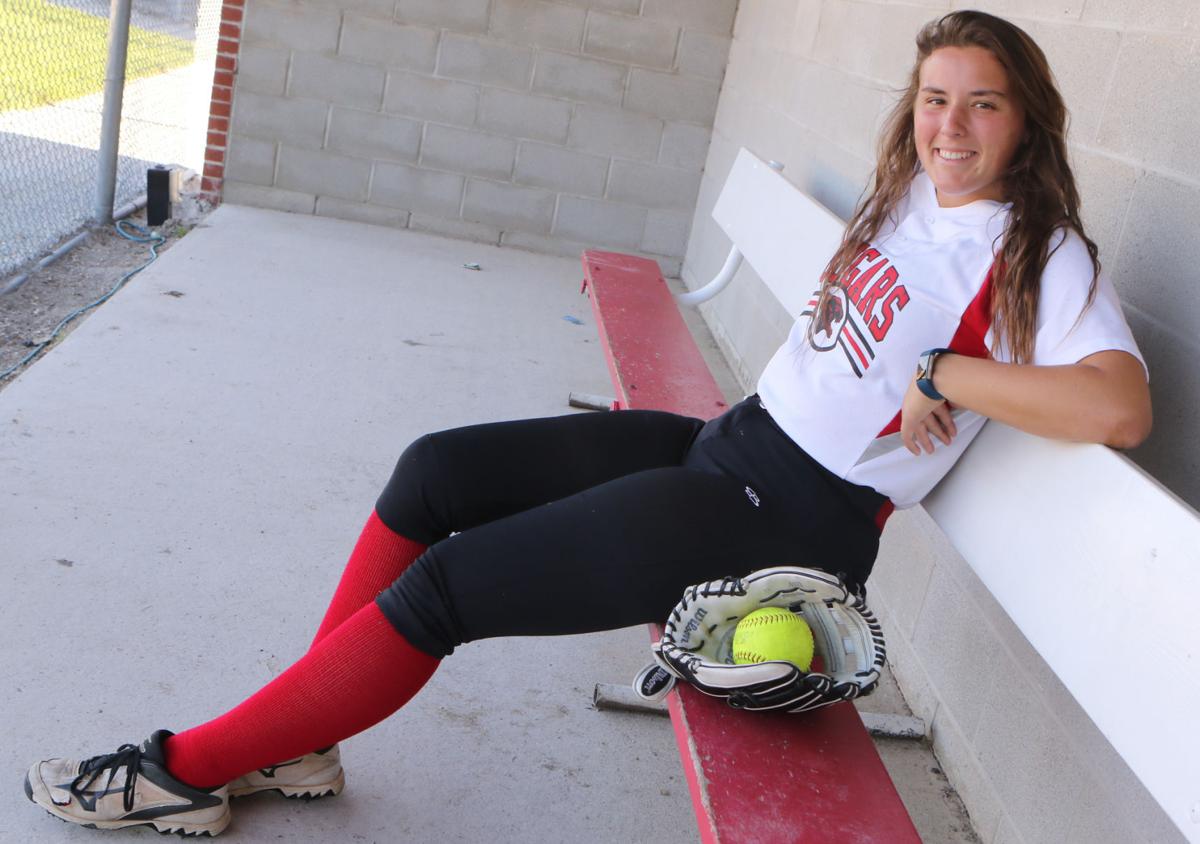 WHEATFIELD — Defense has always been Hannah Cambe's forte.
Whether it was as a corner infielder, where she played until eighth grade, or the outfield, where she's been ever since, Cambe has solidified Kankakee Valley with her glove and even more so, her arm.
"I've always been better defensively than offensively," she said. "I always played first or third in travel ball and one day they put me out in the outfield and I loved it. My arm has always been accurate, but it's definitely gotten stronger over the years, too."
As a sophomore, Cambe played center and classmate McKenzie Adams was moved to shortstop. Her move to right field as a junior allowed Adams to move back to center. It further strengthened the Kougars' defense, which will be key at 3:30 p.m. today in the Class 3A title game against a New Palestine team that averages 11.6 runs per game.
"She's been solid for all four years and she's got a little more control of her arm," K.V. coach Brian Flynn said. "She has been a real force throwing out baserunners, even sometimes at first base, taking away hits. She fights off the sun really well and that's really important in right because that's where the sun usually is. Hannah has really solidified that side of the field."
The dual strong outfield arms are a bonus at positions where speed and glove work are essentials.
"They're probably equal in the ability to throw people out," Flynn said. "You can find kids who can catch the ball and cover the ground, but to have it all wrapped up in not one, but two senior outfielders is a big advantage. It's going to take a while to find replacements with those kinds of arms."
As a senior, Cambe gained experience with the leadership role during basketball season.
"I think I've stepped up and filled some empty shoes. That was something I took on myself," Cambe said. "I try to bring defense, leadership and effort. If something isn't going well for somebody, I can be there to pick them up and help them out. We all want this state title, so we all have a common goal."
It's just what Flynn would expect. Fairly quiet her first three seasons, she now often leads the Kougars as they go in to hit or to play defense.
"She's vocal in those ways and that's important, realizing as a senior that you have to do a little bit more," Flynn said. "Her and Mea are doing their jobs as seniors. A lot of times, leadership is shown by just showing up and doing what you do to the best of your ability and they do that."
At the plate, Cambe is hitting .255 with 13 runs and 21 RBIs. The 5-foot-10 Cambe has also hit three homers, hitting two apiece the past two seasons.
"I know she wishes she was hitting for a better average, but on any given at-bat Hannah can just crush the ball, get a big hit, or even lay down a bunt," Flynn said. "She's an imposing figure with her size and strength, but everybody on this team understands sometimes a bunt is what we need more so than a long ball. She's getting more solid hits this year and is hitting to different fields. She's matured as you'd hope your seniors would. She's a real heady kid who knows the game, too, and will do anything she's needed to do to help her team win."
The past two seasons, Cambe had big games when it counted. In last year's semistate, she hit two homers and had six RBIs to send the Kougars to the 3A state finals. About midway through this season, K.V. hosted 2016 Class A champion Borden. Flynn said Cambe struck out three or four times in a row before delivering a walk-off homer in the bottom of the 14th inning.
"She's not the kind of kid that will give up," Flynn said. "If the pitcher puts a ball where she likes it, she'll make them pay for it."
With a year's experience under her belt, Cambe wants to make her last game with the Kougars count.
"I didn't think I would feel it last year but I did. It was a lot bigger stage and louder than I expected," she said. "The goal is to win this year. Of course that's always the goal, but I think it just means more this year because I'm a senior and this is my last shot.
"While all these postseason runs have been great, I think it's all these friendships I've made that are going to last."