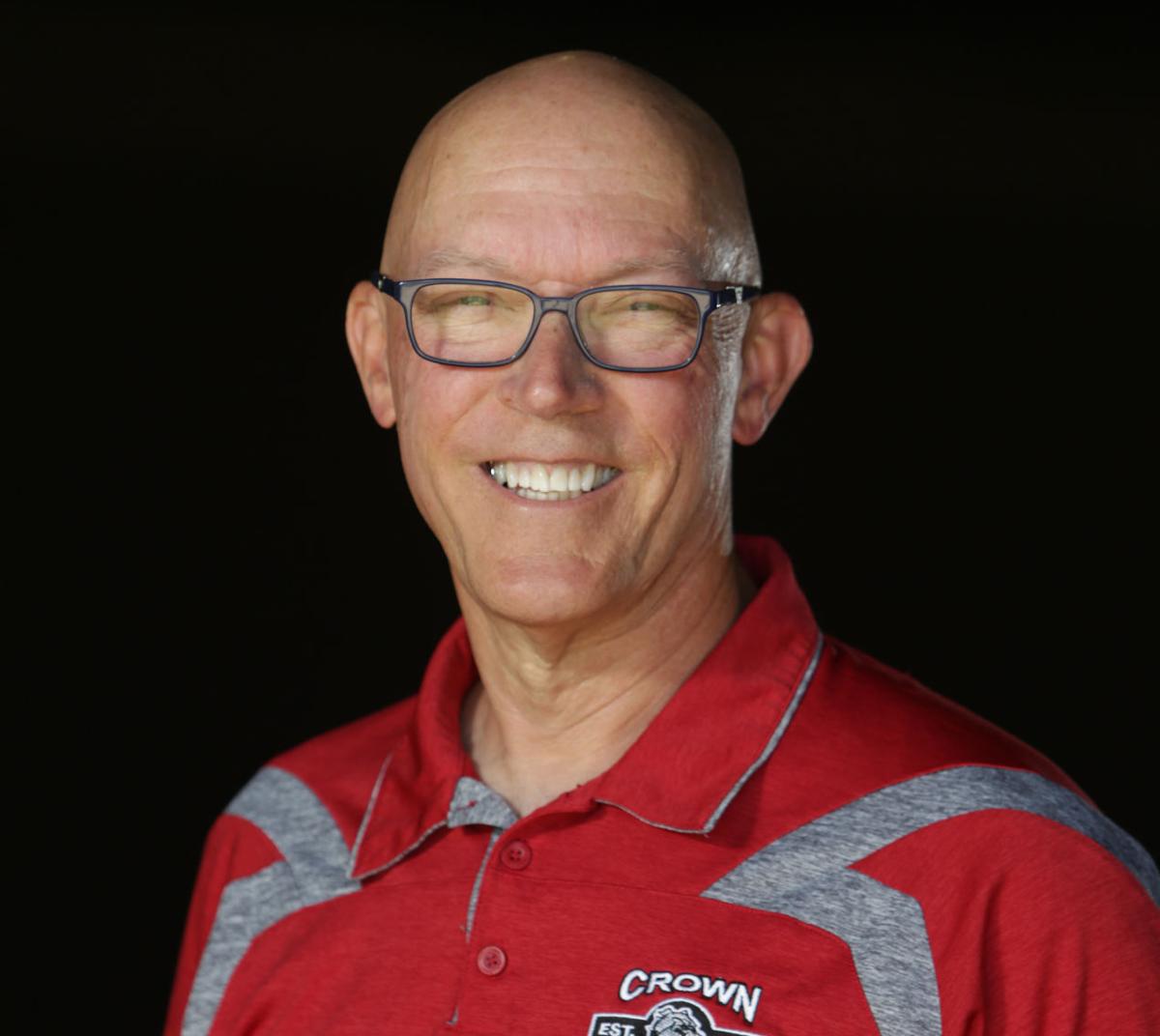 One of Pete Iussig's main idiosyncrasies was his tradition of reading the starting lineup to his Crown Point softball team and following it up with the same sentiment.
"Sounds like a winner to me," he'd say.
Iussig inherited what "sounded" like a winner on paper when he was hired to be the next head coach for Crown Point softball Sept. 30 after Ginger Britton had resigned to move to Indianapolis with her husband and their twins.
Champions, however, aren't created on paper. Victories come from skill, hard work and a winning culture. Elements are forged together through the sweat of offseason workouts, mental preparation and strong leadership.
Amazing seniors led part of the way, but a collective staff headed by Iussig was ultimately behind the Bulldogs being handed a state championship trophy for the first time in program history.
For his role in taking a talented group left behind by Britton, a former Lowell player for Iussig during his 25 years with the Red Devils, and further infusing a championship culture into it, Iussig is the 2017 Times' Coach of the Year.
"I appreciate the honor, and I'm humbled by it," said Iussig, the state coach of the year in 2007 and 2014 and a Hall of Fame inductee in 2011.
"It was mostly the girls doing the heavy lifting while I was kind of standing there drinking a cup of water. It's a whole team thing. The team of Crown Point gets the honor, not me."
Long before holding the state championship trophy after a 2-1 win over defending champion Avon in the Class 4A title game June 10 at Ben Davis High School, Iussig, who retired from teaching in 2016 after stepping away from softball after the 2015 season, had some things to hand out as he met his new team after an October open gym.
Questionnaires during the first team meeting asked players not only their positions, experience levels and what hands they use to hit or throw, but the handouts asked hypothetical questions and simple things like their favorite ice cream flavor, subject in school or color.
There was homework, too. Players had to memorize the address to Ben Davis High since it was bound to be the site of their final game.
There was a poem by Iussig, a published author. It laid out the beauty of the ideal season.
"From the beginning, he wanted to know us as people," senior Alexis Holloway said. "That really meant a lot. I think that makes a difference, to have that relationship there right away.
"I can't say enough about the coaches. They came in with open arms."
Times' Player of the Year Holloway was among five seniors who sat front and center at that first meeting.
From that moment, Iussig knew he had the attention of a talented program that included Division I commits such as Holloway (Notre Dame), MacKenzie Dunlap (Northwestern) and eventually Gracie Frazier (DePaul) as well as third-year starter Lexi Madrigal (Purdue Northwest) at catcher.
Crown Point went 30-2 and finished the season ranked No. 11 nationally by MaxPreps.com and No. 7 by USA Today. After being eliminated in the sectional last season despite the double-barreled pitcher action of Holloway and fellow all-world recruit Miranda Elish, Crown Point ran through the postseason with wins over Munster, Lake Central, Chesterton, Penn, Hamilton Southeastern and Avon. Penn was nationally ranked at the time of the extra-inning semistate semifinal meeting.
"People might say, 'Oh, he just had a great pitcher,'" Iussig said. "No. We had a great team and great family. That was why there are numerous awards being given out. There were plenty of other times when people played a part and didn't get their name mentioned."
Jim Chancellor, a longtime assistant for Iussig at Lowell, who initiated the phone call that set a series of fortunate events into motion to pull Iussig out of a second retirement, called pitches.
Gabby Raspopovich was the other assistant who really focused on the mental game and instilling resilience and critical thinking into the team psyche.
"I truly felt, at times, I might be weakest link in the dugout," Iussig said. "We all worked very hard during practices, but during games I was out there calling third base and basically a cheerleader."
Iussig's wisdom was felt throughout the program. He had taken Lowell to four sectional titles, two state semifinal berths and a 460-280 record in 25 seasons as head coach. Between baseball and assistant roles, he came in with 36 years of coaching experience. The only years he was not a coach in the past 38 were 2011 and 2016.
Therefore, when Crown Point would throttle an opponent 10-0 in five innings, no one went home without hearing something that could make them better. The coaches nitpicked after every game and talked about taking one more step in the right direction before the postseason started.
Iussig used the team's loss to Lake Shore, Michigan, on an overnight road trip to offer insights about focus, humility and full-time excellence. The 1-0 regular-season-ending loss to former employer Lowell became a lesson in being ready for everyone's best game when it's win or go home. He used the Lake Central rally in the final inning of the sectional title game as an example of how tenuous all of this really is.
Those lessons helped the Bulldogs keep composure when Penn rallied at semistate and when Avon scored to start the state title game.
"He's been around the block a few times, so this is nothing new to him," Holloway said. "We trusted him and his process. He's taken a couple teams to state before. We had trust in him, and he had trust in us. The trust we had both ways was a huge help all postseason. If anyone has a little doubt, it makes it that much tougher."
Iussig will be back next year to take an experienced group of underclassmen and combine them with an incoming freshman class that should include the little sisters of Holloway and Elish.
A lot had to go right, more than a half dozen "dominoes" had to fall, for Iussig to get this job. He inherited talent and took it to heights unforeseen in program history. A fun, familial atmosphere made it easy for him, he said.
"This is really the first time in my life where I felt fate had something to do with it," Iussig said. "I can't pick one thing out that I would change."