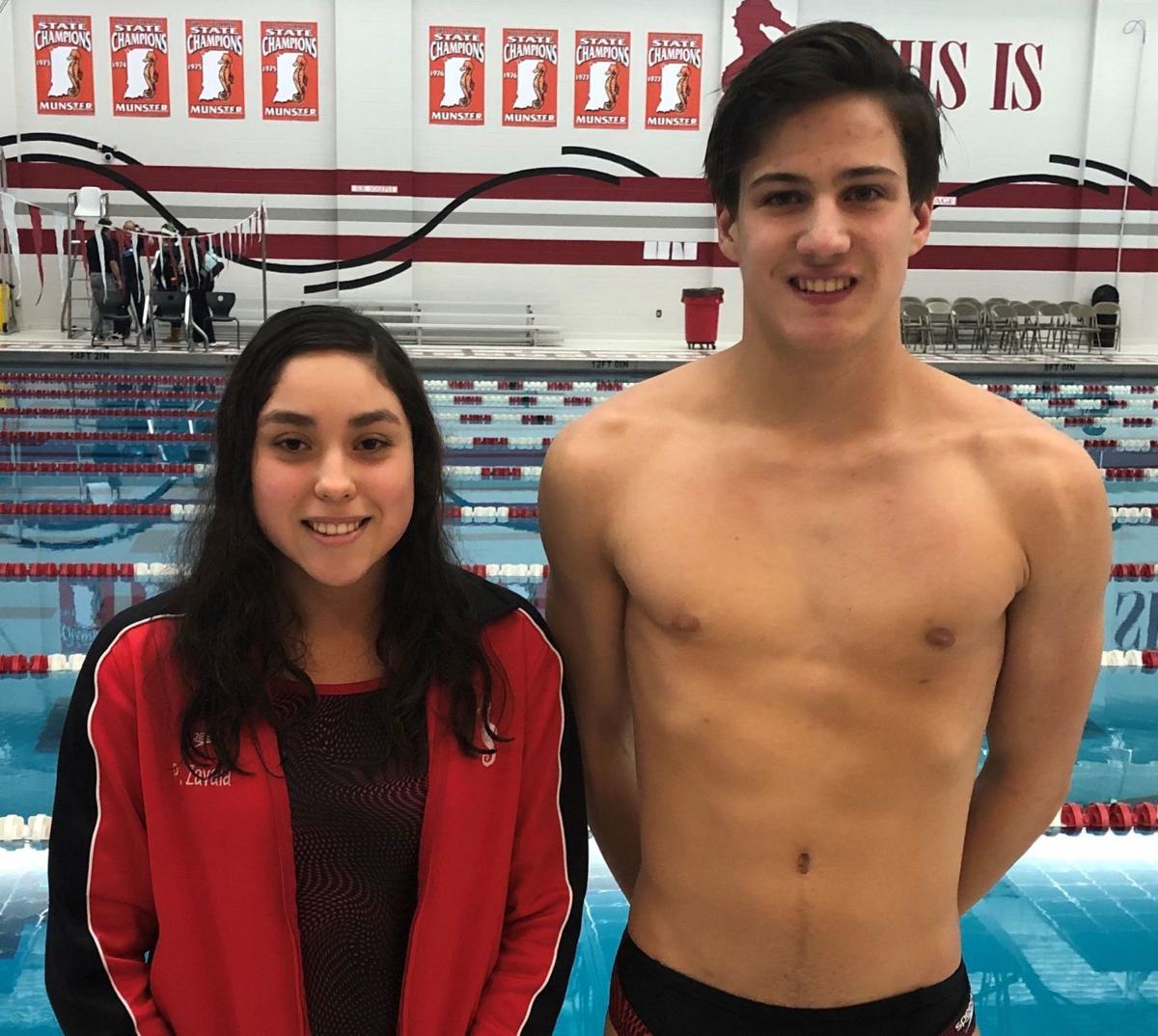 MUNSTER — On the wall at Jon Jepsen Pool, Munster has the words, "THIS IS SEAHORSE COUNTRY" plastered on the wall in big red letters.
And the Mustangs, who refer to themselves as the Seahorses in swimming, made sure to give their fans something to cheer about at the 51st annual Munster Relays.
Munster's boys team finished first with a score of 132 — 36 points ahead of second-place Lake Central — and junior Grant Afman helped the Mustangs earn first-place finishes in the 400-yard butterfly relay, 400 freestyle relay and 850 free relay.
"This year I think I have a really good outlook for myself," Afman said. "I definitely want to go down state and plan on getting in the top eight there. I want to kill it at sectionals, get our school record and have some really good relays as well at state — maybe top three — but hopefully we win."
Aside from what the boys were able to accomplish, Afman said he cheered on the girls squad as well. In just the second year of girls teams competing at the Munster Relays, the Mustangs girls program finished third with a score of 92 behind South Bend St. Joseph and Lake Central.
Several times throughout the competition, Munster coach Mathew Pavlovich waved his arms, urging his swimmers to expend every ounce of energy to secure their fastest times. The swimmers usually can't see him, but he still can't help himself from showing a little emotion.
"You'd like to think that if they see you a little bit, maybe it'll give that extra mental and emotional edge if they're tired or fatigued," Pavlovich said. "Maybe they'll push through it a little more than if they're on their own. Sometimes the kids may see you doing it, sometimes they don't. It's just kind of a swimming thing."
Freshman Priscilla Zavala said she's unaware of anything outside of the pool. And even though the Mustangs came up short she still appreciates her coach's dedication.
According to her mother, Rosie Zavala, Priscilla Savala has only been swimming competitively for a few years, and Pavlovich has been instrumental in her growth since joining the high school ranks. She said she encourages her daughter to push past her limits in the pool, and early on in her career Pavlovich said that mentality has helped her emerge as one of his team's best underclassmen.
Priscilla Zavala helped the Mustangs to a pair of third-place finishes in the 800 free relay and 850 free relay, and also contributed to a second-place finish in the 400 fly relay. She said she was proud of her performance but expects more out of herself going forward — even as a freshman.
"I feel like I did really well," Priscilla Zavala said. "Even if I don't do well, I like to know I gave it my all and in the future I can do better. And if I do get a best time, I know I can keep pushing."
Lake Central's boys and girls swimming teams finished as runner-ups at the Munster Relays and each racked up 96 points. The Indians' girls program notched meet records in the 400 backstroke relay and 400 medley relay. Coach Todd Smolinski commended freshman Jourie Wilson for her performance in both events. And even though girls teams just began competing last year, he said his team was still excited to leave its mark.
"Of course they're proud of what they did," Smolinski said. "They did good, and their times were great too."
Valparaiso's girls and boys teams finished in fifth place with scores of 62 and 72, respectfully. Boys coach Adam Nellessen was one of the last visiting coaches to leave Jon Jepsen Pool, but it wasn't because he was over analyzing his team's performance. He stuck around to congratulate Pavlovich on a well-run meet and said the Vikings held their own despite their youth.
"We were fifth but we were two points behind (South Bend Riley and Crown Point) who tied for third," Nellessen said. It's only our third meet. We're still trying to figure out where the pieces fall after losing a strong senior class."
Nellessen said senior Sam Behrend had a solid outing and added that he has emerged as Valparaiso's leader. He also praised freshman Chris Holmes, who Nellessen placed in the 200 yard free relay for the first time in his career.
"(Behrend) has been very comfortable from day one," Nellessen said. "He had an older brother that swam for us, so he kind of understood how it all went. That helps him substantially I think."